Rabbit in almond and saffron sauce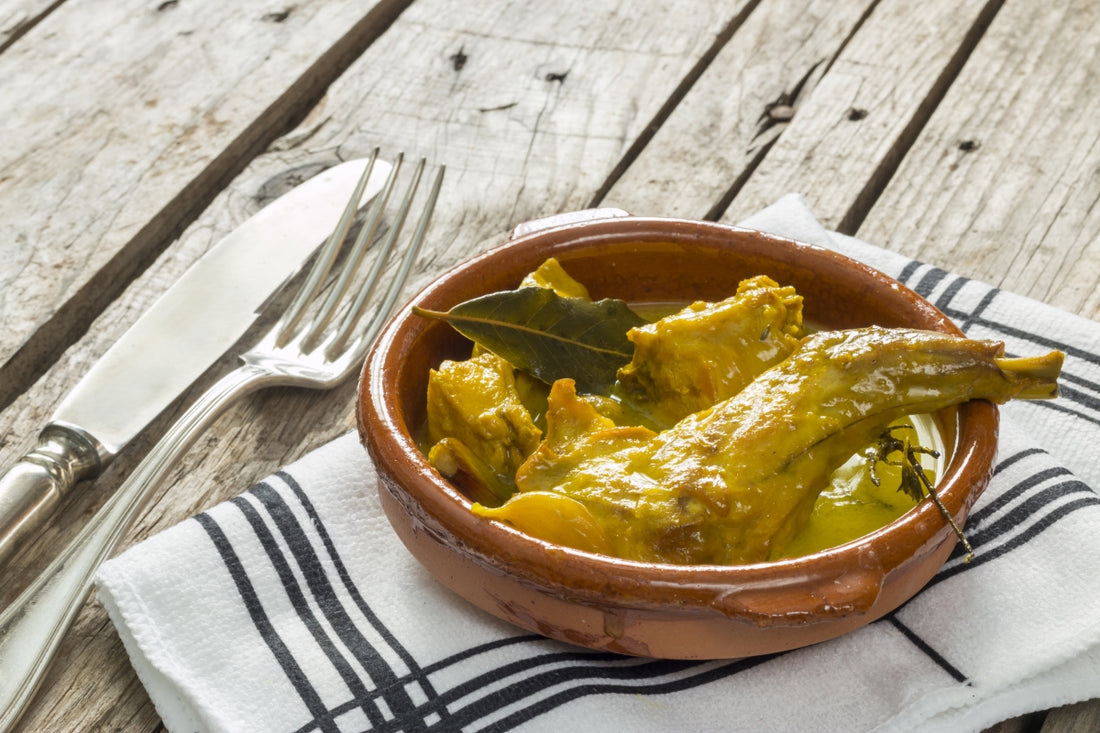 When it comes to Andalusian cuisine, it is to be expected that you will find many recipes with dried fruits and aromatic herbs. All this makes Andalusian gastronomy stand out for its variety of flavors and aromas, which complement each other in such a sublime way that every bite seems unique. Combining this seasoning with such a delicious and healthy meat as rabbit is a recipe for success that will soon be part of your favorite preparations for a delicious lunch.
Rabbit meat is low in fat and calories, provides a high protein value, and is very easy to digest. Therefore, it combines with almost anything since, in most recipes, it becomes the side dish while its marinade or sauce takes center stage. In this case, this recipe takes advantage of the mild flavor of the rabbit meat and combines it with the intense taste of the almond and saffron sauce.
This sauce has a creamy consistency and is perfect for the rabbit and any side dish you decide to use at mealtime. Usually, people use vegetables such as potatoes and carrots to go with them, but you can use other side dishes if you like them.
This recipe is easy to prepare and quick, and you can enjoy it any day. Are you ready to try it?
How to prepare rabbit in almond and saffron sauce?
If you order the rabbit already chopped or if you will be the one to chop it, remember to save the animal's liver. Although many people have left this step behind, the liver will be an essential part of this recipe that we offer you today and will make a difference in the final result. So, before you start, make sure the rabbit is clean and keep the liver.
Ingredients: (For approximately 4 people)
1 kg of rabbit with its liver

3 cloves of garlic

1 onion

1 boiled egg

100 ml of white wine

50 gr of raw almonds

Pepper

Parsley

Saffron

Olive oil

Salt
Preparation:
Add abundant oil to a casserole and proceed to heat over high heat. While the oil is heating, chop the liver into small pieces.

When it is at the right temperature, add the liver and let it fry very well. When finished, set aside.

To save time, season the rabbit while the liver is cooking. When you remove the liver, you can start cooking the rabbit meat.

After about 5 minutes, add the onion, previously chopped into small pieces. Cook and stir until it becomes transparent.

Pass the fried liver and the almonds through a grinder until everything is well-ground. Add to the pan with the pepper.

On the other hand, add the garlic and the chopped parsley to a mortar. Crush everything with a bit of water until the mixture is consistent. This should be added directly to the casserole.

Stir the ingredients so that they start to complement each other appropriately. After a few minutes, it is time to use the mortar again with the boiled egg yolk and the saffron threads.

Crush both together with the wine and add to the casserole. Or, if you prefer, pour the wine directly into the pan.

Add a little water and taste to see if you need to correct the salt. If all is well, cover the casserole and let everything cook over medium heat for about 30 minutes. The meat should be very tender.

Turn off the heat and let it rest for a few minutes before serving. This will settle the flavors properly.
How to make the almond sauce thicker?
Many people love super creamy sauces, and if you are one of these people, don't worry because there are solutions for this.
In the case of this recipe, you have two options:
The kitchen classic: Dilute some cornstarch in water and add to the preparation. Cornstarch is a natural thickener, so it will provide the creaminess you are looking for.

For step 8 of the recipe, it is possible to add almond flour. This will thicken the cream and bring out the nuts and spices flavor.
Tips:
For the rabbit meat to have a more robust flavor, it is possible to let it marinate for 12 hours or more before preparation. This can be done with garlic, sweet paprika, cumin, and olive oil.
If you are a fan of breading, don't hesitate to do it with rabbit. Coating the meat will add more force to the dish, and, in addition to that, it will also contribute to the creaminess of the sauce.
Now you have all the information you need to make this recipe, so prepare for a delicious lunch!