Rabbit in Lemon Marinade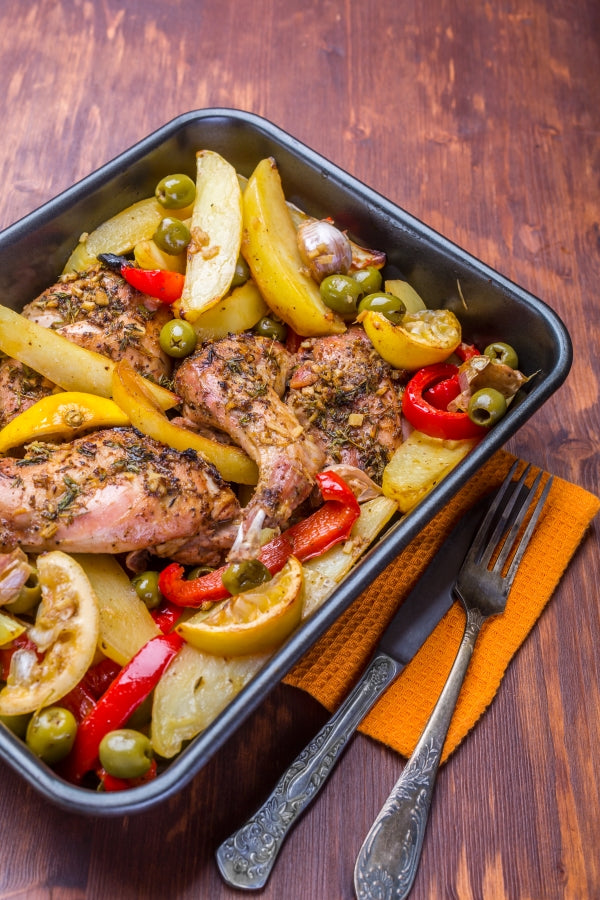 Rabbit in lemon marinade is a traditional recipe of Spanish cuisine that combines the flavor of white meat with the acid touch of vinegar and lemon. This dish can be enjoyed either hot or cold and keeps very well for several days in the refrigerator. In addition, as a food, it has important nutritional benefits by providing high-quality proteins, vitamins, minerals, and antioxidants.
Rabbit in lemon marinade is a very common recipe in many regions of Spain, especially in Aragon, where there is a great tradition of hunting and consumption of this meat. It is also prepared in areas such as Andalusia, Castilla-La Mancha, or Catalonia.
The origins of pickling date back to Roman times, when vinegar was used to preserve food. The Romans introduced this technique to the Iberian Peninsula, where it was applied to local products and enriched with spices and aromatic herbs. Rabbit in lemon marinade is a variation of the classic marinade made with white wine vinegar and paprika. The lemon juice adds a refreshing and fragrant sensation, ideal for hot days.
Ingredients
To prepare the rabbit in the lemon marinade, you need:
1 rabbit, chopped

4 cloves of garlic

2 bay leaves

1 sprig of thyme

1 sprig of rosemary

Salt and pepper for seasoning

Extra virgin olive oil

250 ml white wine vinegar

250 ml of water

2 lemons
Preparation
The steps to follow for its elaboration are as follows:
Season the rabbit with salt and pepper and place the meat in a pan with olive oil over high heat on both sides. Remove and preserve.

In the same oil, sauté the peeled and whole garlic, bay leaves, thyme, and rosemary until the garlic turns golden.

Add vinegar, water, juice, and zest of one lemon. Bring to a boil and reduce heat.

Add the rabbit and simmer for one hour or until the meat is tender.

Thinly slice the remaining lemon and add it to the pickle. Turn off the heat and let stand for at least an hour for the flavors to blend.

Serve the rabbit in its preparation, either hot or cold, according to your preference.
The garnishes that best combine with pickled rabbit complement its acidic and spicy flavor while adding texture and color to the dish. Some options are:
Roasted vegetables: zucchini, eggplant, peppers, onions or mushrooms. It is a light and healthy garnish that contrasts with the vinegary flavor of the marinade and adds freshness to the dish.

Baked or sautéed potatoes: potatoes are a neutral food that combines very well with marinated rabbit and gives consistency and energy. You can cut them into slices, quarters, or cubes and season them with salt, pepper, garlic, and parsley.

Boiled white rice: this is another simple and versatile side dish that absorbs the pickle juice and adds a touch of sweetness to the dish. You can cook rice with water, salt, and olive oil or add carrots, peas, or corn ingredients.
You can also opt for other side dishes you like or have on hand. The important thing is that you enjoy this traditional dish healthily.
Benefits
Rabbit in lemon marinade is a delicious and healthy dish that can be enjoyed at any time of the year. Some of its advantages are the following:
Rabbit meat is lean, low in fat, but rich in proteins of high biological value, contributing to muscle mass maintenance and development.

Rabbits also provide B vitamins such as vitamin B12, which is involved in forming red blood cells and prevents anemia, and niacin, which contributes to energy metabolism and the functioning of the nervous system.

This protein also contains minerals such as iron, phosphorus, potassium, and zinc, essential for bones, muscles, immune health, and cognition.

Conversely, vinegar is a natural preservative that prevents the growth of bacteria and fungi in food. It also has digestive, diuretic, and anti-inflammatory properties.

In turn, Lemon is a vitamin C source, a powerful antioxidant that helps protect cells from oxidative damage and strengthens defenses. It also has alkalizing, depurative, and antiseptic effects.

On the other hand, herbs such as bay leaves, thyme, and rosemary, in addition to adding flavor to dishes, also contain medicinal properties. Bay leaves promote digestion and prevent flatulence; thyme has expectorant, antibacterial, and antifungal effects; rosemary stimulates circulation, memory, and mood, among other benefits.
In summary, the rabbit in the lemon marinade is a simple recipe but very complete regarding nutrition and cooking. If you want to enjoy the best Spanish dishes, do not hesitate to prepare this dish and surprise your family and friends with its flavor and benefits.