Recipes for Entraña Steak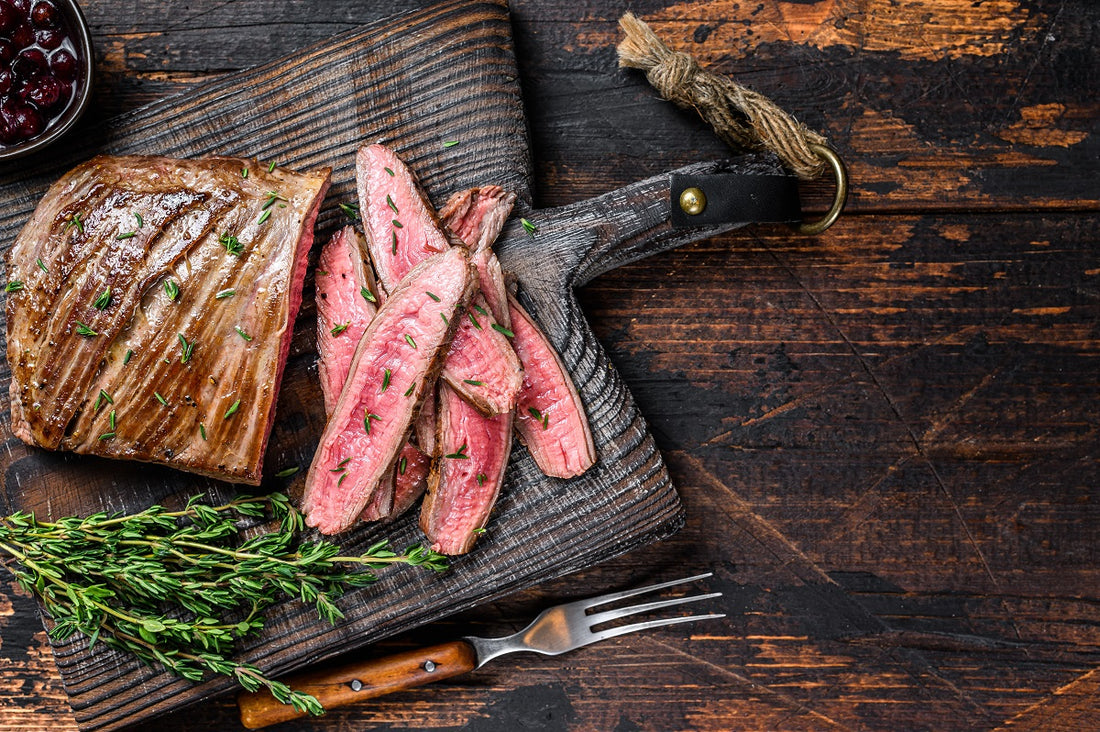 For most folks outside of Argentina, Entrana steak might not sound very familiar. But within the borders of this South American country, it's one of many cuts you'll find. The culture of Argentina reveres steak and has an endless number of cuts and recipes.
One such cut is the Entrana skirt steak. If you're unfamiliar with this gorgeous cut, you won't be for long.
What Kind of Steak is Entraña?
Entraña steak is cut from a section of the cow called the plate. This is inside the abdominal cavity below the ribs, right next to the flank.
Each cow only has 2 skirts, one inside skirt and one outside skirt. Most of the time the outside is used over the inside, because it's thicker and in general has a more uniform shape. It's long and flat, and can be trimmed up to 20-24 inches in length and 4 across. This makes it ideal for grilling or cooking in a skillet.
How do you Season Entraña Steak?
The best way to go about seasoning your Entraña steak before cooking it is by using a dry rub. This cut is incredibly flavorful, so a little goes a long way. Most of the time you won't need much more than some salt and pepper, but if you've got a dry rub spice blend you've been dying to try, nothing's going to stop you from trying it out on your steak. Just let the steak marinate in your dry rub or seasonings for about 20 minutes before cooking to allow the meat to absorb all that extra flavor.
How to Cook Entraña Steak?
Unlike some other popular cuts of meat, Entraña steak is best cooked long and slow. Since it's thin, you might think a long and slow cook over embers would dry it out. But this isn't the case. It'll roast, getting a nice crispy or even charred outer layer while the interior stays tender and juicy. 
Traditionally, Argentinian beef is cooked over natural wood, however, you can cook it in any way you'd cook another piece of steak. The oven, a gas grill, pan-fried on the stove - it really doesn't matter at the end of the day. 
Entraña steak Recipes
Entraña with Chimichurri Sauce
Bring your steak to room temperature and pat it dry with a paper towel

Season your steak lightly with salt, or your preferred dry rub/spice blend

Heat your grill to high and brush the grate with oil

Place the steak on the grill and cook for 3-4 minutes, or until your desired doneness is reached 

Once cooked, transfer your steak to a cutting board and let it rest for up to 10 minutes

Slice your steak thinly against the grain

Serve with a ladle of Chimichurri sauce  
If you'd like to make your own sauce here over using store-bought, you absolutely can. Here are the instructions:
In a medium bowl, combine vinegar, 1 teaspoon of salt, garlic, shallot, and chile

Let stand for 10 minutes

Next, stir in cilantro, parsley, and oregano. Whisk with a fork

Season with a bit of salt to taste and set aside
You can use this delicious sauce as either a topping or the marinade for the steak before cooking.
Entraña Steak with Garlic Butter Sauce
While this recipe uses few ingredients, it's not at all lacking in flavor. Instead of the traditional grill, this will be cooked in a skillet.
Pat your steak dry and season with salt and pepper

Preheat your oil in a skillet on medium-high heat

Meanwhile, take some garlic cloves and smash them

Mince the garlic with salt

Once the skillet is ready, place your steak into the oil and brown on both sides - 2-3 minutes per side for medium-rare

Move the steak off the heat and let it rest for 5 minutes

While the steak is resting, you can start making your garlic butter

In a clean skillet, melt some butter over low-heat

Add in your minced garlic and cook, stirring frequently

After about 4 minutes, or until lightly golden, remove the butter from the heat

Slice your steak on the cutting board and transfer it to a serving plate

Spoon your garlic butter onto the steak and serve
Final Thoughts
While a lot of the world won't know what you're talking about when you mention Entraña steak, this special and delicious cut of beef can convert just about any skeptic with a single bite. It's flavorful and incredibly versatile despite the thinness of the meat.
You absolutely cannot go wrong with a hearty helping of this wonderful cut of beef, no matter how you choose to cook and serve it.