Rioja Style Potatoes with Chorizo Sausage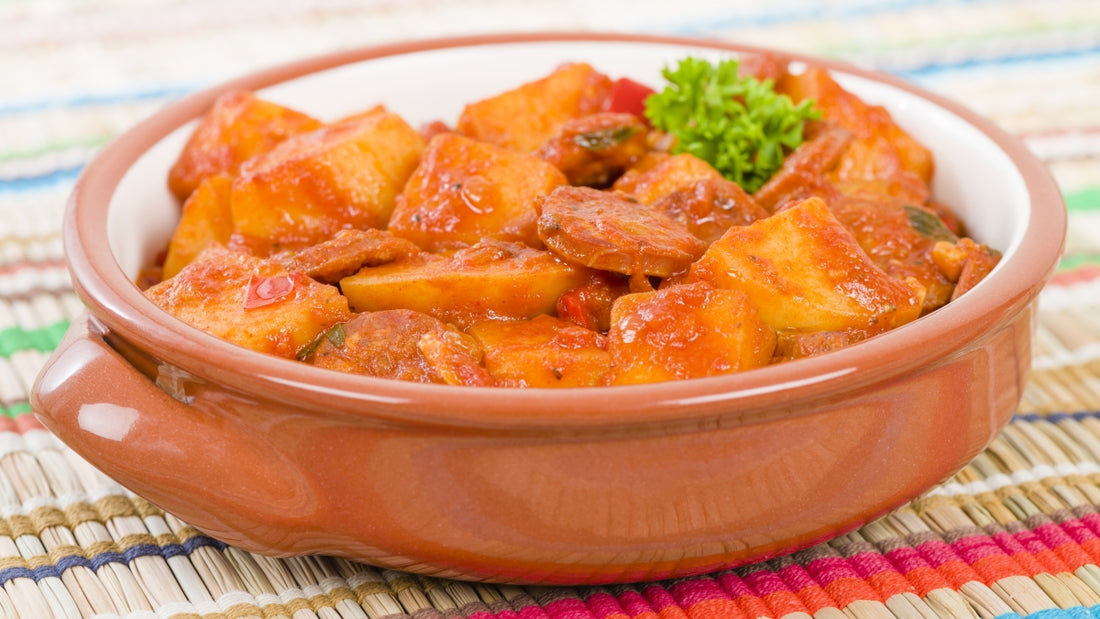 Rioja-style potatoes with chorizo sausage is one of those traditional recipes that has been passed down from generation to generation. It's a dish that's bound to be written in many Spanish abuelas' prized recipe books and it is still popular and relevant today. 
As the name indicates, this recipe is originally from La Rioja region of Spain, a northern area of the country famous for its wines. There's no evidence as to where this dish came from or when people in the area started to prepare it. But Many people believe it was a humble peasant dish made in the 19th century when Napoleon's invasion of the area introduced locals to potatoes cooked in broth.
Most folks who live in the area especially love this dish on cold winter days. It's hearty, practical, versatile and incredibly delicious. It can also be enjoyed at breakfast, lunch, and dinner. Many people even love to eat it after a night on the town and say it can cure a hangover! 
Recipes for this dish vary from family to family. This is our take on the traditional dish, loaded with peppers, sweet onions, and smoky chorizo.  
How to Prepare Potatoes Rioja Style with Chorizo
This recipe calls specifically for chorizo from the Rioja region. However, you can also use whatever cured chorizo you have on hand, be it sweet, spicy, or a mixture of both. Just make sure it's Ibérico!
We also recommend using a specific type of smoky dried pepper called choricero, which is the primary pepper used in making chorizo. The pepper also often comes in a paste. If you can't get your hands on choricero peppers, look for ñora peppers or even ancho chilies. Just keep in mind that both of these peppers are spicier than the choricero, so we recommend using less or the spice may take over the whole dish. When all else fails, load it up with red bell peppers. 
Ingredients
4½ lbs. potatoes, peeled and cut into 2-inch pieces 
2 large onions, diced 
½ kilo of Riojan chorizo sausage, cut into cubes  
4 dried choricero peppers (or paste)
6 cloves garlic, unpeeled 
Beef or chicken broth 
3 bay leaves

¼

cup extra-virgin olive oil
Paprika (sweet or spicy) to taste
Cayenne to taste 
Salt
Preparation
Soak the peppers in hot water to rehydrate them. Let them sit for about 20 minutes and then set aside. 

Drizzle olive oil in a large pot and heat the pan over low heat. Add the onions and sauté for about 15 minutes until soft. 
Add the chorizo and whole garlic cloves to the pan and sauté for a few minutes. 
Add the cayenne and paprika and mix well. Cook for a few minutes, being careful not to burn the paprika. 
Add the potatoes to your sofrito and then pour in enough broth to full cover the potatoes. 
Turn the heat up to high and bring the broth to a boil. Once boiling, lower the heat and add the softened choricero peppers. Stir will and partially cover the pot, leaving a little room for some of the steam to escape. 
Cook the dish for 30 minutes, stirring every so often and adding more broth or cold water if the potatoes are too dry. Cook until the potatoes are soft. 
Remove from heat and let rest for about 10 minutes. Check for salt and add more if needed. 
Serve with any garnish or your sides of choice. ¡Buen aprovecho!
Tips for Perfect Potatoes, Rioja Style
If the broth is too liquidy, mash up one or two of the potatoes and the sauce will thicken and get starchier. If the broth is too thick, you can add more water or broth. 

Fresh parsley is not only a good-looking garnish but adds flavors and brightness to the hearty dish. 
If you're not able to use choricero peppers in this recipe, keep in mind the spice levels of other dried peppers. Otherwise, you may end up with a fiery, inedible dish. 
This is the traditional recipe for Rioja-style potatoes. But feel free to get creative with this dish. Add more cured or fresh pork, or your favorite vegetables.
Serve with a good loaf of crusty bread for sopping up every last delicious drop of these Rioja style potatoes with chorizo.