Roast suckling pig with honey and lemon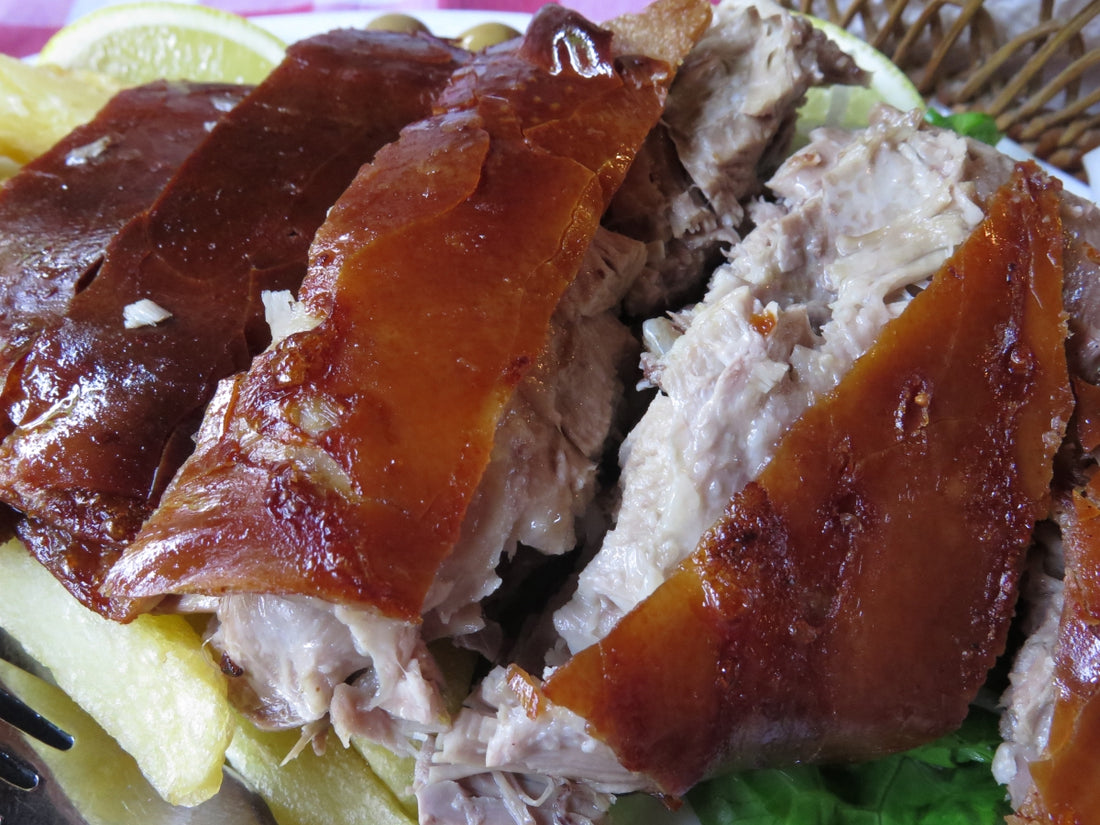 Roasts are usually dishes we prepare on special days or holidays, and the suckling pig is one of the most traditional, especially in cities in the Iberian Peninsula as Segovia.
But only some people dare to try it. Some are put off by the extended time required, while others believe it will turn out poorly because they do not have utensils like those of a good restaurant. However, we don't need a wood-fired oven to prepare a perfect roast, nor do we need to complicate things too much, as you can see in the following recipe.
How to prepare roast suckling pig with honey and lemon
This simple recipe has hardly any ingredients except spices, lemon, and water. The latter is essential to obtaining a crispy and tender roast inside. But above all, the indispensable requirement is to choose a suitable suckling pig. It should weigh less than 5 kilos, as its flavor will be milder.
Ingredients:
1 suckling pig of about 5 kg, approximately

4 tablespoons of extra virgin olive oil

Lard

Juice of one lemon

2 tablespoons of honey

2 cloves of garlic

Fresh rosemary and thyme

Bay leaf

Salt and freshly ground black pepper
Preparation:
Preheat the oven to 180 degrees with the fan. If your oven does not have one, the suckling pig will take between 4 and 5 hours to cook, depending on its size.

Season the suckling pig with salt and pepper and brush with a few drops of olive oil.

Fill a baking dish with water to about 3/4 of its capacity. Add the bay leaf, thyme, rosemary, and garlic cloves.

Place the suckling pig in the water, skin side down, and place the tray in the lower part of the oven so that the meat does not burn on top.

Bake for 1 hour and 30 minutes, with the fan mode up and down.

There should always be water in the tray. If it evaporates during baking, add a glass of water.

After this time, remove the suckling pig from the oven and the tray. The meat should be almost cooked but with the skin still white. Place a rack over the tray and ensure water remains in the bottom.

Meanwhile, mix the oil, honey, and lemon in a small bowl. Using a kitchen brush, paint the suckling pig's skin with this mixture.

Increase the oven temperature to 200 degrees, place the meat on the rack, and put it back in the oven. Roast for another 45 minutes or until the skin is golden brown and crispy.

Do not discard the juices released by the suckling pig. Please put them in a sauce dish to accompany the meat. But remember that if it is poured over the skin, it will lose its crispy texture.
Preparation tips for a roast suckling pig with honey and lemon:
It can be difficult to roast a whole suckling pig in the oven at home. Therefore, ask the butcher to cut it into several pieces or in half lengthwise.
To get a spectacular roast suckling pig, there are two steps to follow:
Check that the water in the pan is not consumed. This will prevent the meat from drying out, so do not hesitate to add a glass of water if necessary.

Remove the suckling pig from the oven only when the skin breaks when tapped with a knife.
Another issue is that the ears and feet can brown too much. When this happens, one solution is to cover them with aluminum foil and continue cooking.
If before eating the suckling pig, you are going to have an appetizer or some starters, turn off the oven and leave the roast inside so that it does not cool down.
As for cooking times, you should know that if your oven has a fan, the roast will be done in about two and a half hours. Otherwise, it will take twice as long. This will help you to prepare your roast with enough time.
Benefits of roasted knife with honey and lemon 
Contrary to what many people think, a suckling pig has less fat than other meats, so eating it in moderation is good for your health, even if you are following a slimming diet.
On the other hand, the therapeutic properties of honey are well known, but the exciting thing about using it in this recipe is its hygroscopic property. Thanks to it, honey maintains the humidity caused by water and prevents the meat from drying out.
For its part, lemon not only aids digestion, but is rich in vitamins and minerals, contains many antioxidants, and helps metabolize fat faster, making it an ingredient that should not be missing in any slimming plan.