Seafood Salpicon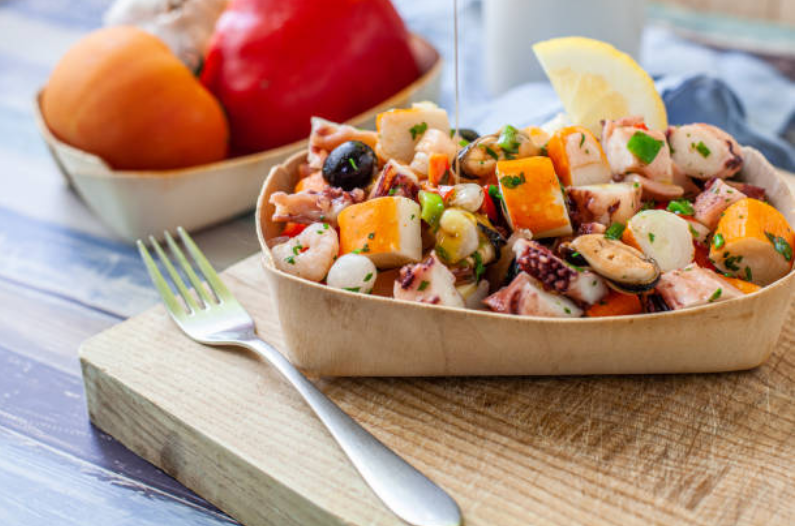 If you are looking for a perfect recipe for the most demanding palates, then nothing like a good seafood salpicón. It is an ideal dish for special meals and celebrations because the ingredients are of the highest quality, and if they are fresh, so much the better. Learn how to make this delicious recipe!
What do you need to know before preparing seafood salpicon?
The most important thing to make a delicious seafood salpicon is to choose fresh, quality ingredients, which is essential for a perfect salpicon recipe! It is best to buy fresh seafood from the day and the fishmonger; try not to buy frozen products.
The seafood salpicón is perfect for serving as a starter or as a side dish in a snack. Although we present an option for making this recipe, remember that you can choose the seafood you like best.
Seafood salpicón recipe
Ingredients
One spider crab

15 fresh prawns

Six mussels

Four eggs

One spring onion

One Italian green pepper

Half a red pepper

150 milliliters of extra virgin olive oil

120 milliliters of vinegar

Fresh parsley

A bay leaf
Preparation
First of all, cook the crab for approximately 15-17 minutes. The cooking time varies depending on the weight of this delicious shellfish.

To cook the crab, you must place it in a pot with plenty of water, a bay leaf, and salt. When ready, set it aside and leave it to cool.

Prepare the boiled eggs in a small saucepan with water. When ready, remove from the heat and leave to cool.

In a separate saucepan, place plenty of salted water. When the water comes to a boil, add the prawns and let them cook for about two minutes before it starts to boil.

Remove the prawns and wait for them to cool before peeling them. You can buy cooked but fresh prawns if you want to skip this step.

Finely chop the peppers and spring onions.

Add these ingredients to a bowl or dish where you will serve the

salpicón

.

Open and finely chop the spider crab.

Peel the prawns and cut them up, but leave a couple uncut to use as a garnish at the end.

Peel and chop the eggs. You can even use your hands to crack them. They do not have to be perfectly cut.

Add all the ingredients to the bowl with the vegetables and mix very well with your hands so that they are all combined.

Dress with olive oil and vinegar. We recommend that you also use your hands at this stage to stir the dip so that all the ingredients are impregnated with the flavors of the dressing.

Cover the dish with cling film and put it in the fridge until it is time to serve it to the guests.
Other seafood salpicón alternatives
As you have seen, seafood salpicón is a straightforward recipe but also very versatile. You can add your favorite seafood, such as prawns, crab, and even barnacles; the latter are high-quality Galician seafood that will delight your guests.
Some cooked and shredded fish can accompany this recipe. One fish that goes best with salpicón is monkfish, which is delicious and full of nutrients! Monkfish cooked and shredded in the salpicón will give the dish a different touch. But monkfish is not the only fish you can add. You can also use sea bass or hake. Boil the fish in a pan with plenty of water, break it up, and add it to the salpicón.
As for the dressing, it doesn't always have to be extra virgin olive oil and vinegar. You can prepare the vinaigrette you like best! Try salpicón with lime, lemon, soy, mayonnaise, and mustard sauce. It all depends on the preferences of the diners.
On the other hand, seafood salpicón also accepts tomato and coriander, which are always used in salpicón prepared in Latin American countries.
What to serve with seafood salpicón?
This dish is already delicious and very hearty, but it depends on the type of banquet you are offering your guests. The fact is that salpicón is so versatile that you can serve it as canapés, a guaranteed success!
If, on the other hand, the salpicón is the main course, then don't forget to offer a loaf of bread to the guests. The bread is perfect for dipping in the dip. And, of course, accompany this recipe with an excellent white wine; for a very Galician meal, then serve a wine from this land, such as an Albariño. Your guests will love it!