What is Ibérico Secreto and How to Prepare It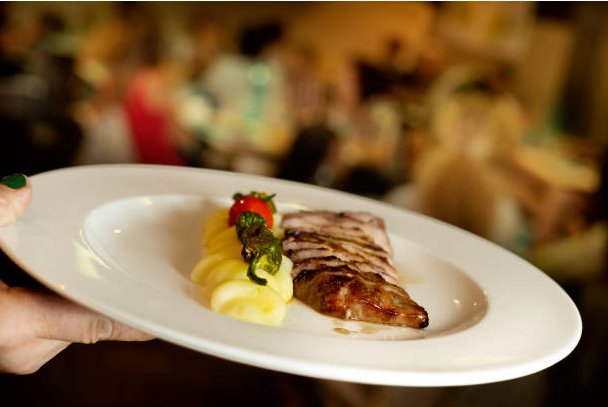 The Secreto cut is known as the Spanish butcher's best-kept secret...hence its name. Surprisingly, the cut only became popular in recent years. It was one of those secondary parts the butchers kept for themselves, or simply used to make sausages. But with such a tender makeup, turning Ibérico Secreto is a total waste! Luckily, things have changed in Spain. Which means they've changed for you too. 
Want to learn more about this prized cut? Read more on Ibérico Secreto and how to prepare it at home. 
What is Iberian Secreto?
The Iberian Secreto comes from the upper end of the pig's flank, between the shoulder and the belly of the animal. In order to extract the Secreto, the butcher has to make a precise horizontal cut to get into the hidden area. Only two Secretos can be extracted from each Ibérico pig, making it a highly select and exclusive cut.
Ibérico or Iberian pigs are a unique breed native to the Spanish and Portuguese pastures. They are raised on expansive farms and graze freely in the meadows. They get a lot of exercise throughout their lives, which contributes to a high level of intramuscular fat throughout the meat. In addition, towards the end of their days, the pigs feed on acorns, a diet that gives their meat a more intense flavor.
Ibérico meat is known for being incomparably juicy and having the perfect balance of fat and lean meat. This balance attributes to unmatched flavors and melt-in-your-mouth textures. 
The Health Benefits of Ibérico Secreto
The fat infiltration and the excellent diet of the pig also means that Ibérico meat has a few important nutritional properties. For example, it has high levels of healthy cholesterol and it is said to help reduce bad cholesterol; its properties are similar to those of extra-virgin olive oil. On top of that, it has high levels of protein, B vitamins and minerals such as phosphorus, zinc and magnesium. 
Tips for Preparing Ibérico Secreto 
To prepare Iberian Secreto you don't need much—the meat really does speaks for itself. But here are a few tips to get you started: 
Bring to R
oom temperature 
The first thing to do is to take the meat out of the refrigerator two hours before cooking, to allow it to come to room temperature. This helps with even cooking. To bring the meat to room temperature, remove it from its package and place on the counter so it can breathe. Once the meat is at room temperature, use paper towels to pat the Secreto and soak up any excess liquid. 
Keep it Simple 
The Ibérico Secreto is a cut that speaks for itself. It doesn't necessarily need a complicated cooking process or big spices and sauces. A pinch of coarse salt or flaky sea salt does wonders for the cut and brings out all its natural flavors.
Crank the Heat  
The Ibérico Secreto is best cooked over high heat and needs little to no oil. Because of its high fat composition, it won't stick to the pan, griddle, or barbecue grates. If you do need to use oil, a little drizzle of olive oil will do the trick. Or trim off a small piece of fat from the Secreto, render the fat in the pan, and cook the Secreto in its own oil.
Cook Quickly 
To cook Ibérico Secreto, you only need to cook it a few minutes on each side on high heat in a hot pan, or over direct heat on the grill. Once the first side is cooked, turn and cook another few minutes. After you flip, you can add in any additional herbs or aromatics, like garlic or rosemary. The Secreto should be crispy on the outside and tender on the inside.
Cut with the Grain 
Once the Secreto has rested a few minutes (to finish cooking and lock in the juices), it's time to cut it. To slice, cut along the grain and marbling (not against the grain). This keeps the Secreto muscle fibers in tact and helps the meat retain its juice and tenderness.