Senyoret rice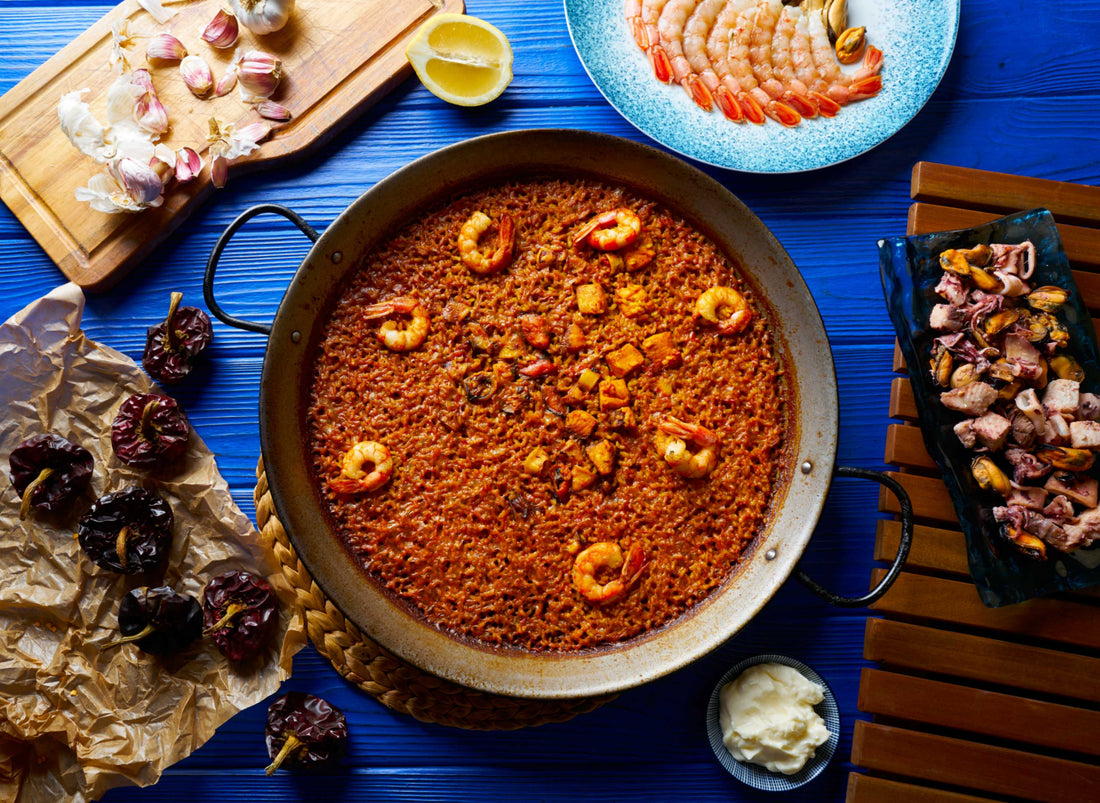 Do you want to learn how to prepare one of the most iconic and delicious recipes of Spanish gastronomy? Well, in this opportunity, we present you with a dish that combines the flavor of rice with that of seafood and will satisfy your guests. In the following lines you will see step by step how to prepare this dish, what ingredients you need, what garnishes are ideal to accompany it and all its health benefits. Your mouth will be watering!
Arroz del senyoret is a variation of arroz a banda, a traditional recipe from the Mediterranean coast, especially from the regions of Valencia and Murcia. Its name means "rice of the gentleman", because the seafood is served without the shell and it is not necessary to get your hands dirty when eating it. This dish is ideal for special occasions as it has a very attractive appearance and a delicious flavor.
Ingredients
To prepare the senyoret rice, you need the following ingredients:
400 g of rice

1.5 l of fish stock

300 grams of shrimps

300 g of mussels

300 g squid

4 cloves of garlic

1 onion

1 tomato

1 red bell pepper

Saffron

Sweet paprika

Olive oil

Salt

Chopped parsley
Preparation
To prepare this recipe you must follow the following steps:
First you must clean the shellfish and keep the shells and the head of the shrimp. Put the mussels in a pot, cook with water until they open, and keep the broth. Then, cut the squid into small pieces and set aside.

In a paella pan or large frying pan, sauté the garlic and chopped onion in olive oil over medium heat until soft. Then add the grated tomato and the red bell pepper cut into strips and continue cooking until the liquid has reduced.

Add the sweet paprika and saffron and stir well. Add the rice and sauté for a few minutes to infuse the flavors. Then, boil and pour in the fish stock and the strained mussel broth. Reduce the heat and cook for about 18 minutes, stirring occasionally to prevent sticking.

Halfway through cooking, add the shrimp, mussels, and squid to the rice and distribute evenly. Do not mix them with the rice; just let them steam.

When the rice is soft and the broth has been consumed, turn off the heat and let it rest for a few minutes, covered with a cloth.

Finally, sprinkle chopped parsley on top and serve hot.
Senyoret rice is a complete and nutritious dish, providing carbohydrates, proteins, healthy fats, vitamins, minerals, and antioxidants. However, there are some garnishes with which it is ideal to accompany this recipe and that enhance its nutritional benefits. One can be a fresh salad of lettuce, tomato, onion, and olives dressed with vinegar, oil, and salt. This option contrasts the dish with texture and flavor and helps refresh the palate.
Among the other options, you can prepare Mediterranean-style sautéed vegetables with zucchini, eggplant, peppers, and onion, seasoned with garlic, parsley, and paprika, which also makes it a very nutritious and colorful side dish and combines well with rice and seafood. Baked potatoes with rosemary and thyme are also an excellent alternative. Cut into chunks or thin slices and drizzled with olive oil, this side dish is very easy to prepare and adds a crunchy and aromatic sensation to the dish. Finally, sautéed or roasted artichokes, sprinkled with coarse salt and lemon, will be a light and healthy option to enhance the dish's flavor.
Advantages
Among the health benefits of this popular dish, you can find the following:
It is good for the heart because olive oil, fish, and seafood contain omega-3 fatty acids that help reduce bad cholesterol and prevent cardiovascular disease.

It is good for the eyes because saffron contains carotenoids, which protect the retina and prevent macular degeneration.

It contributes to strengthening the immune system because paprika, tomato and red bell pepper are rich in vitamin C. This micronutrient strengthens the defenses and helps fight infections.

It benefits bones because mussels are a source of calcium, phosphorus and magnesium, which contribute to maintaining bone structure.

It promotes brain health because shrimp and squid contain phosphorus, iron and zinc, which help improve memory and concentration.
In conclusion, arroz del senyoret is a dish that is not only delicious but also very healthy. If you want to taste the best of Spanish gastronomy, do not hesitate to prepare it and enjoy it with your family or friends; there is no doubt that you will love it!