Skirt vs. Flank Steak: How to Distinguish These Cuts?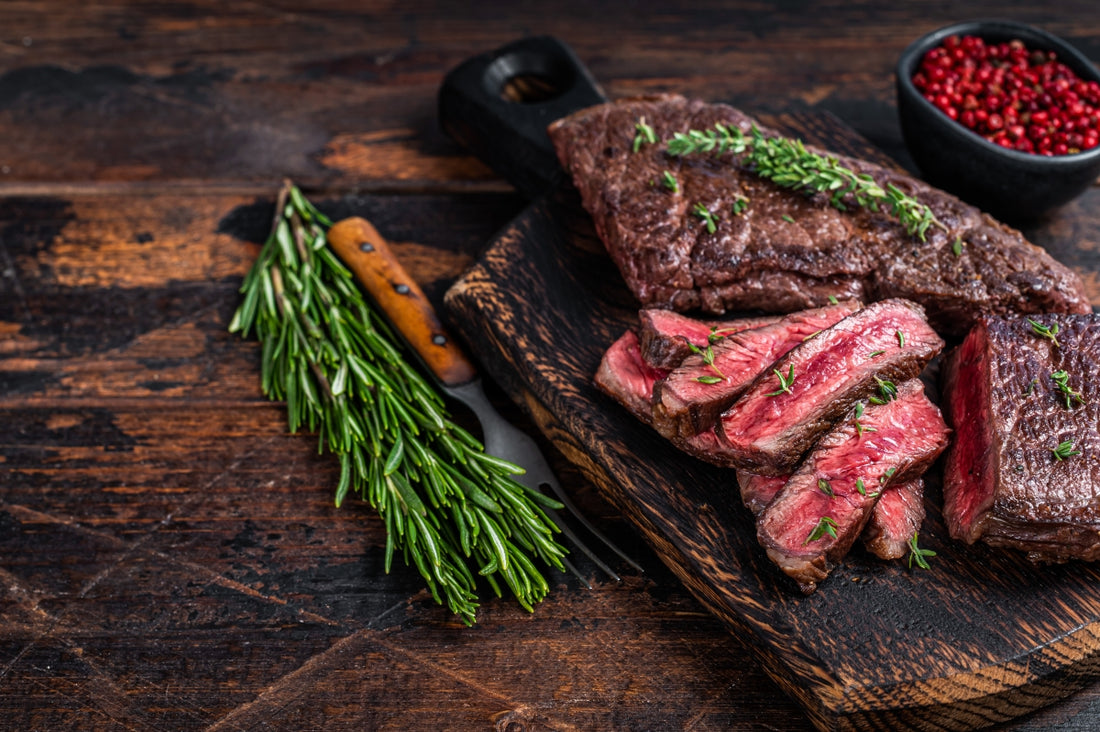 There are tons of beef cuts that are ideal for grilling, but there are two common grilling cuts that often get confused and need clarification: skirt steak and flank steak. Though you can often use them interchangeably in various recipes, there are some distinct differences. How can you learn to recognize these two cuts of beef? Let's find out. 
What is skirt steak?
The skirt steak is a thin cut from the beef diaphragm. This cut is extracted from the muscles inside the animal's abdomen, known as a skirt. The skirt steak comes from the area below the ribs.
It's a cut with a lot of fat attached to the lean part. Its flavor is very tender and meaty, but there re certain methods that work best skirt steak. You can easily find skirt steak at any grocery store or order steaks online.
Characteristics of the Flank Steak
The flank steak is much thicker, broader, and flatter than the skirt steak. This cut is often confused with the skirt steak because they are extracted from practically the same area, that is, from the animal's diaphragm. It's just as meaty but its flavor is much more intense than the skirt steak. 
Skirt Steak vs. Flank Steak: Similarities
Both cuts come from the same area of the animal and are thus very similar. For example, they are tougher cuts of meat because this area of the diaphragm is more fibrous. The meat needs to be broken down and softened up a but, which means skirt and flank steak lend particular well to marinades. 
Skirt and flank steak flavor is robust and consistent. And if adequately marinated, you can intensify that flavor to help develop a tender texture. You'll see flank and skirt steak mentioned in countless marinades because they work so well together. The acids, oils, and spices help soften the fibers, but they also give the cook a chance to add her or his own spin on a dish. 
Preparing both skirt and flank steak is also very similar: high and direct heat. With this technique, the skirt and flank steak will get a crispy outer layer and a soft texture inside. Just be careful to not overcook the flank and skirt steak or you'll end up with a super tough meat that's difficult to chew. 
These cuts also have a thick, visible grain. To cut, always cut against the grain to make it easier to chew.
Differences Between Skirt Steak and Flank Steak
While the cuts have a ton in common, there are some identifiable differences to consider, especially before purchasing and cooking. In addition to shape and size, there are other ways to differentiate the two cuts. 
For example, the skirt steak is much fattier and has more marbling than the flank steak. Which means skirt steak is much more tender and requires less cook time than the flank steak. In other words, it's way easier. Although it requires a long marinade time, you won't need to cook it nearly as long as you will a flank steak. When preparing skirt steak, the high temperatures allow the muscle fibers to break down independently.
Flank steak is much thicker than skirt steak and needs a few extra minutes more to cook. But thanks to its thickness, flank steak has a much more intense flavor than skirt steak, as long as it is prepared correctly and without overdoing it with the marinade. For the best experience, you must be attentive to how long you let it sit in the marinade. 
Tips for Preparing Skirt Steak vs. Flank Steak
To get the most out of skit and flank steak, and to taste them in their glory, you must know how to prepare them correctly.
Before cooking, remove the meat from the refrigerator so that it can come up to room temperature. 

To marinate a skirt steak, you will only need an hour or two at most, but flank steak requires you to leave it overnight. The marinating time, however, depends a lot on the recipe: check before you get down to work.

T

he best way to cook flank and skirt steak is on the grill over high heat. You'll get a nice char and the cuts lend well to the fire and coals (or gas) of the grill. 

Once cooked and ready to serve, always cut against the grain of the meat for an easy-to-chew experience.