Slow-Cooked Flank Steak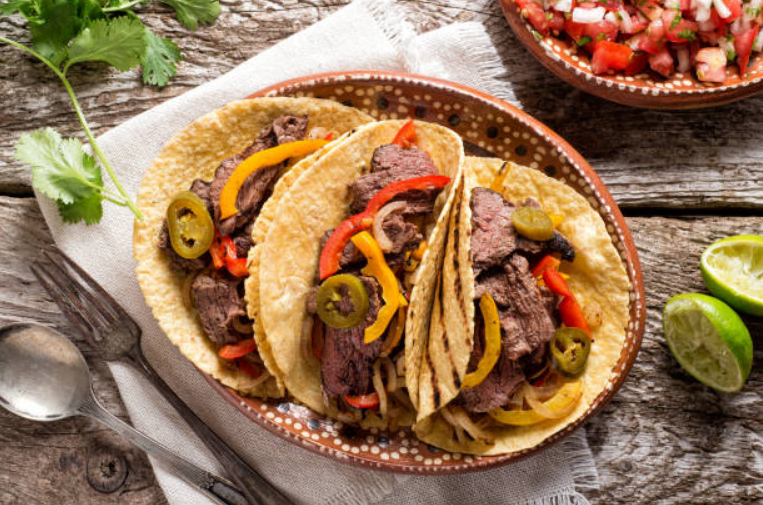 The most traditional way to prepare flank steak is grilled, barbecued, or even baked. However, this meat is so versatile that it is possible to cook it low and slow and prepare a number of great dishes that may surprise you. 
Why cook flank steak low and slow? 
If there is one thing that distinguishes flank steak from other cuts, it is its intense flavor and palate-pleasing texture. But for flank steak to shine, it's important to prepare it properly. This includes marinating it ahead of time to tenderize the meat and following a specific cooking time.
Also known as entraña in Latin America, flank steak is a type of meat extracted from the cow's abdomen. Consequently, the meat has many grains and muscle fibers, which must be broken down during cooking. 
The best ways to eliminate the toughness of the meat is to 1) use a kitchen mallet to pound the meat beforehand, 2) marinate the steak with citrus and even milk for a long period of time, and 3) cook it correctly (in the appropriate temperature and time).
One way to prepare flank steak, besides grilling and baking, is cooking it slowly over low heat. Of course, you will need to have plenty of time to cook the meat, as it requires a few hours on the stove to get that melt-in-your-mouth texture. 
Recipe Slow-Cooked Flank Steak Fajitas 
In this recipe, you will not need to marinate the meat beforehand, but you will need to pound it with a mallet to tenderize it.
Ingredients for Slow-Cooked Flank Steak Fajitas 
2.2 lbs. flank steak

Salt

Freshly ground black pepper

1 green bell pepper, thinly sliced 

1 red bell pepper, thinly sliced 

1 onion, thinly sliced 

3 eggs (optional)

1 bay leaf

Extra-virgin olive oil

Flour or corn tortillas 
Preparation for Slow-Cooked Flank Steak Fajitas 
Remove the meat from the refrigerator two hours before cooking, so that it reaches room temperature.

Trim the edges of the meat that may have more fat and muscle fibers and pound the meat with a mallet. 

Pour plenty of water in a saucepan and add flank steak, salt, freshly ground black pepper, and a bay leaf. The water should cover the flank steak.

Cook over medium high heat for a couple of hours. You should keep an eye on the steak during this time, adjusting the water as it evaporates.

The time will depend on the thickness and size of the flank steaks. There are occasions when the cooking time in a conventional pot can take up to three hours.

You will know it is ready when you can prick it with a fork and it easily pierces the meat. Be careful not to overdo it, as the meat could fall apart.

Remove the meat from the water and set aside in a separate dish.

Place the onions and peppers in a frying pan with oil.

Stir and cook the ingredients well until they are soft.

Meanwhile, with the help of a fork and knife, shred the meat.

When the vegetables are soft, add the meat to the pan and a

dd a little more olive oil, if necessary. Season with salt and pepper and stir. 

At this point, you can add three eggs to the mixture and stir, so that you get a mixture of meat, vegetables, and scrambled eggs.

When the meat is ready, remove from the heat.

Heat the tortillas in a separate pan or in the microwave.

Place the tortillas on a plate and fill with the meat. Roll up the tortilla and serve. ¡Buen provecho!
Garnishes
Flank steak fajitas are a traditional recipe consumed mainly in Mexico and other Latin American countries. Serve them with avocado slices or homemade guacamole for freshness. It's a recipe that you can also serve without tortillas and accompany it with a nice white rice or even with pinto beans or black beans instead. 
As an alternative, you can substitute the red bell pepper for tomato, as this will give more juice to the mixture; you can also substitute eggs and use finely chopped smoked bacon to give it even more flavor. Remember that if you use bacon, you probably won't need to add as much salt.