How to Make Your Own Ibérico Pork Belly Bacon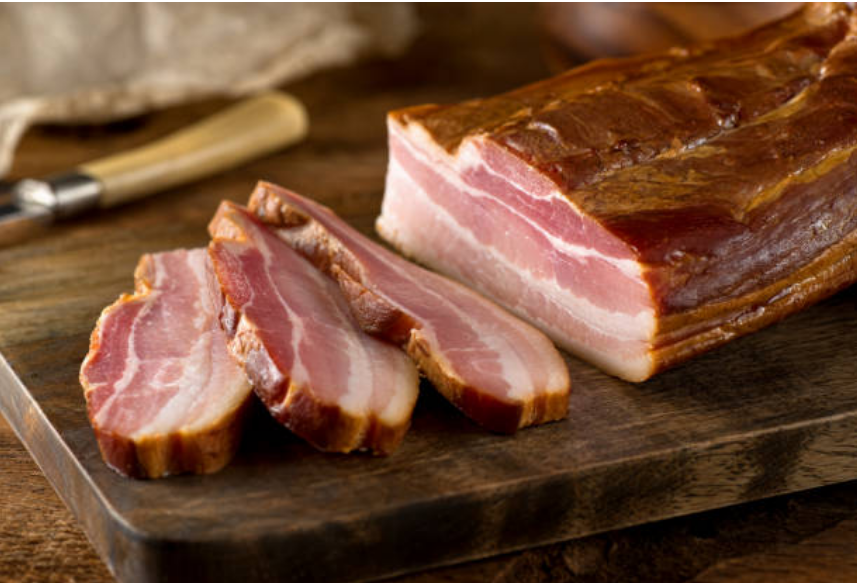 With endless bacon options at the grocery store, why bother making your own?
We've got one reason for you: Ibérico.
It's no secret that packaged grocery store bacon is full of additives (like nitrates and nitrites) to help maintain the color and preserve the meat. Some are even lacquered with fake smoke flavors and an array of mystery ingredients nobody should ingest on a regular basis.
But more importantly, no American grocery store bacon will ever get you those bold, earthy flavors characteristic of Ibérico pork. You may find delicious heritage breed bacon, or even get your hands on local, additive-free bacon. But Ibérico bacon? That's one thing you definitely can't find at the supermarket. 
What is Ibérico pork belly bacon? 
All bacon, Ibérico or not, comes from the belly area of the pig—hence all its delicious fat. The pork belly is also a section with especially even layers of both fat and meat that make for a toothsome chew and a nice crunch when crisped up in a pan with your morning eggs and pancakes. In other words, Ibérico pork belly bacon is the elevated version of everyday bacon. 
How to make your own Ibérico bacon
Turning pork belly into bacon requires two steps: brining and smoking. These two methods add flavor and draw out moisture to help preserve the cut and increase its shelf life. It takes some time (three days) and patience, but trust is when we say it's worth it.
Check out our recipe below and get going on your own Ibérico pork belly bacon. 
Ibérico Pork Belly Bacon Recipe 
Here, we use a straight sugar, salt, and water brine. To add even more flavor, replace half the water with hard apple cider and mix in 8 oz. of molasses. 
Ingredients
4 quarts water

1 cup sugar

1 cup kosher or coarse salt

2 Tablespoons ground black pepper 
Brining the Bacon 
Remove your Thick Pork Belly from the fridge and let it come up to room temperature.
Meanwhile, grab a large stock pot and mix in water, sugar, and salt. 
Place the Pork Belly in the pot and bring the mixture to boil. Once boiling, remove from heat and set aside to cool. 
Once the mixture and meat has cooled, pour it all into a large container and place in the fridge with a thermometer in the Pork Belly. 
Once the meat reaches 40ºF, remove from it from the brine in the fridge and sprinkle on the black pepper, massaging into the Pork Belly. 
Place the Pork Belly back into the brine and refrigerate for two days. Your fridge should be at 36-38º. During this period, flip the Pork Belly once a day to help with even curing. 
After two days, remove the meat from the curing liquid, rinse it under cold water, dry it with paper towels, and place it on a large tray or baking sheet.
Place the tray underneath a ceiling fan or portable fan, and let it dry out even further for 3 hours. Flip half way through so it dries out evenly. When a thin layer or membrane forms on the outside of the meat, you'll know it's ready. 
Smoking the Bacon 
Set up your outdoor smoker, be it a smoker-grill or full on smoker. Ideally you want to hang the bacon on a hook so it is suspended in the air.
Smoke the bacon using your favorite smoking wood, like walnut, maple, apple, or cherry. 
Smoke at 80ºF for about 8 hours. You will know the bacon is ready when outside is a nice golden brown color. 
Ibérico Pork Belly Bacon Recipes 
Is there anything that isn't better with a little bacon? Here are some of our best bacon-loaded Ibérico staples: