Spanish Apple Tart Tatin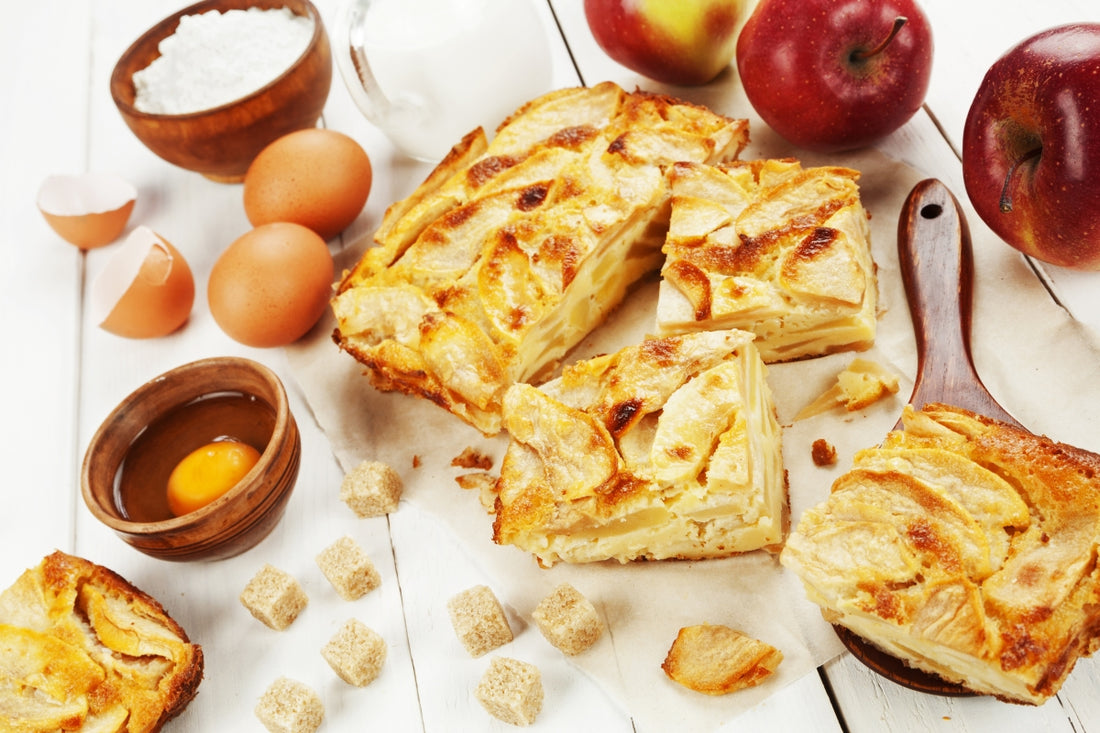 What if I told you that there was a way to make apple tarte Tatin a tastier and healthier option? Well, below you will learn about the Spanish apple tarte Tatin, a traditional recipe that will surprise you with its flavor and ease of preparation. In addition, you will learn about some of the benefits this dessert brings to your health and well-being, so don't hesitate to enjoy it!
The apple tarte Tatin, although a dessert of French origin, has become popular in Spain over time thanks to the influence of French cuisine. According to history, Tarte Tatin was created by accident by two sisters, surnamed Tatin, who ran a hotel in France at the end of the 19th century.  One of them forgot to put the dough under the apples and decided to bake them anyway, covering them later with the dough and turning them over.
For this reason, this preparation consists of an upside-down cake, which is baked with the dough on top of the caramelized apples and then flipped over to serve. The result is a crunchy texture on the outside and juicy on the inside, with a delicious contrast between the apple's sweetness and the dough's salty touch.
Ingredients
To make this recipe, you need the following ingredients:
1 sheet of shortcrust pastry or puff pastry

4 or 5 apples (preferably reineta or golden apples)

100 g sugar

50 g butter

Juice of half a lemon

A pinch of cinnamon (optional)
Preparation
The procedure for its preparation is straightforward, but it must be done step by step to obtain the best results:
First, preheat the oven to 180°C and grease a round baking pan about 24 cm in diameter.

Peel and cut the apples into thin wedges and put them in a bowl with the lemon juice to prevent them from oxidizing.

Melt the butter over medium heat in a saucepan or frying pan and add the sugar. Stir until golden caramel forms, without letting it burn.

Pour the caramel into the bottom of the mold and spread the apple slices on top, forming a thick or compact layer. Sprinkle with a bit of cinnamon if desired.

Using a rolling pin, roll out the dough and cover the apples, inserting the edges of the dough into the pan.

Make a few cuts in the surface of the dough to allow steam to escape during the baking process.

Bake the pie for 25 to 30 minutes until the crust is golden brown and crisp.

Let it cool, then carefully unmold the preparation on a large plate. The cake is now ready to be enjoyed!
Spanish apple tart tatin is the ideal dessert for any occasion, whether as a main option after a family meal, as a snack or as a sweet treat. In addition, it can be served with whipped cream, vanilla ice cream, or crème anglaise to make this recipe more attractive and irresistible.
To prepare a good apple tarte tatin, it is recommended to use quality apples, preferably acidic and firm, such as reinette, granny smith, or golden apples. Softening the caramel with butter and sugar is essential without burning too much or hardening. Depending on your taste, the dough can be butter or puff pastry, but it must be cold and elastic before covering the apples. Bake it all together and turn it carefully while it is still warm.
Preparation
But it is a pleasure for the palate and your health. Did you know that apples have many beneficial properties for your body? Learn a few things:
They are rich in fiber, which helps regulate intestinal metabolism and prevents constipation. They contain antioxidants, such as vitamin C and flavonoids, which help protect cells from free radical damage and prevent premature aging.

They have a satiating effect, which helps control appetite and prevents snacking between meals.

They are low in calories and fat, which makes them ideal for inclusion in a weight loss or weight maintenance diet.

They are beneficial for eliminating liquids and toxins, thanks to their potassium content and diuretic effect.

They improve heart health by reducing bad cholesterol (LDL) and blood pressure.

Strengthens the immune system by stimulating the production of white blood cells and antibodies.

Prevents respiratory infections by having antibacterial and anti-inflammatory properties.
As you will see, Spanish apple tarte tatin is much more than a dessert. It is a way to take care of yourself and enjoy simultaneously. What are you waiting for to try it? I assure you that you will love it and that you will repeat it. Bon appetit!