Stuffed Aubergines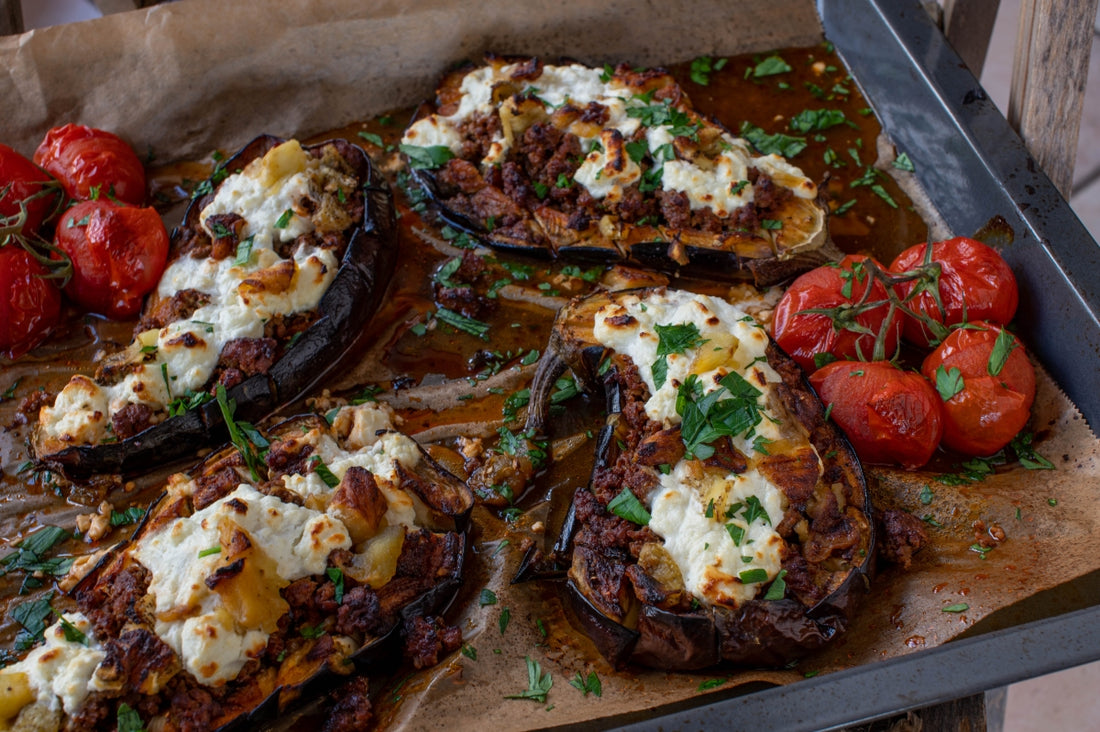 Stuffed eggplants are a typical dish of Spanish cuisine, especially from the regions of Andalusia, Valencia, and Catalonia. As the name suggests, they consist of eggplants cut in half and stripped of their flesh, stuffed with a mixture of minced meat, vegetables, cheese, and other ingredients to taste. They are then covered with grated cheese or bechamel sauce and baked until golden brown and juicy. This is a very delicious, nutritious, and versatile dish that adapts to all tastes and preferences.
The origin of stuffed eggplants dates back to medieval times when the Arabs introduced this vegetable in Spain. The Arabs prepared similar dishes with eggplant, such as alboronía or pisto, which consisted of vegetable stews with spices. The Jews also prepared recipes based on eggplants stuffed with meat or fish, following the kashrut or Jewish diet rules. Over time, stuffed eggplants were introduced into popular Spanish cuisine, adopting different variations depending on the region and the time.
Ingredients
To prepare delicious grilled eggplants stuffed with minced meat, we need the following ingredients for 4 people:
4 medium eggplants

300 g minced meat (beef, pork, or mixed)

1 onion

2 cloves garlic

1 ripe tomato

100 g grated cheese (mozzarella, Emmental or the one we like the most)

Olive oil

Salt

Pepper

Oregano

Chopped parsley 
Preparation
The steps to follow are presented below:
Wash the eggplants and cut them in half lengthwise. Then, make some cuts in the pulp without reaching the skin and add a little salt, place them upside down on absorbent paper, and let them rest for about 20 minutes so the bitterness disappears.

Preheat the oven to 180°C and grease a baking dish with oil. Then, dry the eggplants with paper towels and place them face up in the baking dish. Sprinkle them with a little oil and bake them for about 15 minutes or until tender.

Meanwhile, peel and chop the onions and garlic. Wash and grate the ripe tomatoes. Heat a little oil in a frying pan over medium-high heat and sauté the onion and garlic until tender.

Add the minced meat, season with salt and pepper to taste, and cook, stirring occasionally, until the meat changes color. Add the grated tomato, oregano, and chopped parsley and let the liquid reduce, stirring occasionally.

Remove the eggplants from the oven and empty their pulp to avoid breaking the skin. Chop the extracted pulp and add it to the meat filling. Mix well and adjust salt and pepper if necessary.

Pour the meat and vegetable mixture over the eggplant and sprinkle with grated cheese. Put them back in the oven and bake for about 10 minutes or until the cheese melts and browns.

Serve the stuffed eggplants still hot, with the garnishes that we like the most.
Stuffed eggplants can be eaten with garnishes depending on each person's preferences. Some options for this dish are:
Green salad: a fresh and light salad of lettuce, tomato, cucumber, and onion dressed with olive oil, vinegar, and salt. It is an ideal garnish to balance the dish and provides vitamins and fiber.

French fries: potatoes cut into sticks or cubes and fried in hot oil until crispy on the outside and tender on the inside. This is a classic side dish and very popular with children, although it is also high in calories and fat.

Rice: Cook rice in salted water until loose and fluffy. It is a simple, neutral filling that combines well with the flavor of the stuffed eggplant and provides complex carbohydrates.  

Toasted bread: a few slices of lightly toasted bread in the oven or toaster, perhaps spread with butter or olive oil. This becomes a crunchy and delicious garnish that allows you to enjoy the juice of the stuffed eggplants.
Benefits
Stuffed eggplants are a complete and healthy dish, providing protein, fiber, vitamins, minerals and antioxidants. In addition, they are low in calories and fat, as long as you grill them and do not fry them. At the same time, this vegetable has beneficial properties for heart health, cholesterol, diabetes, cancer, and the immune system.
In short, it is a versatile food made from many different ingredients, such as fish, cheese, vegetables, or legumes. In this way, we can change the flavor and nutrients of this delicious and easy-to-prepare dish.