Stuffed piquillo peppers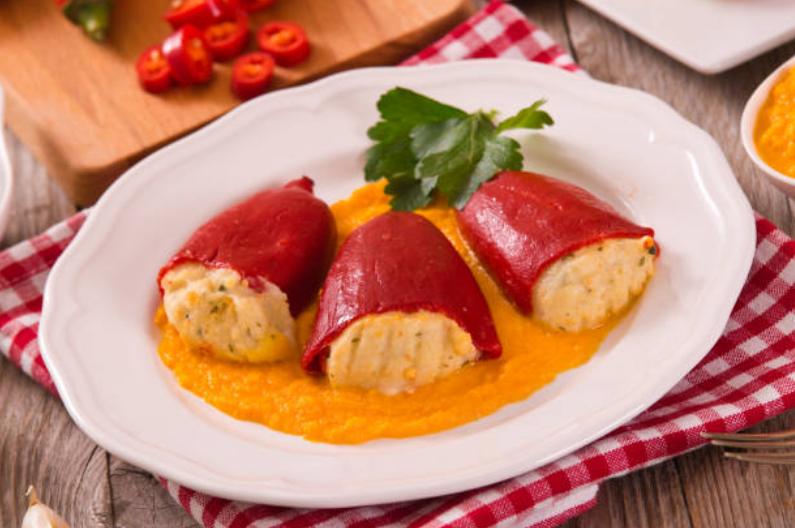 A delicacy for celebrations and unique parties! Stuffed piquillo peppers are delicious, and you will triumph in front of your guests if you offer them as an appetizer or first course. Although they can be stuffed with almost anything you can think of, the best is the brandade, which has its way of elaboration.
Learn how to cook stuffed piquillo peppers
Piquillo peppers are a very particular variety of bell pepper characterized by their triangular shape, hard skin, thin flesh and intense, delicious flavor. Once you try them, you'll want to learn how to prepare them!
Piquillo peppers are not only prepared stuff but can also be served roasted. Roasted piquillo peppers often accompany meats and grilled meats, as well as fried potatoes. Their flavor is incredible! In addition, these curious and delicious piquillo peppers have a cone or beak-shaped end, hence their name!
Nowadays, you can easily buy them in supermarkets as preserves. Since 1987 they have been protected with their Denomination of Origin.
Piquillo peppers recipe
Ingredients for the cod brandade
Half a kilo of desalted and crumbled cod.

One large onion.

Two cloves of garlic.

300 milliliters of liquid cream. You can also use evaporated milk.

Four sheets of gelatine or fish gelatine, two grams each.

Half a chili pepper.

100 milliliters of extra virgin olive oil.

200 milliliters of green oil: extra virgin olive oil with parsley.

Ingredients for the peppers

10 piquillo peppers for stuffing.

Ingredients for the sauce

Three piquillo peppers

Two medium onions.

A clove of garlic.

200 milliliters of cream or evaporated milk.

150 milliliters of whole milk.

20 grams of flour.

Extra virgin olive oil.

Coarse salt and freshly ground black pepper.
Elaboration
The first thing to do is to make the brandade by desalting the cod and garnishing it in a pot with a drizzle of oil and sliced garlic with the chili pepper.

You should also add the onion and cut it into small pieces. The onion should be put to poach, but without getting to take color: seven minutes on the fire are more than enough.

Place the fish and the onion in the same pot and mix. Let it cook for three or four minutes over high heat.

If the cod releases much water, do not hesitate to drain it.

After four minutes, it is time to add the cream or evaporated milk and let it boil for seven minutes. Remove the saucepan from the heat after this time.

Hydrate the gelatin sheets with water, which should be enough to cover them. Leave to hydrate for five minutes.

When you finish the gelatin hydration process, mix them with the cod until they are integrated.

Remove the chili pepper.

Grind the cod mixture with a blender. It should have the consistency of a puree.

Add salt to taste.

Prepare the parsley oil or green oil, mixing the oil with the parsley in a blender or food processor.

Fill the peppers with the brandade and place them in the serving dish. Filling them using piping or a plastic freezer bag is best.

To make the sauce characteristic of the stuffed piquillo peppers, you must brown the finely chopped garlic. Add the peeled, chopped, and browned onions to the garlic. Add the flour to this mixture and stir on the heat so that it takes consistency and texture like toast.

Add the milk and cream to this mixture without removing it from the heat. Stir with the help of a whisk and let it cook, continuously stirring, for six or eight minutes.

Pour all the contents of the sauce into a blender and add the three piquillo peppers. Blend and season with salt and pepper.

It is time to serve the peppers. The peppers should be stuffed with the brandade and placed in a special oven dish. Pour the sauce and bake them in the oven at 180º C for 15-20 minutes. Pour a little green oil on top and serve to the guests.
The recipe for stuffed piquillo peppers is quite laborious but well worth it. They are a delight and a delicacy for all diners! The most traditional is to find the piquillo peppers stuffed with cod brandade, but you can also prepare them stuffed with seafood.
Stuffed piquillo peppers are ideal for a special meal or celebration; they are also one of the favorite delicacies for December celebrations. Their unique flavor, exquisite sauce, and cod brandade will delight your guests.
Remember to serve some bread! All the guests at the table will want to soak in the delicious sauce of the peppers. You will triumph with this recipe!