Stuffed squid in its ink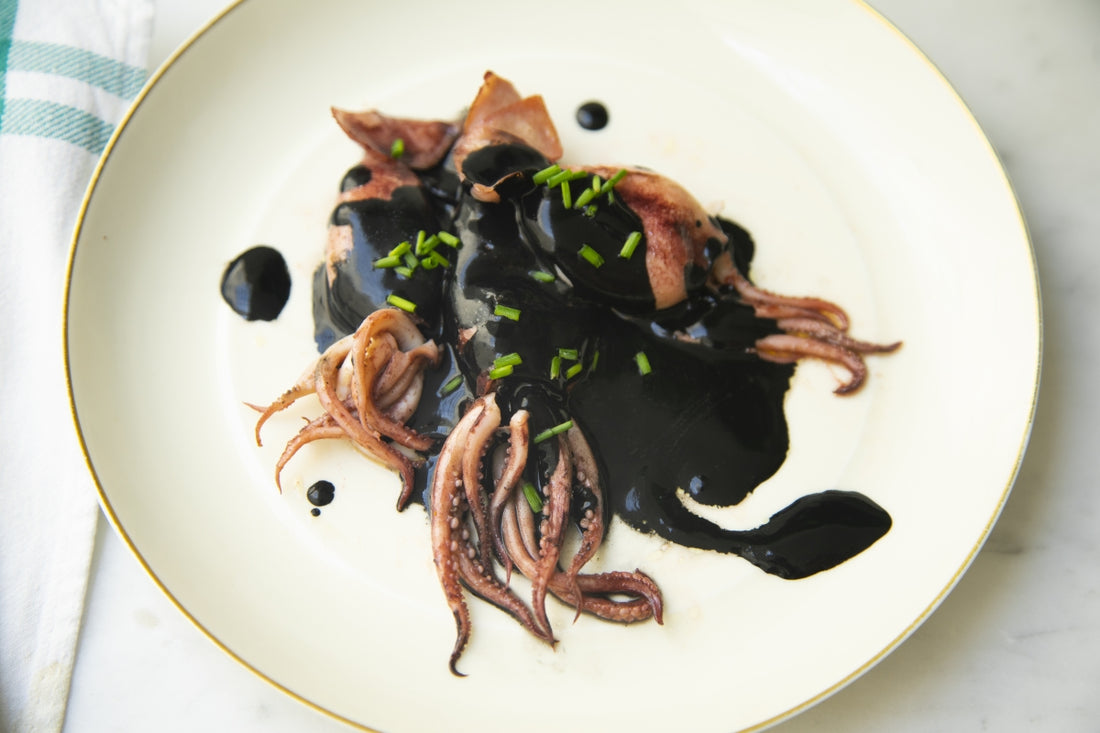 Calamari for lunch? If you like seafood, it's a resounding yes. However, many people may give up on the idea when talking about calamari stuffed with its ink. Firstly, because it may seem far-fetched or unappetizing to many and, secondly, because the raw ink is entirely toxic, people may think eating a dish like this is impossible.
However, despite what you may think, this recipe is very delicious, and the preparation is very simple, so there are no risks when it comes to eating. The dish may be rare in many places. However, you only need to visit Galicia, Cantabria, and the Basque Country to realize that this recipe is a real delicacy, queen of these regions in the summertime when fresh, juicy, and great-tasting preparations are needed.
If you want to have a delicious recipe, it is necessary to make this preparation with small squids. These are known as chaperones or triphones, as they are spelled in the Basque Country. Although it is possible to find these canned in different supermarkets, buying fresh squid from fishmongers is best, as the texture and flavor will make the result vary.
If you have time, desire to eat something tasty, and want to experiment with new things, the stuffed baby squids in their ink are an ideal recipe to fulfill all your culinary desires.
How to prepare stuffed squid in its ink?
Before we begin, it is necessary to make something clear; there is no way that the dish's appearance is not very dark or black. This is due to the coloration of the squid ink, which is the essence of the whole dish. Therefore, do not panic; remember that the color is standard and will not change the taste.
Ingredients: (For approximately 4 people)
32 baby squid or 500 grams.

2 large onions

2 large tomatoes

3 cloves of garlic

150 ml of white wine

Fish stock

Salt

Pepper

Fresh parsley

Extra virgin olive oil
Preparation:
The first and most crucial step is to clean the squid. Carefully pull the tentacles to remove what is inside the squid; sometimes, they have grit and even small fish.

Remove the feather inside (a small part resembling plastic) and remove the eyes, guts, and mouth. You can do this with just one finger, but if they are huge, you can flip them over and spend time cleaning them. Be careful, as you don't want to break the ink sac.

If they are not top-quality baby squid, it is recommended to remove the skin. But if they are fresh, quality seafood, leave the skin on, as it will help with the flavor.

Reserve in a bowl very carefully and wash them under the tap to remove any remains that are still there. Drain them when finished.

Carefully remove the ink bags and place them in a separate dish. Using a spoon, crush them to break the ink bag and remove the ink bags, keeping only the ink.

Add a little white wine to the ink to dilute it, mash very well, and set aside.

Using a mortar and pestle, crush the garlic with the fresh parsley. Chop the onions into small, delicate pieces and add everything to a casserole with olive oil. Let it cook over low heat until it softens.

If softened, remove half of the onion and set aside. Add the chopped tentacles to the pan and sauté for about 20 minutes with some salt. Remove at the end and stuff the squid carefully, using toothpicks.

Add the onion in reserve to the casserole, chopped tomatoes, and the remaining white wine. Let everything cook for about 10 minutes.

Pour in the fish stock until everything is well covered. Then, pour the ink previously diluted into the water with salt, pepper, and rosemary. Cook over low heat.

Add the stuffed squid and cook them in the sauce over low heat for 30 to 45 minutes. Stir occasionally until tender.

Remove the cuttlefish when they are ready and strain the sauce. Finally, serve the squid and pour the sauce over them while sprinkling parsley for a decorative touch.v
Tips:
Although it is complicated to find, the best way to eat this recipe is with fresh baby squid obtained with artisanal fishing methods. If you have the opportunity to cook them, do so.
If you want more sauce, buying squid ink in bags is possible. Some people say that it gives it a final touch that is not as good as the natural one, but it is a perfect way to render the sauce, and many people like it.