Stuffed Veal Loin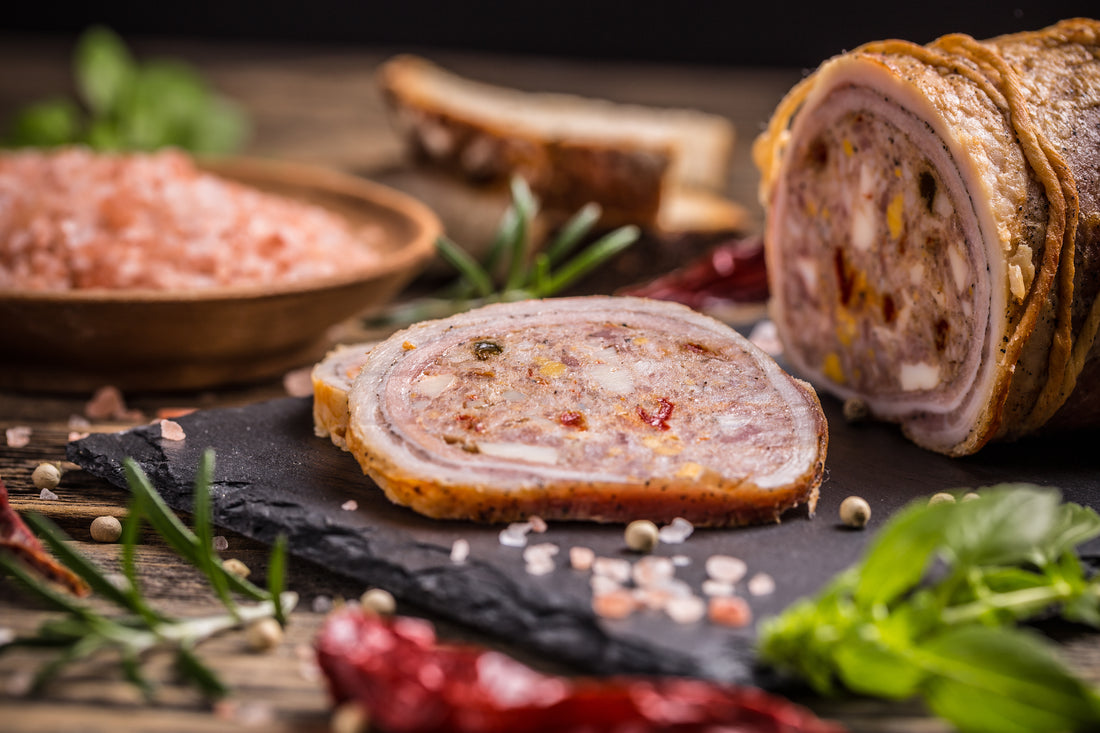 In Spain, stuffed veal loin is a typical meal during the Christmas season. It's colorful, festive, and has an impressive presentation. You can, of course, serve stuffed veal on any occasion, using pork, beef, or lamb to create the roll. Usually a loin is the idea cut, but leg and flank also work well in this recipe. 
Veal in particular is super tender with a mild flavor, making it ideal for filling with a plethora of ingredients and perfect for a crowd. 
How to Prepare Stuffed Veal Loin
Ingredients
2 lbs. veal loin
2 eggs 
5 oz. bacon, chopped
Pitted olives to taste
4 green bell peppers, diced 
1 onion, diced 
½ red bell pepper, diced 
2 cloves of garlic, chopped
2 carrots, chopped
2 ripe tomatoes, peeled and chopped 
Bay leaf 
Thyme
1 cup beef broth

½

 cup white wine
Extra-virgin olive oil
Salt
Butcher twine 
Preparation
Boil the eggs. Once cool, peel, and chop them. Set aside. 

Trim the veal loin, removing any excess fat. Lay the meat out on a clean work surface, stretching until it is flat. 
Salt the inside of the loin and evenly distribute the eggs, bacon, red bell pepper, and olives all over. 
Carefully roll the loin up into a cylinder, keeping the roll as tight as possible so the stuffing doesn't fall out. 

Tie up the roll using the butcher's twine and secure it. 

Heat up a drizzle of olive oil in a large pan. Brown the roll in the pan, flipping to sear on all sides. Remove from the pan and set aside. 
Using the same pan with the remaining juices, sauté the green peppers, onion, garlic, and carrots for about 20 minutes. 
Once softened, add the meat and wine to the pan and cook for 5 minutes. 
Add in the tomatoes and broth and cook for 1.5 hours. 
Once cooked, you can remove the meat and blend the vegetables and sauce until creamy. Or you can also leave the sauce as is. 
Remove from heat and let the meat cool completely. Once cooled, remove the string and slice the roll. At this point the filling should stay firmly in the roll and you should have uniform circular slices. 
Once you're ready to serve, heat up the sauce and serve over the veal roll slices. ¡Buen provecho! 
How to Eat Stuffed Veal Loin
While this dish doesn't require any sides, fries or a fresh salad are both great accompaniments. And a good glass of Spanish red wine is of course a stellar pairing. 
Feel free to get creative with the fillings, depending on your tastes or what's available seasonally. You can fill the veal loin with jamón, cheese, raisins, or extra quantities of the bacon and olives. 
Cooking the veal loin the day before can improve the consistency and help the loin stay in tact. Just make sure you refrigerate it overnight.