The Best Cuts of Ibérico Pork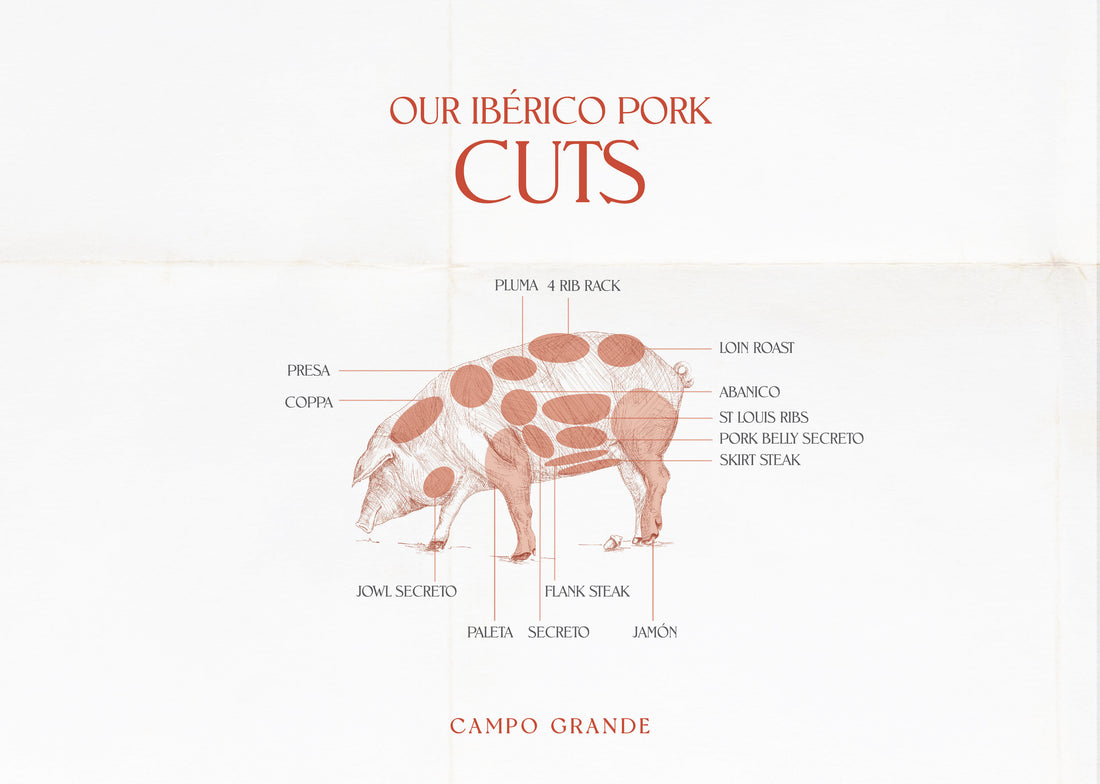 The Iberian pig has an unbeatable flavor, texture, and consistency. This special breed of pork also provides significant health benefits, as the meat is rich in vitamins, minerals, and other nutrients.
So which parts are of the Iberian pig are the most delicious? Honestly, each has its own tasty and unique characteristic. The best cut of Ibérico pork? Well that depends on you. 
What Makes Iberian Pork So Delicious 
Iberian pigs grow roam in the pastures of Spain and Portugal. They feed on acorns during the final months, which makes the meat nutty and nuanced, with an incomparable texture and exquisite flavor. 
These pigs have not only delicious meat but also many nutrients like oleic acid, which is the same property found in extra-virgin olive oil and can help reduce bad cholesterol. 
In addition, the finest cuts of Iberian pork are very easy to cook and are so versatile that you can accompany them with anything. For many, just a couple of minutes in the pan or grill, and you will have a restaurant-worthy meal. 
The Best Cuts of Ibérico Pork 
Iberian Pork Tenderloin
One excellent pork cut is the tenderloin. The loin is usually prepared in the oven or on a charcoal grill. It is a very lean cut of meat, but when cooked properly it is unbelievably tender and buttery. To prevent it from drying out, it is best to cook it at a low temperature and for long periods, adding liquids such as meat broth or wine.
Although the flavor of the Iberian tenderloin is delicious on its own, you can also prepare it stuffed with other ingredients such as ham, bacon, egg, vegetables, cheese, and any ingredient you fancy. 
Iberian Presa
The Presa forms has a considerable amount of infiltrated fat that gives the meat a marbled appearance. Iberian Presa can be prepared grilled, seared, or broiled in the oven. Its meat is so delicate and exquisite that you can even use it to make tartare, as long as the necessary sanitary recommendations for treating it are followed.
Iberian Pluma
The Iberian Pluma, or feather,  is similar to the Presa but is triangular and elongated. Itcomes from an area close to the back. Presa is a very sought-after cut because only one Pluma weighing less than 200 grams can be extracted from each animal. The Pluma has the perfect balance between fat and lean fat can also be eaten in tartare. 
Iberian Secreto 
The Iberian Secreto, or the "secret," is a cut that looks like a fan. It is extracted from the anterior dorsal area of the animal's back and has such a thin appearance that it goes unnoticed; that is why it is called a "secreto," and that is where it gets its name.
It super fattiest cut of Iberian pork, which makes it incredibly juicy. It can be cooked on the grill or in a hot pan and needs just a couple of minutes on both sides to be ready.
Iberian Lagarto 
An unknown cut is the Iberian Lagarto. Extracted from the spine, it has an elongated shape, like a strip. The Ibérico Lagarto weighs very little and has a reasonably thin thickness, making it easy to grill or griddle in minutes.
Iberian Pork Ribs
One of the cuts that always triumphs are ribs. Ribs like St. Louis Ribs can be served with nothing more than salt and pepper (in the northwest region of Galicia, it's called churrasco), but you can also prepare them with a homemade barbecue sauce. You don't even need a grill to make the best Ibérico St. Louis ribs; it's possible to prepare them in the oven! You'll know they're ready when the meat separates easily from the bone.