The History of Gazpacho: From the Origins to the Present of this Refreshing Soup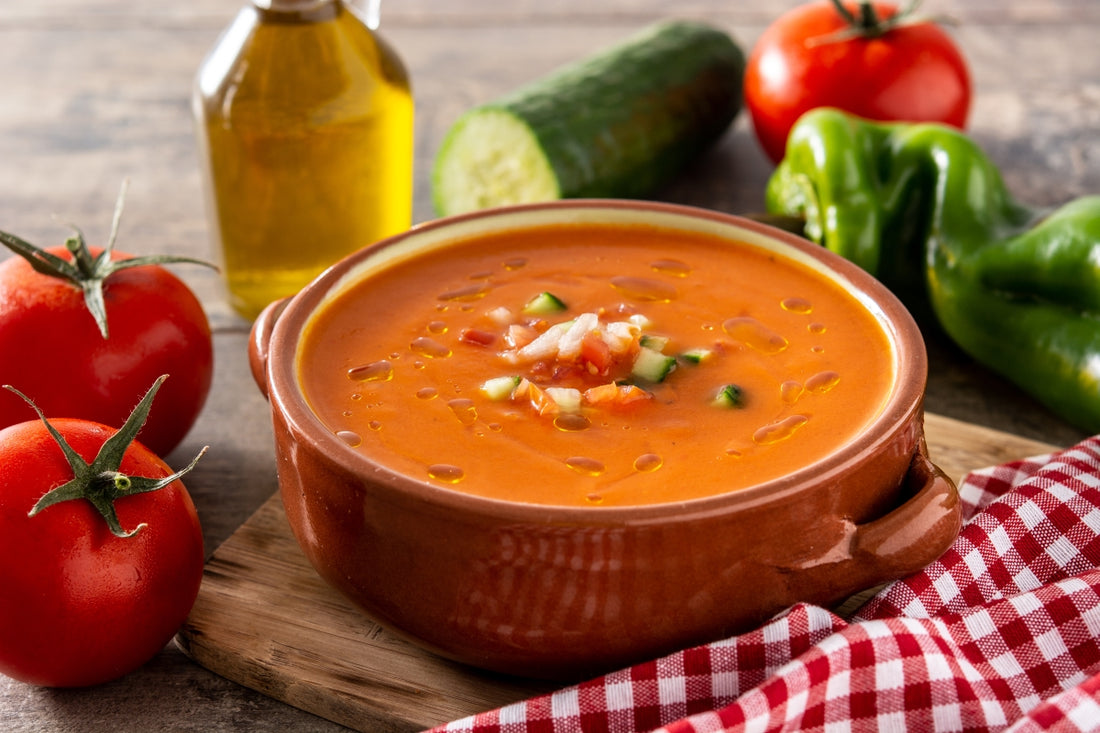 Soups and vegetable creams are absolutely delicious, especially when you are looking for a comforting, nutritious, inexpensive and very easy to make meal. However, many times we deprive ourselves of enjoying these delicious dishes because they tend to make you sweat because they are so hot. In other words, they are excellent for winter, but in summer you need to think twice before enjoying a delicious soup.
However, this problem is very easy to fix when gazpacho is among the daily meal options. The advantage is that this soup is cold, so it serves rather as a refreshing food and, besides that, it does not lose the qualities of most soups such as good taste and ease of preparation.
Surely when you eat some gazpacho on summer days you don't think about how it was possible for this dish to get into your hands, but sometimes it's worth reflecting a little on this, as it will make you appreciate the food that much more. And it will taste extra delicious!
The first gazpachos in Al-Andalus
It is necessary to go through a long historical journey to reach the famous orange and red gazpachos that we know today. Tomato gazpacho was first made in the 16th century, while the original gazpacho dates back to the 8th century during the Al-Andalus period.
The recipe for this first gazpacho is quite simple and crude, and to prepare it requires only bread crumbs, garlic, olive oil, vinegar, salt and water. This is because it is a recipe of utilization in which people tried to get the most satiety and nutrition with the least amount of ingredients.
Harvesters and peasants used to eat gazpacho very often, because despite being a light dish, it provided energy and strength to continue with the workday. In fact, long after the evolution of gazpacho, there were people who resisted to try the new recipes and adopt this dish in their diet, because they did not want to eat something that for centuries was representative of the lower class.
The famous Andalusian gazpacho
What are the main ingredients of today's gazpacho? Large amounts of tomato as a base, cucumber and bell bell pepper. Sounds perfect, doesn't it? There is only one slight problem and that is that none of these ingredients are native to Spain. That is, they all had to be brought from the New World to the country.
That is why the original recipe took centuries to evolve, since the necessary ingredients could not be found in the country. With the voyages of Christopher Columbus, America was discovered and thanks to this, different vegetables and fruits began to be brought and quickly incorporated into Spanish gastronomy.
Tomatoes and peppers traveled from Mexico, while cucumbers (imported from India) were brought by the Spanish to America. This culinary fusion did wonders for both continents.
Andalusian gazpacho is the best known way to prepare this food; in fact, this is the recipe that foreigners expect when they ask for gazpacho. Fortunately, it is easy and quick to prepare.
To prepare a good gazpacho (6 people) you need:
1kg ripe tomato

1 green bell pepper

1 cucumber

2 cloves garlic

50 ml of olive oil

30 ml vinegar

50 g stale bread

250 ml of water

Pinch of salt
Elaboration:
Chop the vegetables and add them to a blender along with the water, olive oil and vinegar.

Turn on the shredder until everything is very well processed.

Take a bowl and proceed to pour the mixture into it through a fine strainer. You can help yourself with a ladle to squeeze. The important thing is that the mixture is clean and seedless.

Store the gazpacho in the refrigerator for a few hours to rest and cool.

Serve in a glass or in a bowl to eat, and that's it!
Note: Currently, chopped vegetables are being added at the end to offer a little more texture to the dish, but this is up to each person.
Likewise, there are many who add onion to the recipe or even replace garlic with onion. This also depends on each person's taste.
Other types of gazpachos
For those who do not enjoy cold soups at all, gazpacho manchego can be a great option. This recipe serves the gazpacho hot and also adds meats to its preparation. This makes it an even heartier dish.
On the other hand, if you want a quick gazpacho, you can find processed gazpacho in different supermarkets. In this way, it will only be necessary to open a container and serve the prepared gazpacho to enjoy.
Thanks to this dish it is possible to enjoy a cold soup in summer that, besides being tasty, is quite nutritious. For this reason and many others, gazpacho is an emblematic preparation of Spanish gastronomy.