The hornazo of Salamanca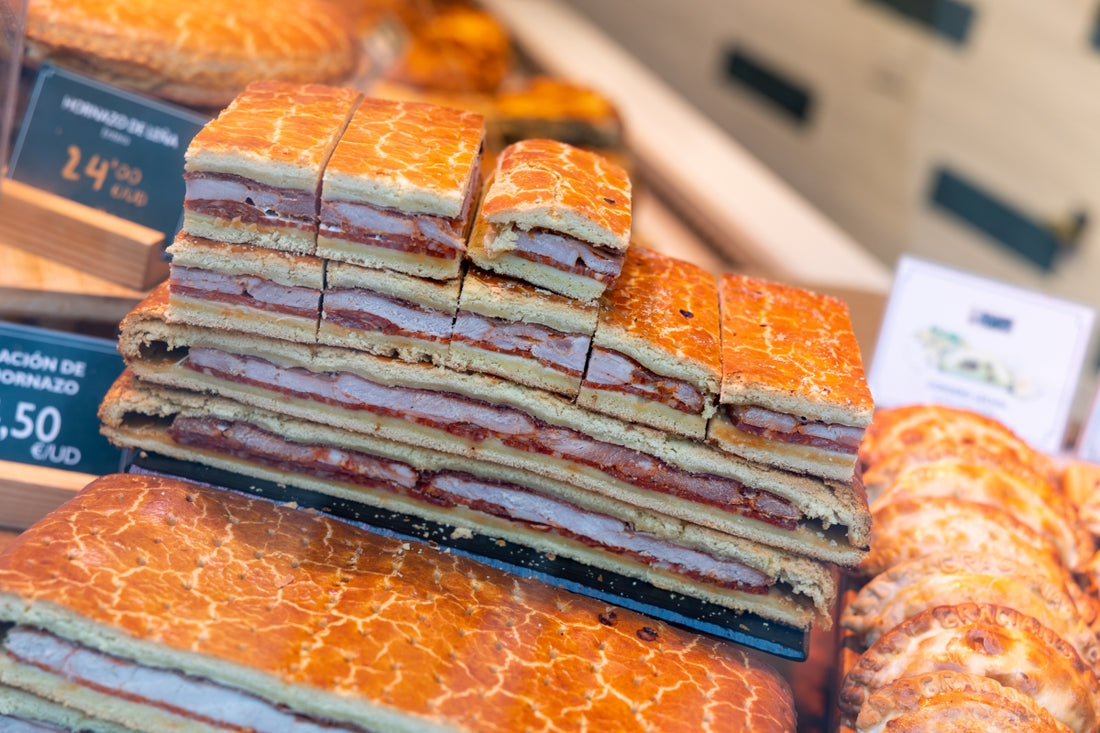 The hornazo de Salamanca is one of the delicacies of Spanish cuisine, a star dish of Easter that consists of a pie stuffed with meat, sausages, eggs and spices. Its origins date back to the Middle Ages, when shepherds made it with the products they had on hand in the countryside. Nowadays, the hornazo de Salamanca is a symbol of the culture and traditions of this Castilian city, which celebrates it every year with the Lunes de Aguas, a famous festival in which this delicacy is tasted next to the Tormes River.
Do you want to learn how to make hornazo de Salamanca at home and enjoy its benefits? In this article, we will tell you how to make it step by step, what ingredients you need, what garnishes you can choose to accompany it, and what benefits it has for your health and palate. Don't miss it!
Ingredients
To make the hornazo de Salamanca, you need the following ingredients:
For the dough:
500g flour

25g of fresh yeast

125 ml of warm water

125ml olive oil

1 egg

Salt
For the filling:
250 g pork loin

250 g of sausage

250 g Serrano ham

4 boiled eggs

Light red chili

Oregano

Salt

Pepper
Preparation
The hornazo de Salamanca is elaborated following the steps below:
Mix the flour with a pinch of salt in a bowl a well in the center. Crumble the yeast into small pieces and dissolve it in warm water. Pour this mixture into the hollow in the flour and knead by hand until a homogeneous consistency is obtained. Add the oil little by little and continue kneading until it is completely incorporated. Form the dough into a ball and leave it in a warm place until it doubles in size, about 40 minutes.

Meanwhile, prepare the filling. Cut the loin, chorizo, and ham into small pieces and season with salt and pepper to taste. Boil the eggs in boiling water for 10 minutes, then peel and cut them in half. Set aside.

Preheat the oven to 180 ºC and grease a baking tray with oil. Divide the dough into two equal parts and flatten one with a rolling pin on the floured surface. Cover the tray with this dough, leaving a slight excess border.

Place another layer of loin, another layer of chorizo and another layer of ham on top of the dough, leaving a space between them. Sprinkle sweet paprika and oregano to taste. Place the hard-boiled eggs on top, yolks side up.

Roll out the remaining dough with a rolling pin and cover the filling, sealing the edges with your fingers or a fork. Make several cuts in the surface to allow steam to escape, and spread the beaten egg all over the dough to achieve that golden appearance.

Bake for about 40 minutes or until golden brown and crispy. Let cool slightly before chopping and serving.
The hornazo de Salamanca is a complete and delicious dish that can be eaten alone or with a green salad, french fries, or gazpacho. It can also be eaten hot or cold, so it is ideal to take to the countryside or to work.
Advantages
The hornazo de Salamanca has several benefits for your health and well-being, among which are listed below:
As a source of high-quality protein, it provides essential amino acids to maintain muscles, bones, and the immune system.

Contains iron, zinc, and selenium, essential minerals for blood formation, fighting infections, and protecting cells against oxidation.

It provides B vitamins, including B1, B3, and B12, which are involved in energy metabolism, nervous system function, and red blood cell production.

They provide energy and satiety thanks to their complex carbohydrate content, which is slowly released in the body and prevents blood sugar peaks.

It makes you happy because when you eat it, you release endorphins, the pleasure hormones, which help you relax and enjoy the moment.
This is a simple but delicious recipe, and at the same time, very traditional. This food is ideal for sharing with friends and family, as it can be cut into portions and served as a tapa or a main dish. In addition, it can be accompanied by a green or tomato salad and a refreshing drink such as cider or wine. Do not hesitate to try this recipe and enjoy the authentic flavor of Castilian cuisine in all its splendor. Enjoy your meal!