The Tortilla de Patatas: History and Evolution of an Icon of Spanish Cooking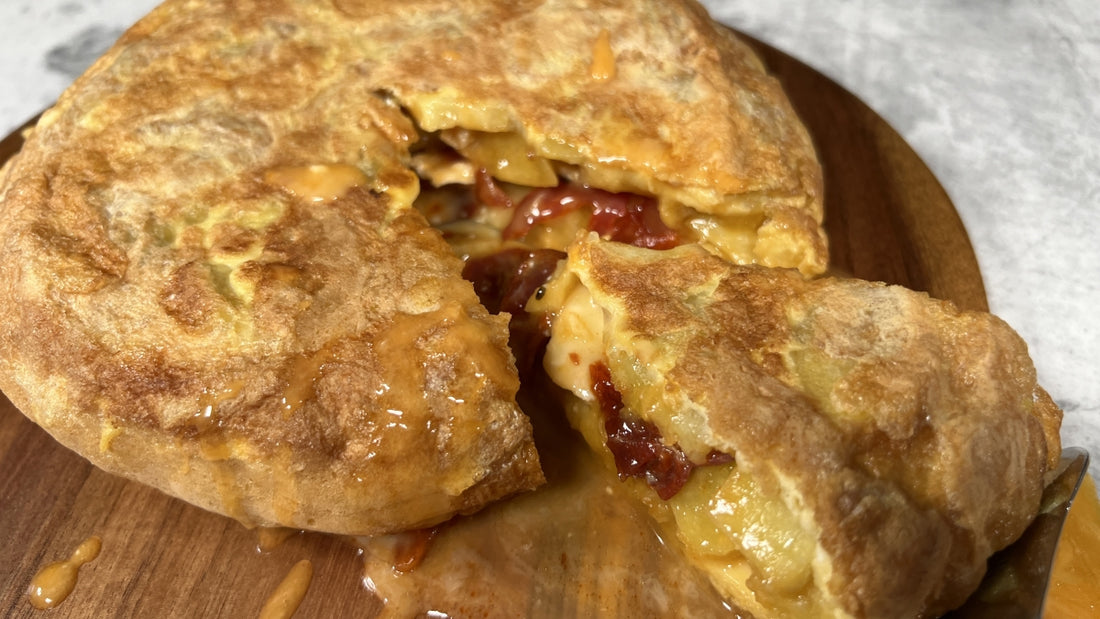 If a food had to win the award for the most emblematic recipe of the country, surely the potato omelette would be the winner and if not then it would be one of the finalists. It is such an emblematic and famous preparation on the international scene that outside Spain it is known as "tortilla española" (Spanish omelette).
As time has gone by, the potato omelet has gone through many variations and, nowadays, everyone has a favorite preparation. Nowadays, the most popular way to prepare it is with a touch of onion; however, since its inception, the original potato omelet recipe only requires 4 ingredients: egg, potatoes, salt and oil.
Despite being a simple dish, tortilla de patatas has a history and was not always an icon of Spanish cuisine, because it was completely impossible to prepare it!
Discover how this gastronomic icon was born and how it evolved into the delicious grandmother's recipe we all know today.
Spain without potatoes
Potatoes are one of the most used elements in Spanish cuisine, but this was not always the case. In fact, it took Columbus' voyages to America to bring this prized tuber to Europe.
Before this, tortillas were eaten, but with other fillings such as spinach, chard and even seafood. For this reason, the acceptance of the potato omelet was not so difficult, but it is also for this reason that it is so complicated to determine exactly who created the potato omelet and when it was created.
Its simple preparation makes it very likely that anyone could have created this dish without even knowing it. In addition, the recipe spread quickly throughout Spain because it is simple, quick, fairly inexpensive because it requires few ingredients and has great nutritional value. These qualities allowed a large amount of the population to adopt the dish to incorporate into their diet.
The origin of a tortilla
The egg omelette is a dish associated with ancient Persian cuisine. When the Muslims conquered Persia and subsequently extended their territory, they spread this recipe throughout the Mediterranean basin.
For this reason, many territories began to incorporate the omelette into their diet in different ways. For example, in Italy they created the "fritatta", in France they elaborated the "omelette", while in Spain they decided to prepare the potato omelette.
It could be said then that the tortilla alone is a dish that has united cultures for several centuries.
A debate between regions
The potato omelette is so delicious that many want to claim its creation, therefore, its origin has been debated for many years. Some say it originated in Navarre, others say it was born in Extremadura and there are also theories claiming that the first tortilla de patatas originated in Valencia. However, everything has been extremely complicated to prove.
By 1967, researcher José María Iribarren published a document from 1817 found in Navarra describing the tortilla de patatas, so many thought this was the first mention of tortillas.
In 2008, researcher Javier López Linaje published another document found in Extremadura dating back to 1798. For some time then, the "intellectual property" of the tortilla became Extremaduran.
But this all changed in 2017, when journalist Ana Vega found a document in Valencia that mentions the tortilla de patatas in the year 1767.
This is why it is almost impossible to know where the tortilla de patatas comes from, as it is always possible to find an older document. What is known for sure is that the potato omelet originated sometime between 1500 and 1700, and that by 1767 it was already a well-known recipe.
The various potato omelets
Just as there is an eternal struggle between fans of pizza with pineapple and those who prefer to eat pizza without this ingredient, there was a time when there was also a debate between those who ate tortilla de patatas with and without onion. Today, both are considered classic versions.
Other variants have ham, cheese, fine herbs and even chorizo. In addition to that, in certain regions of Spain, juicy tortillas are eaten and in other regions of Spain, well curdled tortillas are consumed.
The versatility of the dish makes it very easy to experiment with the recipe, creating different versions that can be eaten both hot and cold. Because of this, it is very likely that the tortilla de patatas will continue to evolve constantly until in a few years it will be necessary to write an article about the new star dish of Spanish gastronomy.