Tocinillo de cielo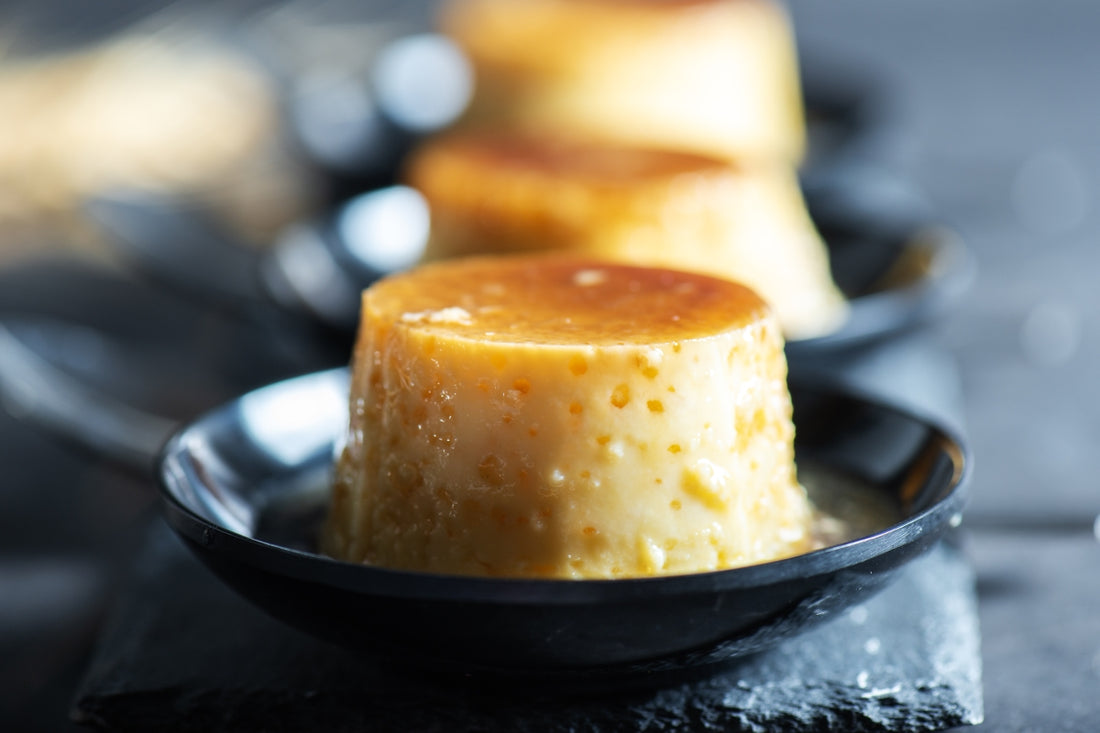 If you like sweet and creamy desserts and want to learn how to prepare one of the most delicious and traditional sweets of Spanish cuisine, then don't miss this recipe for tocinillo de cielo and discover all its benefits. You will be surprised how easy it is to make this delicacy and how much you will love it.
The tocinillo de cielo is a typical Andalusian dessert, especially from the city of Jerez de la Frontera in the province of Cadiz. Its origins date back to the 14th century, when the nuns of the monasteries used the egg yolks left over from the wine clarification process to make this sweet. Its name is due to its soft and delicate texture, similar to pork bacon, whose flavor resembles a small corner of paradise, a meaning also given by its religious origin.
Ingredients
To make this delicious dessert, you only need the following ingredients:
For mixing:
6 egg yolks

1 whole egg

250 ml water

250 ml sugar
For the liquid caramel:
125 grams of sugar

1 tablespoon of lemon juice

4 tablespoons of water
These quantities are for a mold of about 20 cm in diameter and come out about in 8 portions.
Preparation
The process of making this candy is very simple, but you must be careful with the point of the syrup and the bain-maie to obtain the right consistency. The steps to follow are as follows:
The first thing to make is the liquid caramel. To do this, put the sugar, lemon juice and water in a saucepan and heat over medium-high heat until a golden caramel is formed. Do not stir the mixture, just move the pan from time to time to distribute the heat. When the caramel is ready, pour into the pan and coat the bottom and sides well. Let it cool and harden.

Next, prepare the syrup. In another saucepan, add water and sugar and bring to a boil. Simmer for about 10 minutes until it has a slightly thick consistency. Turn off the heat and set aside.

Next, whisk the egg yolks with the whole egg in a bowl until well combined. You don't need to whisk much; just mix them enough until they are evenly combined. Then gradually add the warm syrup, stirring constantly with a whisk or wooden spoon. Strain the mixture to remove impurities and air bubbles.

Pour the mixture over the caramel in the mold and cover it with aluminum foil. Place the mold inside a pan with hot water to make the bain-marie. Bake at 180°C for about 40 minutes or until a toothpick comes out clean.

Allow the inside of the mold to cool completely, then gently unmold it on a plate. Store it in the refrigerator until it is really cold, and once it is done, you can enjoy your tocinillo del cielo.
To prepare a good tocinillo de cielo, it is recommended to use fresh and quality eggs and a crown-shaped aluminum mold, which favors contact with the hot water of the bain-marie. It is also essential to achieve the syrup's thread point, which is achieved by dipping a finger in the syrup and pulling it out, forming a thin strand. In addition, the syrups should be allowed to cool before adding them to the yolks to prevent the yolks from curdling prematurely.
Finally, the tocinillo should be cooked over moderate heat and with a controlled cooking time so that the dessert is firm but creamy.
The tocinillo del cielo is a versatile dessert served alone or with other products. For example, add whipped cream, ice cream, red fruits, chocolate, or honey. You can also vary the flavor of the syrup, using orange, cinnamon, vanilla, or anise. This way, you can customize your tocinillo del cielo to your liking. It accompanies savory and hearty dishes like roasted meats, stews, or fried fish.
Advantages
Besides being a delicious dessert, bacon from paradise has health benefits. Egg yolks are a source of proteins, vitamins, and minerals that help the body to function correctly. The sugar provides energy, and the lemon has antioxidant and purifying properties. Of course, it should be eaten in moderation, preferably on special occasions, as it is a high-calorie dessert.
We hope you enjoy this tocinillo de cielo recipe and all the recommendations and benefits of its preparation. We encourage you to try it and share this gastronomic delight with your friends and family so that nothing is left to do but enjoy this little slice of paradise!