Beef Cheeks with Red Wine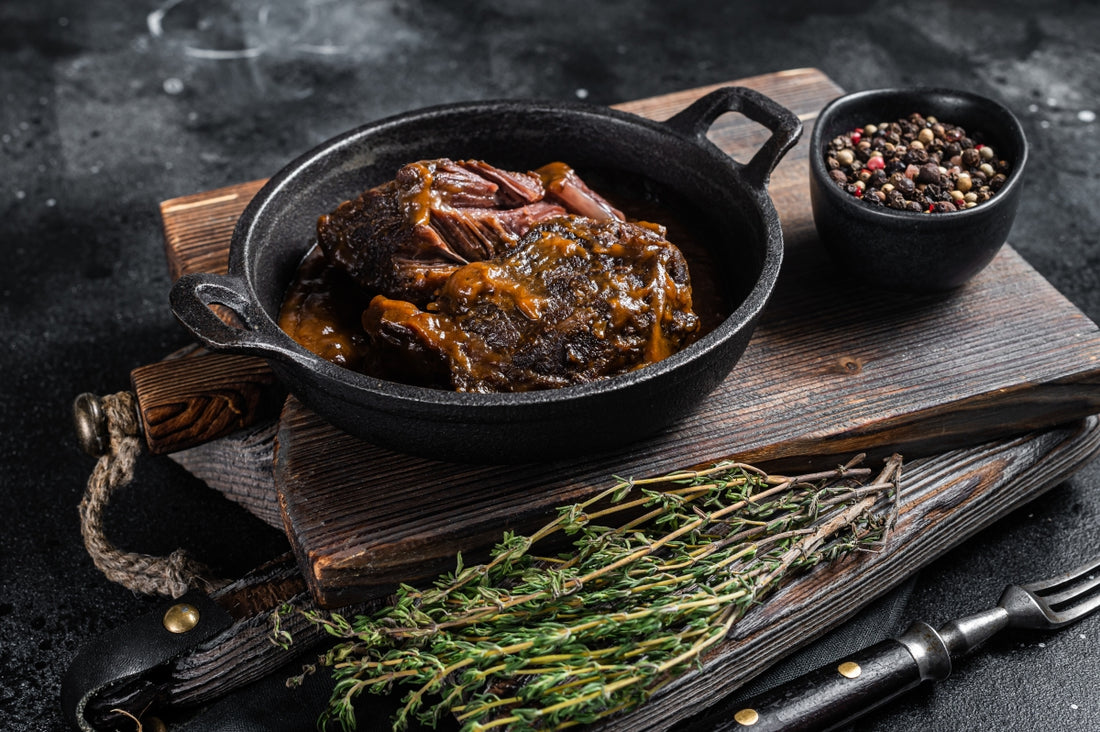 Castilla y León is a treasure chest of famous Spanish recipes. In this central region of Spain, ingredients are simple and accessible but the flavors are big and bold. 
Meat in particular stands out for being some the best in the world. There are even protected varieties of meat that are regulated to ensure their quality. Some of the simplest products, cooked out of necessity, have become true delicacies in the region. One of those delicacies is beef cheeks in red wine. 
Sear beef cheeks on their own and they'll be tough and fibrous. But cooked low and slow they turn into a buttery, spoon-tender marvel that practically melts in your mouth. 
How to Prepare Beef Cheeks in Red Wine
Buying the highest quality beef cheeks you can find (go grass-fed!) will do wonders for this dish.  
Ingredients
2 beef cheeks

1 large onion

2 cloves of garlic

2 carrots

2 cups beef broth

3/4 cup red wine

Bay leaf 

Flour

Salt

Pepper

Extra-virgin olive oil
Preparation
Trim the beef cheeks, removing any excess fat. Leave the cuts whole and in tact. 

Season the beef with salt and pepper and coat them in flour. 

Head a drizzle of oil in a large sauce pot over high heat. Sear the beef cheeks until browned on all sides, without cooking all the way through. Set aside. 

Sauté the carrots, garlic, and onion in the same pot. Add the bay leaf and stir to prevent sticking.

Cook until the veggies are golden, then sprinkle in sone flour and stir. Cook for a few minutes. 

Add the meat back into the pan, along with the red wine. 

Cook for 10 minutes, allowing some of the alcohol to evaporate. Then add the stock and cook for 30 minutes, covered. 

Remove the lid, flip the beef cheeks, cover again, and cook for another 20 minutes. 

After these two cooking periods, check to see if the beef is tender. You may need to cook them a little longer until they can be easily separated with a fork. 
Once tender, cook uncovered for 15 minutes to reduce the sauce. 
Remove the beef cheeks from the pot and use an immersion blender to blend the sauce until smooth. 
Place the beef back into the sauce to coat and serve. ¡Buen provecho! 
What are beef cheeks usually eaten with?
Potatoes are definitely the prime side for beef cheeks and the most traditional accompaniment. The subtle flavor of potatoes works perfectly with the intensity of the meat, and also sops up all that juicy sauce. You can fry, roast, mash, or boil your potatoes--it's totally up to you and your preferences. Mashed potatoes in particular are great for mixing up with all the sauces. And of course, a good loaf of crusty bread is staple on every Spanish table. 
Tips for the Perfect Beef Cheeks in Red Wine
If the sauce is too thick, add a splash of wine or stock. If you have leftover stock, you can use it flavor all sorts of other meats and vegetables, or simply use it as a savory dipping sauce for bread. 
We've offered a traditional recipe for the sauce, but you can also experiment with other flavors. Add tomato paste for acidity, rosemary and thyme for those herbal notes, or even cocoa powder to bring out the sweetness and earthiness of the meat. 
Let the dish sit for a bit before serving. If you have the time, make the recipe the day prior and the flavors will intensify even further.