Veal with Almonds and Raisins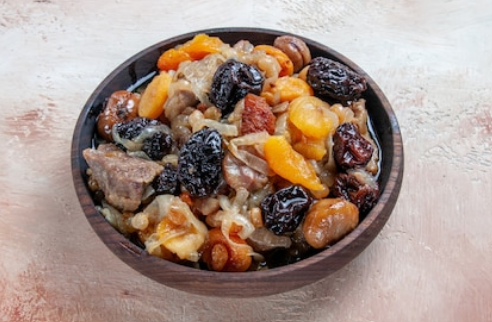 Do you want to prepare a delicious, nutritious, and easy-to-make dish? Then don't miss this recipe for veal with almonds and raisins, one of the jewels of Spanish cuisine. Below, you will learn how to make it step by step and how it benefits your health, as well as some ideas for garnishes to enhance the flavor of your dish and turn it into an unforgettable lunch or dinner.
Veal with almonds and raisins is a star dish of Mediterranean cuisine, combining veal's tender and succulent meat with the crunchiness and sweetness of almonds and raisins. It is, therefore, a combination of ingredients that has been used in different cultures and times.
This is a recipe that dates back to medieval times when the Arabs introduced the use of nuts and spices in Spanish cuisine. It can also be said that veal with almonds has an oriental influence since it is a way of preparing meat typical of Arab and Chinese cuisine. The almond sauce is made with ground nuts and spices, giving the meat a very aromatic and mild flavor.
Since then, it has become a very popular dish throughout the country, especially in Andalusia, Catalonia, and Valencia.
Ingredients
 To prepare this recipe, you will need the following ingredients:
1 kg of veal cut into small pieces

100 g raw peeled almonds

100 g seedless raisins

2 chopped onions

4 cloves of garlic, chopped

2 bay leaves

1 sprig of thyme

1 teaspoon sweet paprika

1/2 teaspoon ground cinnamon

Salt and pepper to taste

Pure olive oil

Meat broth or water
Preparation
The procedure to prepare this dish is very simple and consists of the following steps:
In a large casserole, heat a little oil and sear the meat until browned on all sides while seasoning with salt and pepper to taste. Once done, remove the meat from the heat and set aside.

In the same oil, sauté the onion and garlic over medium-low heat until soft and translucent, about 15 minutes.

Add the paprika, cinnamon, bay leaves, and thyme and stir well.

Add the meat again and pour in water or broth until it is almost covered. After bringing to a boil, reduce heat and simmer for one hour or until meat is tender.

Meanwhile, in a separate skillet, toast the almonds over medium-high heat, stirring occasionally, until golden brown, being careful not to burn them. Preserve and hold.

Soak the raisins in hot water in a small bowl for about 10 minutes. Drain and set aside.

When the meat is ready, add the almonds and raisins and cook for 10 more minutes, uncovered, to reduce and thicken the sauce.

Adjust salt and pepper if necessary and serve piping hot.
This recipe is ideal to accompany basmatí rice, a type of long grain rice with a delicate aroma, very used in oriental cuisine; fried or roasted potatoes, which can be seasoned with salt, pepper, garlic, rosemary, thyme or the spice of your choice; green salad, a light and refreshing side dish that can be prepared with lettuce, arugula, spinach, lamb's lettuce or other green leaves, accompanied by cherry tomatoes, feta cheese, nuts, apples or dried fruits; or sautéed vegetables, among which you can combine carrots, peppers, onion, garlic, broccoli, zucchini, mushrooms and asparagus.
You can also eat it with delicious bread to dip in the sauce.
Benefits
Beef mixed with almonds and raisins is delicious and very healthy. Beef is a source of high-quality protein, iron, zinc, and vitamin B, contributing to the normal functioning of the nervous and immune systems. Almonds, meanwhile, are rich in healthy fats, fiber, calcium, magnesium, and antioxidants, which help prevent cardiovascular disease and maintain strong bones. Raisins, in turn, are energy-rich foods that provide carbohydrates, potassium, iron, and vitamins A and C to help improve vision and skin.
As you can see, this recipe is a great way to take care of your health while enjoying the flavors of Spanish cuisine. Veal with almonds and raisins is a dish that combines oriental tradition with a Mediterranean touch and offers a mixture of sweet and savory flavors that will delight the most demanding palates. Dare to try it and surprise your family or friends with this special dish.