Ways to eat raw Iberico pork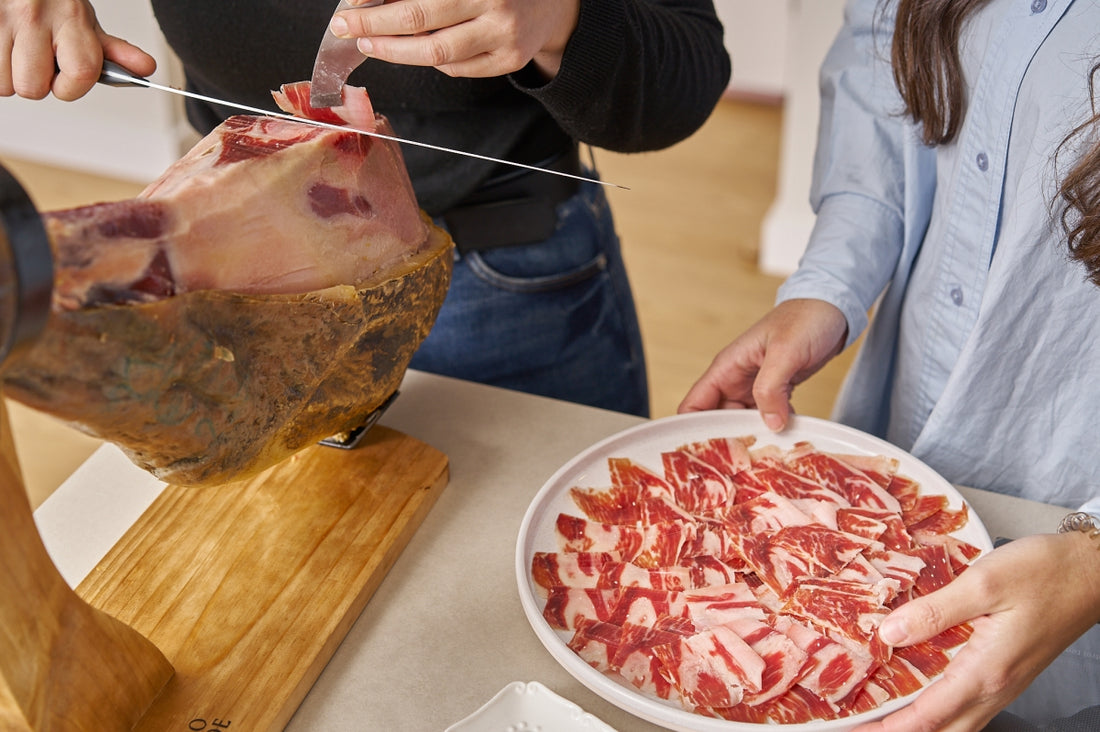 Iberian pork is known for its delicious flavor and peculiar qualities. Unlike many other delicacies that require cooking on the stove to be eaten, one of the most popular ways to enjoy it is raw.
While it may seem unusual to some, raw Iberian pork offers a unique gastronomic experience full of great flavor, and true connoisseurs of Spanish cuisine know perfectly well that this particular dish's natural taste is a unique experience worth venturing into.
Seven Ways to enjoy raw Iberian Pork
Here are six ways you can eat Iberian pork without having to cook it:
Acorn-fed Iberian ham
Acorn-fed Iberian ham is one of the most popular traditions in gastronomy. It is a piece of cured Iberian pork, fed with acorns during the montanera season, between October and February.
To enjoy it raw, you should cut it into thin slices of ham and serve it directly on the plate. Green acorn-fed Iberian ham is tender, juicy, and full of a rich, complex flavor noticeable in every bite.
Acorn-fed Iberian pork loin
Iberian acorn-fed pork loin is another delicious dish from the Iberian pig that is served raw. It is a piece of loin that is cured slowly and then seasoned with spices.
Like Iberian ham, Iberian acorn-fed pork loin is cut into thin slices and served on plates, although it can also be done as sandwiches. It has a strong flavor, a smooth texture, and a slightly moist taste that melts smoothly in the mouth.
Iberian jerky
The delicious cecina Ibérica originates in the curing of the Iberian pig. A salting and curing method similar to that used for ham is used, but with the difference that, in this case, meat from the back of the pig is used.
Iberian cecina Verde is cut into thin slices and eaten alone or with other things such as cheese, nuts, and fruit saCombinedmbined or Unicom, panned, it is a real delicacy, so any optitry try is a good one. It has a smoky and salty, moist, and tender flavor that you won't be able to forget when you eat it.
Iberian Salchichón
Iberian salchichón is a product derived from the Iberian pig that can be eaten raw. It is prepared from minced meat, seasoned, and wrapped in a natural casing.
It should be noted that raw Iberian salchichón is served as an appetizer and cut into slices as a snack. However, some people also use it to prepare sandwiches, so it is also a valid option for preparation. Its flavor and smell are strong, with a marked spicy touch and a firm but juicy texture.
Iberian Chorizo
Iberian chorizo is very important in Spanish gastronomy, one of the most appreciated dishes by the general public. It is made from minced Iberian pork, seasoned, and stuffed into natural casings.
Some types of Iberian chorizo can be enjoyed raw, especially those of short curing, and it is precisely these that we focus on. To serve it, you must cut it into slices and place them on sausage boards or, if you prefer, use it in dishes such as sandwiches and tapas. It has a sweet, slightly spicy flavor and a juicy texture, an unusual combination of flavors you will want to take advantage of.
Iberian secret tartar
An innovative way to enjoy raw Iberian pork is to prepare tartar with the secreto. The secreto is a juicy and flavorful cut of meat that is finely chopped and mixed with onion, capers, mustard, olive oil, lemon juice, salt, and pepper. The result is a dish full of flavor and texture.
While it is a little more labor-intensive to prepare than other dishes because of the ingredients that must be added, you can be confident that the flavor of the tartar justifies the extra effort to serve it.
Iberian pork carpaccio
Iberian pork carpaccio is a perfect choice for those who wish to enjoy raw meat in a refined presentation. Its delicacy and harmonious flavors make this preparation an exceptional culinary experience. It is also an ideal option if you have a special event and wish to have a more sophisticated appetizer for your guests.
To prepare it, you should start by freezing the Iberian pork loin for approximately 30 minutes; this will facilitate the cutting into thin slices. Once the loin is frozen, remove it from the freezer and cut it into thin pieces with a sharp knife. We recommend grating some Parmesan cheese on top and a little strawberry vinaigrette to accompany it.