What is Iberian Prey?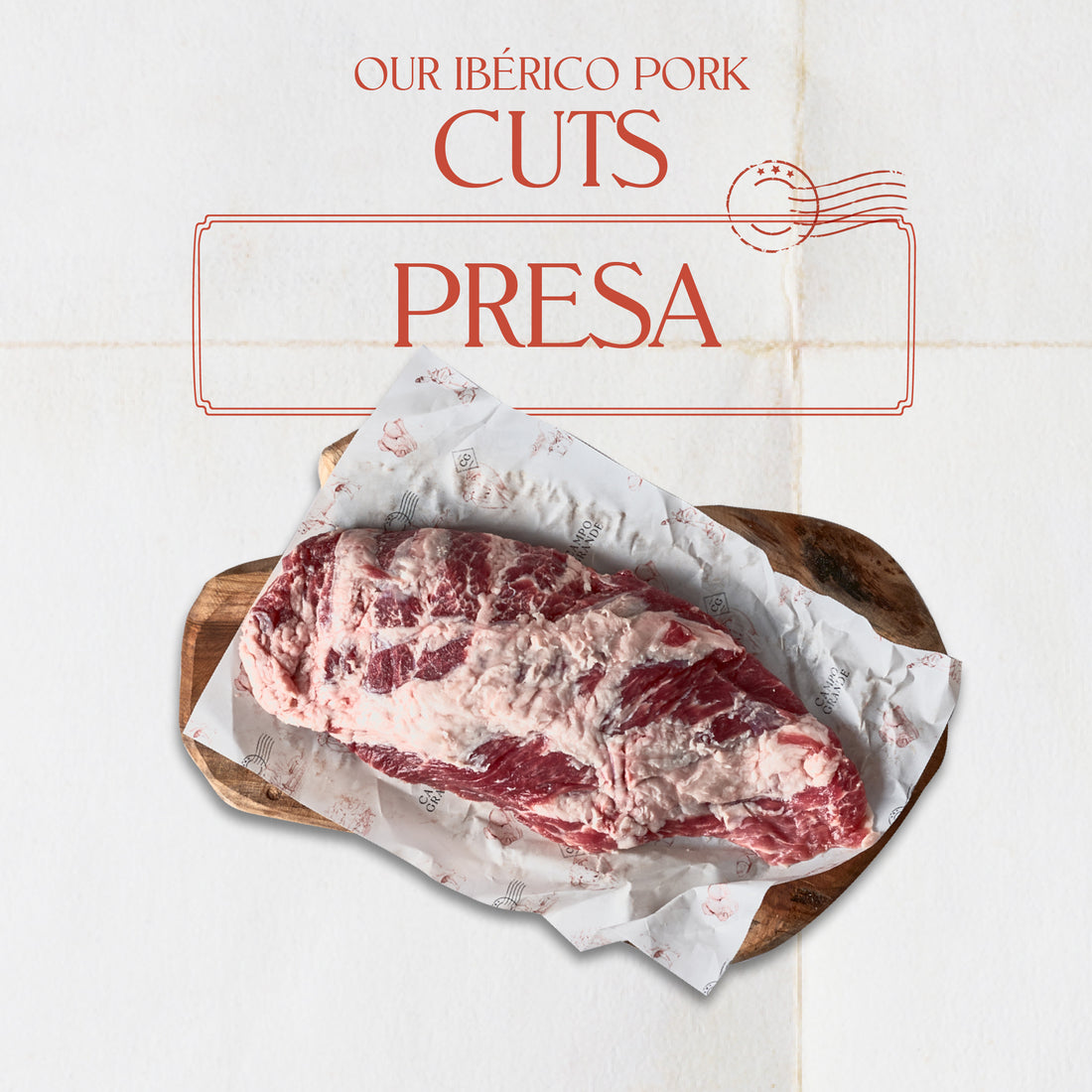 What is Iberian Prey?
What is Iberian prey or presa ibérica? This is one of the most demanded parts of the Iberian pig! It has an incomparable flavor, and a unique texture. This cut of meat can be prepared in a wide variety of recipes, accompanied with any side dish. To prepare presa ibérica, you must know the secret of this exceptional meat.
Why eat Iberian pork?
The Iberian pig grows in Spanish and Portuguese pastures. It is characterized by its  very tender, juicy meat  with an intense flavor. In addition, it is pink, tending to red which differentiates it greatly from other types of pork, which have pale shades. In addition, Iberian pork is distinguished by having the perfect balance of fat and lean meat. This is due to the fact that Iberian pigs grow in the open air and are fed on acorns. Their state of semi-freedom allows them to exercise and develop intramuscular mass, which translates into meat with unsurpassed characteristics.
There are very popular parts of the Iberian pig, such as the loin and the secret, and other less-known parts, such as the feather, the prey and the lizard. The Iberian prey has become, in recent years, one of the favorite cuts of many diners for its high quality; but it is also used to prepare different sausages.
Presa Ibérica: One of the highest quality cuts.
What is presa ibérica? This very select cut of the animal is extracted from the upper part of the shoulder. It is also known as ball and can be distinguished by its high content of intramuscular and marbled fat. The levels of this type of fat allow the cut to have a very soft texture and, if it is well prepared, it can release a lot of juice.
The Iberian prey, like  the feather cut, is one of the most demanded pieces of Iberian pork, not only for its flavor, but also for its exclusivity. From each specimen, there are only two preys, weighing around 500-600 grams.
Nutritional benefits of the Iberian prey
There is a myth about whether or not pork is a nutritious food. For years it has been considered that pork has a lot of fat and that its consumption should be limited, particularly among people on a diet or suffering from any ailment.
However, you may be surprised to learn that Iberian pork, like many of the acorn-fed pork cuts, has great nutritional benefits for health. For example, Iberian pork contains oleic acid, like avocados and raw olive oil; this acid has the quality of being monounsaturated fat. All foods that have these characteristics and that have a high content of oleic acid provide great benefits for cardiovascular health, and also contribute to reducing bad LDL cholesterol.
In Iberian pork you will also find other unsaturated fatty acids that provide health benefits, such as linoleic and palmitoleic.
On the other hand, the Iberian prey is a type of cut that has a high protein content. This makes it a great ally for people who like to watch their figure, their diet and their muscular health. In every 100 grams of Iberian pork you will find 21 grams of protein and 14 grams of fat. And the calories are not far behind either, since in these same 100 grams you will only find 100 kilocalories.
In the Iberian prey you can find protein, low calories, and monounsaturated and unsaturated acids. It is a cut that also provides good doses of vitamins and minerals. Here we highlight several vitamins of group B, (6 and 12); and vitamin E, a powerful natural antioxidant that has great contributions to health. Among the minerals, Iberian prey has high levels of potassium, iron, zinc and magnesium.
Learn how to prepare presa ibérica
One of the advantages of the Iberian prey, besides its exquisite flavor and texture, is its ease to prepare  in the kitchen. You can accompany it with an infinite number of sides and prepare different sauces to go with it, but the prey is always prepared in the same way, grilled.
For the Iberian prey to be delicious, you should know some tricks:
Take the meat out of the refrigerator two hours before cooking, so that it reaches room temperature. If you cook the meat just out of the refrigerator, the outside will be hot, but the inside will be cold.

The best way to cook this meat is grilled: you can use a frying pan with a drizzle of oil or a griddle. You can also prepare it on the barbecue.

If you are going to grill the prey, cut it into thin fillets; if you are going to barbecue it, make sure that the fillets are thicker.

Ask a butcher to cut the meat into steaks, but if you are going to do it yourself, then do it starting from the flattest part of the meat and slide the knife to the back.

It does not require much time on the fire: it is best if you cook it for short periods of time.

Iberian prey can be baked in the oven. In this case, cook the whole piece for 60 minutes over low heat (180º C).

When you prepare this cut in the oven, you should always sear it in a  pan, on both sides, beforehandThis is a way to seal and brown the meat.

You can eat Iberian prey raw in tartar or carpaccio.