What is Iberico Pluma and How to Cook with this Unique Cut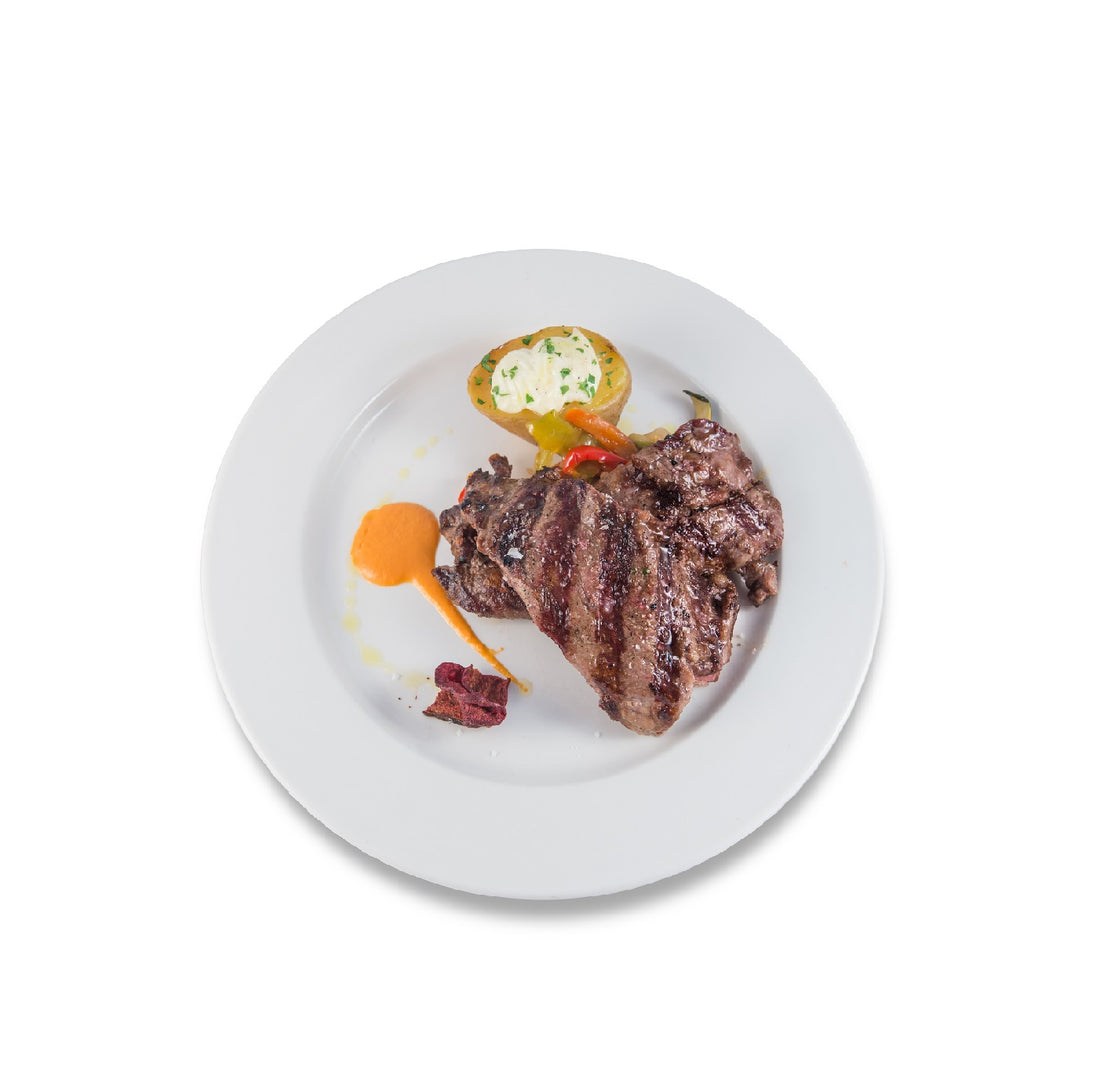 Pluma Iberico is a special cut that helps butchers make the most out of an Iberian pig. Since the world-famous ham comes from the hind legs of these black-footed pigs, the rest of the carcass can be overlooked by consumers and butchers alike. However, it would be a shame to waste the life and meat of a pig just for one specific part of its body, especially when the unique, delicately nutty flavor is shared across all parts of the pig's body.

This cut is found at the front of the tenderloin of the pig, located just above the shoulder blade area. The diamond-like shape of this meat gives it the name "pluma" which means "feather". This thin cut is best suited for quick sears over direct heat to lock in the flavor and moisture while providing contrast in textures.
Though it might have started as being a way to use the whole pig, it is now one of the three most popular Iberico pork cuts, along with the Secreto and the Presa.
You may wonder what is the best way to prepare this wonderful cut without wasting anything due to its steep price and hard-to-get nature here in the United States. Keep reading to find out the best way to prepare Iberico Pluma.
Grilled Iberico Pluma Cuts
Grilling your Iberico Pluma cut is one of the best ways to prepare it, and is a method that most people are familiar with. From a simple salt rub that accentuates the unique nuttiness of Iberico pork, to faux restaurant-style grills with marinades and gremolatas that don't overpower the natural flavor profile of the pork, the versatility of grilling cannot be understated.
Unlike most other pork, a medium-rare doneness for Iberico Pluma is best, allowing you to get the most flavor and tenderness from the meat. Due to the way these animals are slaughtered and farmed, it is much safer to cook this pork at medium temperatures, unlike regular pork, which must be cooked well-done.
Iberico Pluma Grilling Recipes
Simple Iberico Pluma Grilled With Salt

This recipe is incredibly simple and really lets the Iberico flavor shine as you will only need to add salt and no other ingredients. 

This quick and easy recipe only takes about 30 minutes of your time. You can find a short list of instructions here.

Grilled Iberico Pluma With Garlic and Thyme Marinade

Other ingredients you will need aside from your meat are:

Olive oil

Garlic cloves

Thyme

Flat leaf parsley

Lemon

Hazelnuts

Salt

Pepper

This recipe will take about an hour when you account for the marinating time of the meat. Here are the steps for this meal.

Fresh Iberico Pluma Grill With Basil, Garlic, and Shallot Marinade

This recipe also calls for a few more ingredients:

Olive oil

Fresh basil

Garlic

Shallots

Potatoes

Tomatoes

Espelette pimento

Red tabasco

Salt

Pepper

Finished to perfection in the oven, this recipe will take about one and a half hours in total. Step-by-step instructions and ingredient specifics can be found here.
How This Cut Came to Be
This cut was once known as the 'butcher's secret'. Due to its high-fat content, many people didn't want that part of the pig. However, instead of tossing it, butchers would often take it home and eat it, to prevent food from going to waste. The Iberico Pluma was the one most known cuts for being a 'secret', and remained one of the lesser known cuts until people realized how delicious it could be.
Iberico Pluma has less fat than the secreto steak, but more than the presa cut, placing it safely in the middle of the top three cuts with regard to fat levels. These cuts are not often found in the United States, as they are either tossed or incorporated into other cuts. However, Spanish butchers have a different way of cutting a pig whereby these cuts are allowed to remain unique and present their flavor.
The Pluma is the rarest cut from an Iberico pig, as only 2, three hundred gram cuts come from each pig produced. They are rather thin pieces, which is why they are best cooked grilled or with other cooking methods that involve direct heat.
Final Thoughts
Whichever way you decide to prepare this meaty delicacy you'll surely get to indulge in the natural, nutty taste of the Iberico pork thanks to the pigs' diet in oak forests in the months leading up to the harvest. 
After a few bites, you'll understand how this cut of meat went from being one of the butcher's secrets to one of the most popular meals in all of Spain. What once used to be tossed out because of how fatty the cut was, is now considered one of the best bites available, one that many people will pay hundreds of dollars to get just a few morsels of.