How to Prepare Ibérico Pluma Pork Tartare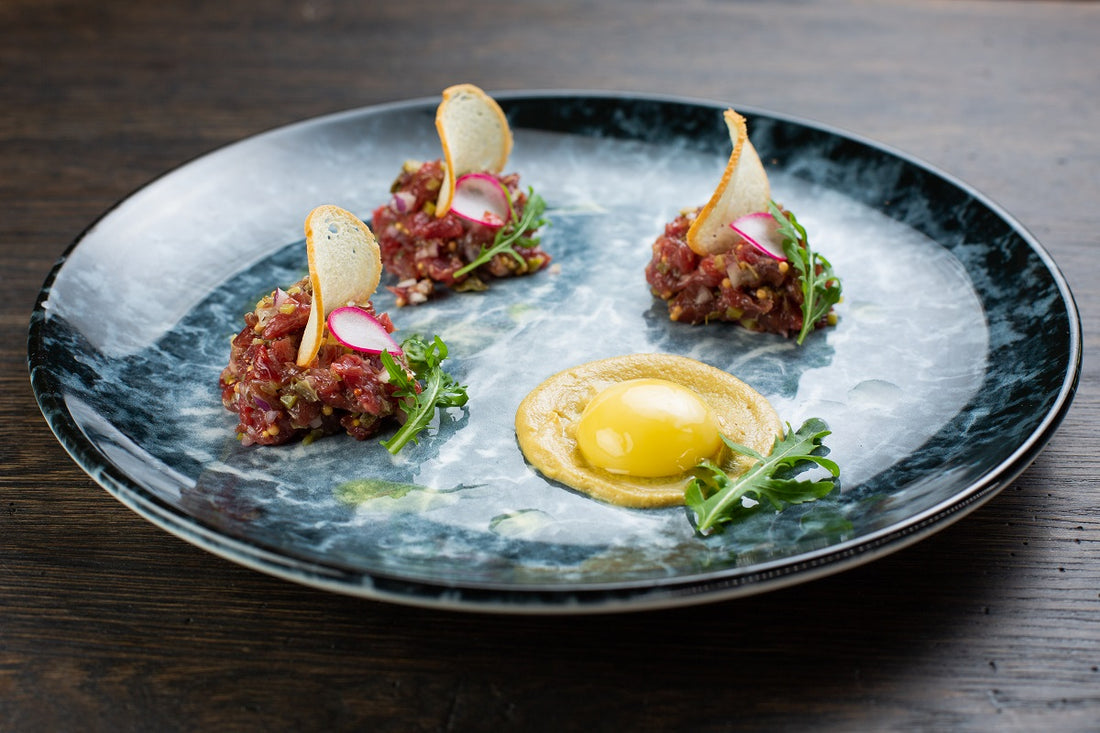 When you think tartare, you probably think beef. But it turns out that pork is also a heavy contender in the tartare world, as long as it's high-quality Ibérico. Pork tartare, using the Pluma cut, is a great way to showcase the unique flavor nuances of this phenomenal breed. We don't call Ibérico "the wagyu of pork" for nothing. 
What is Ibérico Pluma?
Ibérico Pluma is popularly known as the "butcher's fillet." This is because Spanish butchers decided not to sell the delicious cut and instead kept it for themselves. The pluma weighs barely 100 grams (less than 4 ounces) and only two cuts can be extracted from each Iberian pig. 
Ibérico Pluma has many muscle fibers, which makes it a high source of protein, vitamins, and minerals. It also has the perfect balance of fat and lean meat, and loads of intramuscular fat. This cut is thus very tender, delicate, and juicy and has an exquisite flavor. It does not need elaborate recipes--just a little salt and pepper makes it sing. 
Ibérico Pluma Pork Tartare Recipe 
The most common way to eat Ibérico Pluma is grilled, seared, or even baked and cut into strips. It's traditionally served with simple sides like roasted or fried potatoes, tomatoes, green peppers, or sweet jams like fig and berry. But for a totally different take on Pluma, we highly recommend serving it raw like tartare. 
The Ibérico Pluma tartare allows you to appreciate the incomparable texture and flavor of this cut of Iberian pork. The great thing is, such high quality pork like Ibérico is safe to consume raw, as ranchers follow strict sanitary measures. But like with any sort of tartare, be it beef or fish, it's important to follow important food-safe recommendations. The pork should be frozen for three days prior to consumption. 
Pork Tartare Ingredients
1 small pickle, finely chopped
1 shallot, finely chopped
Dijon mustard
Worcestershire sauce
2 quail egg yolks
Coarse salt
Freshly ground black pepper
Extra-virgin olive oil 
Pork Tartare Preparation
If you are using Campo Grande Ibérico Pluma, you're already in the clear. But if not, you need to freeze the Pluma meat for 3 days before preparing. If you're using previously frozen meat, check the package to make sure it has been frozen for at least 3 days. 
Thaw the Pluma in the refrigerator in a covered container to catch any liquids or perspiration. 
Once thawed, remove from fridge and let it come to a more ambient temperature while you prepare the rest of the ingredients. 
Mix the pickle and shallot together in a bowl. Add the dijon, Worcestershire, egg yolks, and salt and pepper to taste. Mix well. 
Remove any excess fat from the Pluma and chop finely.
Use your hands to mix the Pluma in with the shallot mixture.
Cover and place in the refrigerator until chilled. 
To assemble, place a circular plating mold on a plate and fill with the pork tartare. Smooth the top and remove the mold. The tartare should remain in a circular shape. You can also place the tartare directly onto individual toasts. 
Drizzle with a little extra-virgin olive oil and serve. ¡Buen provecho!