What is the best pork in the U.S.?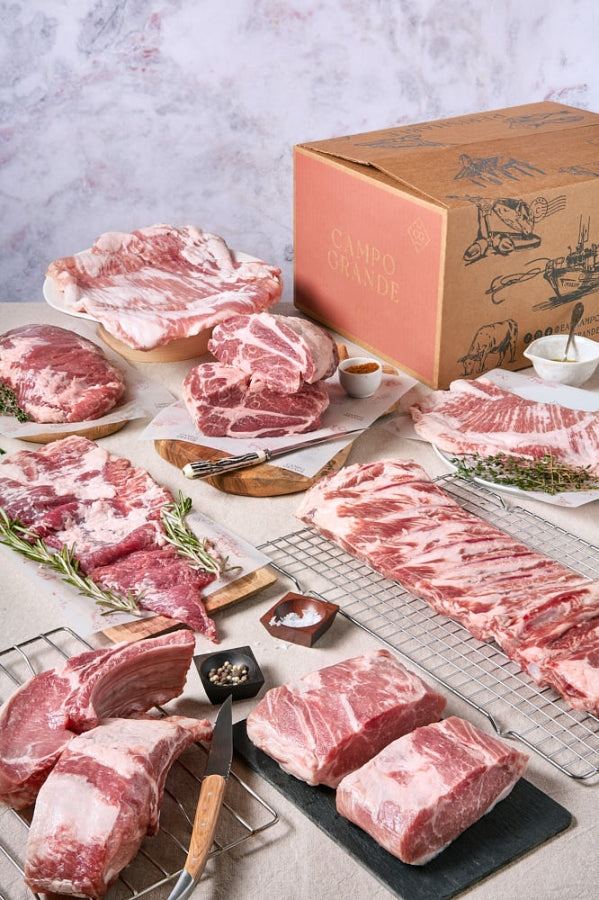 When it comes to selecting the best pork in the U.S., there are several factors to consider, as the U.S. offers a wide variety of choices, making it difficult to decide.
From flavor and tenderness to versatility in cooking, each cut of pork has its unique characteristics. Moreover, there is no universal answer, as the best meat is also a somewhat subjective decision, so what might be the best for one person might not be the best for another.
With the above in mind, we will explore some of the most popular and prized cuts in the United States to help you determine the best choice for your culinary needs and preferences.
The best pork in the U.S.
Given the high quality of U.S. pork, this is not an easy decision. However, in terms of popularity within the country, the following could be considered the best pork in the United States:
Pork tenderloin
Pork tenderloin is highly valued in gastronomy and is one of the most tender and lean cuts. Its soft and delicate texture makes it a popular choice for elegant dishes. It can be grilled, roasted in the oven, or used in grilled dishes. Pork tenderloin is perfect for those seeking a refined dining experience.
Iberian secret
If you are a true pork enthusiast, you can't miss the secreto ibérico. This exceptionally flavorful and juicy cut is considered one of the hidden treasures of Spanish gastronomy and is highly valued in gourmet circles in the United States. Hailing from the Extremadura region of Spain, secreto ibérico is highly prized for its intense flavor and tender texture.
Pork loin
Another lean and versatile cut is pork loin, known worldwide for its juiciness and mild flavor. It can be cooked whole, in steaks or medallions, and adapts well to different cooking methods such as grilling, frying, or stewing. In addition, pork tenderloin combines very well with marinades and seasonings, allowing for a wide variety of flavors in the preparation of dishes.
Pork ribs
If you're looking for juicy, flavorful meat, pork ribs are an excellent choice. Whether in the form of back ribs or baby back ribs, this cut stands out for its tenderness and ability to absorb the flavors of marinades and sauces.
Pork ribs are ideal for grilling or baking, achieving a tender and juicy result. They are especially popular among marinade lovers.
Pork cheeks
Although less known, pork cheeks are delicious and appreciated by true pork lovers. Sourced from the cheeks of the pig, these cheeks have tender and gelatinous meat when properly cooked. They are ideal for stews and casseroles, as they benefit from slow cooking that enhances their flavor and texture. Pork cheeks should not be overlooked if you want a comforting and flavorful option.
Pork belly
Pork belly, also known as bacon, is valued in the U.S. for its crispy texture and intense flavor. It can be used as a critical ingredient in dishes such as the famous "bacon" or as a base to add flavor to soups and stews. Pork belly is a cut that balances meat and fat, providing a unique taste experience.
Pork breast
Finally, we must mention pork breast, a lean and versatile cut obtained from the pectoral muscle of the pig. It is a healthier, low-fat option but still offers a delicious flavor.
Pork breast is ideal for slicing into thin steaks and can be grilled, sautéed, or roasted. It is also an excellent choice for marinating and using in Asian dishes, such as sweet and sour pork. It is a light and tasty option for those looking to reduce fat intake without sacrificing flavor.
In conclusion, there is no single answer to the best U.S. pork, depending on individual preferences and the dish you want to prepare. Each cut has its characteristics and adapts to different culinary techniques.
Whether sirloin, tenderloin, ribs, cheeks, or others, each offers a unique gastronomic experience. The important thing is to select the cut that best suits your needs and enjoy the wide variety of flavors and textures that pork offers in the USA.