What to Know about Pork Secreto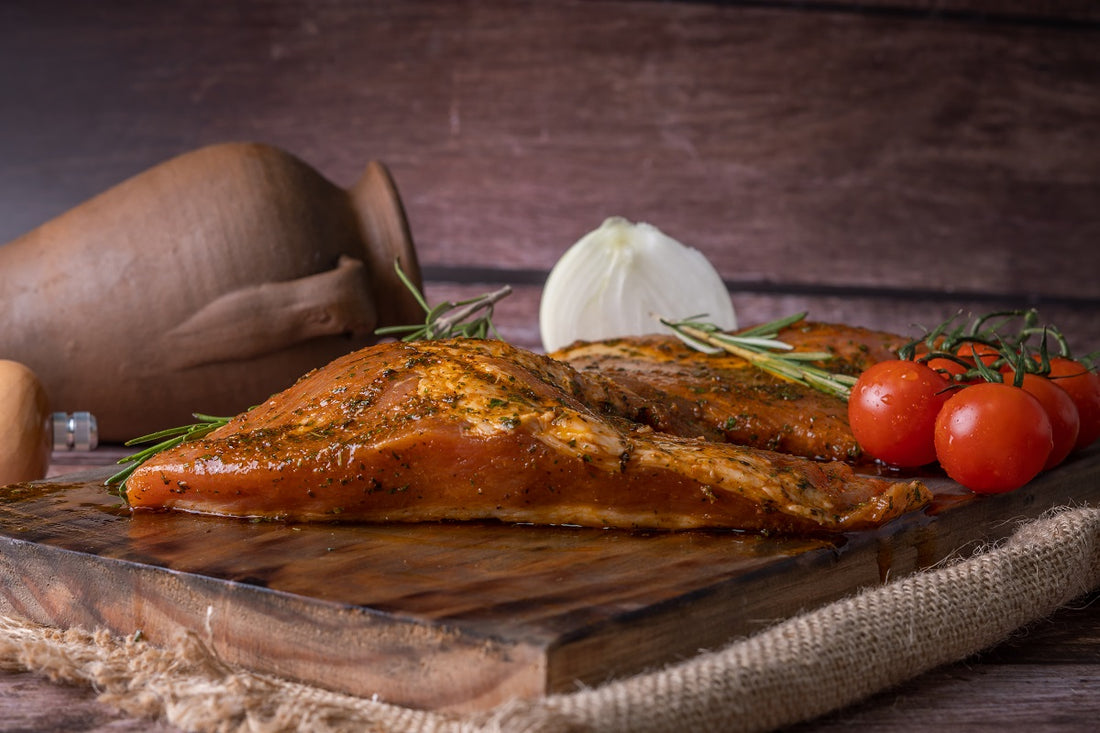 The Iberico Pork Secreto cut is a large, flat strip of pork that looks a lot like a skirt steak. It lacks the drama of a bone-in pork chop or a magnificent ham. What it lacks in aesthetics, it makes up for in flavor, softness, and simplicity of preparation. As a result, it has become one of the most popular slices of pork to cook for millions of people.
The meat originates from the beautifully marbled Iberico pigs who consume acorns to gain weight before being transformed into the famous Spanish delicacy, Iberico ham. As a result, the meat has a lot of intramuscular fat, which is why it's so rich. It's similar to a ribeye cap steak, and it reminds people of one of their favorite pig cuts: the area of the loin behind the fat cap where the flesh is darker than usual. It's as if the secreto is a full cut of meat made up solely of that delicious, delicate, deeply flavored piece of loin.
The secreto is ideal for a rapid char on the grill because of its thinness, but it's also delicious on the stovetop. It's easy to cook and may be seasoned simply with salt and pepper before being seared in a frying pan with a little butter and garlic. Secreto Iberico pulls off the unusual trick of being exceptional enough for a special event while being low maintenance enough for a weeknight supper, no matter how you make it.
How To Cook Pork Secreto
When it comes to pork secreto, there are several recipes to select from. It may be cooked in a variety of ways due to its delicious and marbled flesh. Cooked, grilled, fried, smoked, or baked in the oven are all options. However, for the sake of this article, we will use a recipe for pork secreto with white wine mustard sauce:
Season the secreto liberally with salt and crushed pepper, then sprinkle with paprika.




The secreto should then be placed directly on the grill grate. Sear it for about 2 minutes on each side, being careful not to overcook it. Then transfer the meat to a sturdy cutting board and rest it for one to two minutes.




Thinly slice your cut of meat, insuring that you cut against the grain on a diagonal. After that, transfer the meat and its juices to a tray or plates and sprinkle with olive oil lightly. Then pour some fresh lemon juice on top.
Don't make things more difficult for yourself. Pork Secreto is best cooked by simply frying it on a hot griddle or grilling it over sustained fire. Treat it like you would a beautiful entrecote, but keep in mind that cooking takes only a few minutes and it should not be overdone. A minute or two of high heat is enough for each side.
Aficionados in Spain want their pork secreto medium rare. The recommended internal temperature for pig meat has been revised to 145°F. This should yield a satisfactory outcome. Previously, the recommended temperature range was 158-160°F, which will make the meat overdone and dry. If you want to be safe, set the temperature to 149°F.
How To Create Marinated Pork Secreto
Many individuals have started making marinated pork secreto for their dinners, cooking the marinade into a rich mixture before applying it to the meat. To do so: 
Combine some pimenton, sugar, and cumin in a mixing dish with garlic and parsley.




To produce a paste, combine with some soy sauce, oil, vinegar, and one tablespoon of water.




After that, split the pork loin into four pieces and coat each with the glaze. Now comes the difficult part. You'll need to marinate it in the fridge for 24 hours.




Then, in a heated frying pan, heat the oil and sear the pork on both sides. If you want, you may sear the pork to medium rare in a heated griddle pan. If the marinade becomes black, don't stress. Reduce the heat to low and cook the pork for two more minutes once it has been flipped over.




In a separate pan, lightly fry some piquillo peppers in two to three tablespoons of olive oil until cooked through and a little color has developed.




Serve the pork with a couple of piquillo peppers for each guest and a pinch of sea salt on top.
Conclusion
Pork secreto is a delicious dinner at any time of day. It's perfect as a main course, a meal, or just a snack. Furthermore, pork secreto cooked with white wine mustard sauce is simple, quick, and tasty to prepare. Don't allow this, though, limit you. You may use it in a variety of recipes. 
Take your time to savor the Spanish pork delicacy while sipping your favorite wine.