Which Iberian ham to choose for your wedding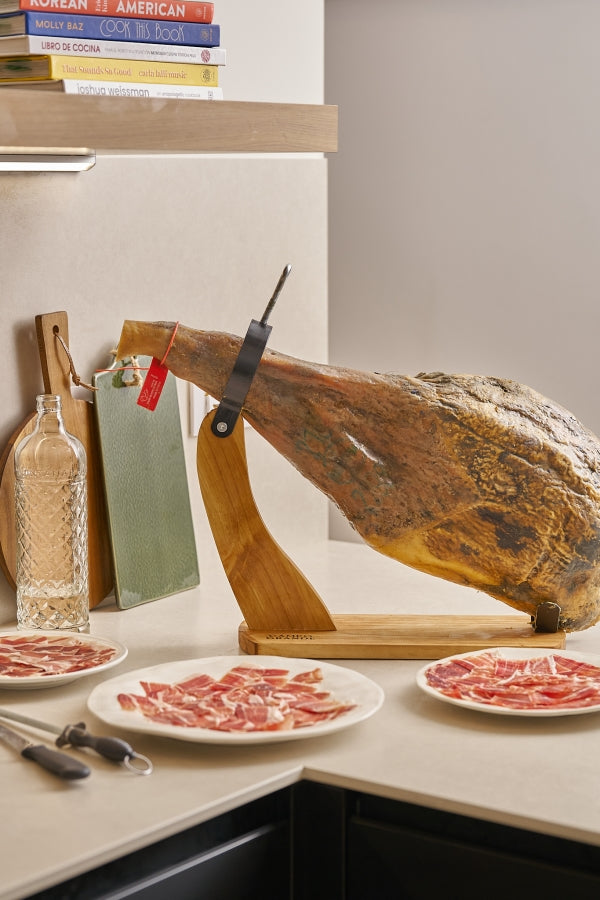 Iberian ham is an exquisite choice to offer to your guests on such a special occasion as your wedding. Its unique flavor and texture make it a true delight for lovers of good food.
However, choosing the proper Iberian ham can be challenging due to the variety of options available on the market, especially if you need to become more familiar with this Spanish delicacy.
The good news is that you no longer have to worry; we have prepared some recommendations to help you make the best decision.
Tips for choosing an Iberian ham for your wedding day
Here are some tips for selecting the perfect Iberian ham for your wedding:
The best options are high quality.
It is essential to opt for a high-quality Iberian ham. Therefore, look for those certified under the most prestigious designations of origin, such as Jabugo, Guijuelo, or Extremadura. These certifications guarantee that the ham meets quality standards and has been produced under strict controls.
Set a budget
The budget should be the basis for all your decisions since, logically, it is no use making a perfect choice if, given its cost, you cannot afford it. Likewise, you need clarification about how much you can invest in Iberian ham. In that case, you risk choosing a poor-quality option because you are trying to save more than you need.
So, before making any other decision, define a specific budget for purchasing Iberian ham and look for options that fit within it. Remember that there are different categories of Iberian ham, so you can find options to suit different price ranges. So don't worry too much if your budget is limited; choosing an option that fits your budget is always possible.
Type of Iberian ham
There are different categories of Iberian ham, such as acorn-fed, recebo, or cebo de campo. Acorn-fed ham, from pigs fed on acorns during the "montanera" phase, is considered the highest quality and most intense flavor. However, it is also the most expensive.
If you want a more affordable option, recebo or cebo ham may be a suitable alternative. In this case, the type will depend on what you can afford according to your budget.
Use a reliable supplier.
Choose to purchase Iberian ham from trusted establishments or suppliers. Ask about the ham's origin and ensure it meets the required quality standards. You can also look for recommendations and opinions from other customers for a reliable reference.
Check the quality label.
Verify that the Iberian ham has a quality label indicating its percentage of Iberian breed. The label should tell whether it is a pure Iberian ham (100% Iberian breed), a recent Iberian ham (75% Iberian breed), or another percentage.
Look at the cure and presentation.
The curing of the ham is a determining factor in its flavor and texture. Choose an Iberian ham that has been cured adequately, preferably between 24 and 48 months. Correct curing guarantees a tastier ham with a smoother texture.
Likewise, take into account the presentation of the Iberian ham. You can opt for a whole ham to be sliced at the moment or for boneless or sliced hams, which make it easier to eat. If you wish to offer a unique experience to your guests, hiring a professional ham slicer can be an excellent option.
Determine the amount you will need
Calculate the amount of Iberian ham you need based on the number of guests. As a reference, it is estimated that approximately 100 grams of ham are consumed per person at a wedding. Also, be sure to consider other dishes and appetizers that will be served during the event.
Think about pairing
Consider the wines and other accompaniments served with the Iberian ham at your wedding. A good pairing can further enhance the flavors and complement the dining experience.
Consider the nutritional information.
If you have guests with dietary restrictions or allergies, it is important to check the nutritional information on Iberian ham. Some may contain additives or ingredients that may not suit certain people. You should have this information available to provide to your guests if necessary.
In conclusion, remember that Iberian ham is an authentic culinary jewel that will give your guests an unforgettable taste at your wedding. Take the time to choose the proper ham and consult with experts or trusted suppliers; enjoy this delicacy and give your loved ones a unique gastronomic experience on your big day!