Why is Iberian pork so expensive?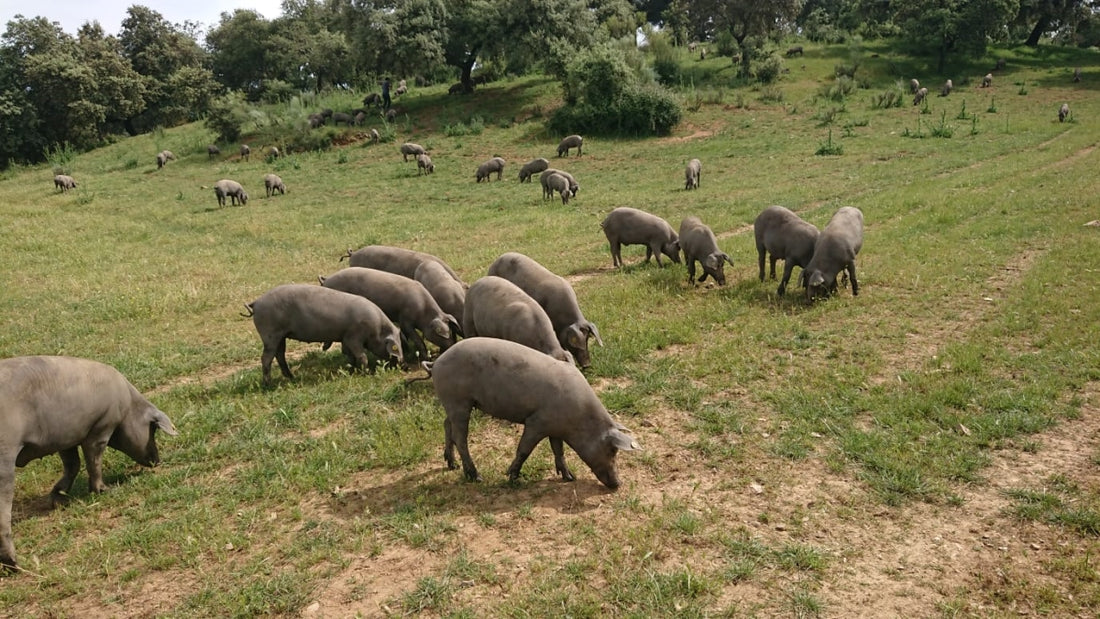 Iberian pork is widely recognized as one of Spain's most valued gastronomic delicacies worldwide. Its distinctive flavor and superior quality make it a unique product. However, the high price of Iberian pork often generates curiosity and questions about the reasons behind its cost.
You have to know that there is a logical explanation for this, as it is not expensive for mere speculative reasons, but several factors influence this peculiarity.
Factors influencing the high price of Iberian pigs
Beyond its exquisite taste that can make your mouth water, the following are the reasons that influence the high cost of Iberian pork:
Specialized breed and breeding
The Iberian pig is an autochthonous breed of the Iberian Peninsula, so its breeding is carried out in a specialized way and under optimal conditions to guarantee the quality of the meat.
To give you an idea, these pigs are raised in extensive areas of pastures, where they enjoy a diet based mainly on acorns and natural grasses. This unique diet and outdoor exercise contribute to the fat infiltration and the characteristic flavor of Iberian pork.
However, as it is specialized breeding, the costs are higher than common livestock farming, so this is the first cost driver.
Breeding time and late slaughter
Raising an Iberian pig is a long and complicated process, as the pigs must be raised for a minimum of 14 months, and in the case of acorn-fed Iberian pigs, up to 24 months. The reason behind this prolonged rearing period is that it allows the animal to have more intramuscular fat, which makes it soft and juicy to the taste.
In addition, a late slaughter is performed, which implies high maintenance costs during the entire rearing period.
Acorn feeding
Beyond the specialized breeding, this specific point influences the price so much that it deserves its section. Feeding on acorns is one of the hallmarks of Iberian pig breeding.
During the montanera season, which usually covers the autumn and winter, the pig only eats acorns that have fallen from the oaks and cork oaks in the dehesas. These foods are essential not only to give the meat a different flavor but also to favor the penetration of fat into the muscles, which improves juiciness and final flavor. However, they are not easy to provide and are somewhat expensive.
Extensive breeding and animal welfare care
Iberian pigs are raised on large farms, so they have plenty of space to roam freely and enjoy their natural environment. This type of farming involves high land and maintenance costs, as large areas are needed to maintain the pigs and safeguard their health.
In addition, strict animal welfare standards are applied, which means there is greater control and monitoring of breeding conditions and, consequently, a greater investment is needed in their breeding.
Curing process and handcrafted quality
The transformation of Iberian pork into cured products such as ham and shoulder requires a long and careful curing process. It is not a simple and routine process, as with other types of products of different kinds of pigs.
The selection and preparation of the pieces, as well as the application of traditional curing techniques, are tasks carried out by expert craftsmen. This manual process and the time required to obtain the desired quality contribute to the increase in the product's final cost.
In conclusion, the high price of Iberian pork is justified by a combination of factors, including the specialized breed and breeding, the extended rearing time, the acorn feeding, the extensive rearing and care for animal welfare, and the artisanal curing process.
Therefore, the next time you feast on its juicy and tender meat, you may feel extra pleasure when you remember all the effort involved in bringing this succulent delicacy to your table. Combining elements that create a unique and highly valued gourmet product in gastronomy only enhances its taste.
While it is true that Iberian pork could be considered a culinary luxury, its exceptional flavor and the passion dedicated to its breeding and processing make every bite worthwhile for those looking to indulge in the Spanish gastronomic experience.