Wood Smoke pellets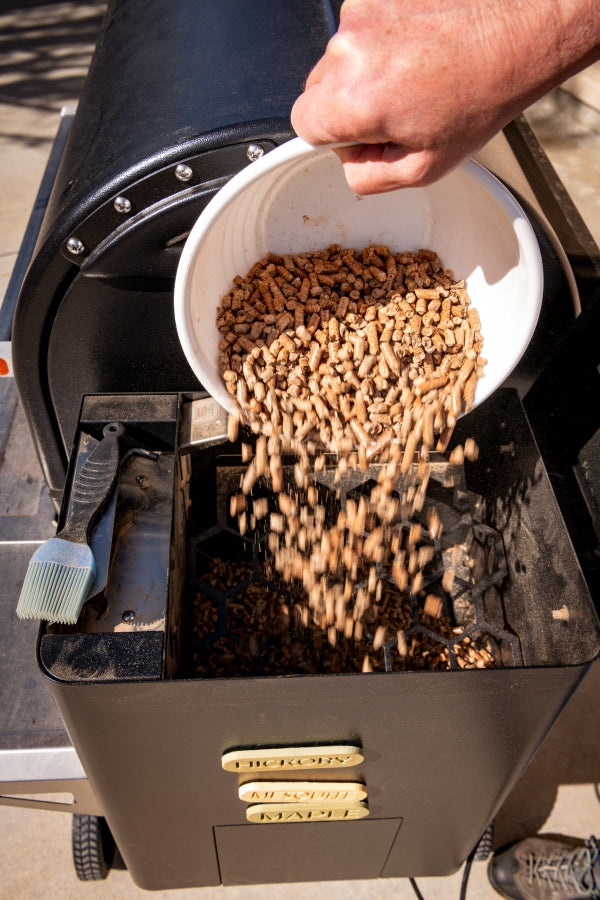 One of the cooking trends these days is pellets for smoking meat and other food. Pellets require a grill to smoke the beef; these grills are a hybrid between traditional gas grills, traditional charcoal smokers, and cooking ovens - the results are wonderful!
What is a pellet grill?
As you have already seen, the pellet grill combines three elements of cooking in one: oven, smoker, and grill. This makes grills of this type a favorite of those who love to barbecue meat using traditional methods but with spectacular results.
Charcoal is not used to work with this grill, but the famous pellets and a fan are in charge of circulating hot air by convection. This air is the one that will be in the order of grilling the food but also smoking it, that is to say, giving it that delicious woody touch.
Of course, unlike charcoal grills, pellet grills need to use not only pellets but also electricity, which will circulate the hot air to cook the food. Thanks to this system, the cooking temperature is constant.
And what are pellets? They are small pieces of wood that are 100% natural. Thanks to this quality, it is possible to cook using direct or indirect heat; that is, to place the meat directly over the fire (as for smoking a good T-bone steak); or to place it to one side, away from the heat source, which is how cuts such as flank steak are best done.
In a pellet smoker grill, you can prepare a wide range of cuts: from steaks to fish, from Iberian cuts to more traditional foods such as hamburgers or sausages.
How do pellets work in a smoker?
All pellet grills have a unique space to place the wood; this compartment is called hopper. The capacity of the hopper and the amount of pellets you can put in it varies depending on the model of grill you have: the larger the hopper, the greater the number of pellets and the longer the operating time.
How long do you have to cook food on a pellet smoker grill? It is different from a charcoal grill or a traditional oven. And how many pellets do you need to put?
Remember that for one hour of operation, which allows you to roast Iberian cuts such as the secret, the sirloin, and beef steaks, you will need between half a kilo and a kilo of pellets. And this on low heat.
But to make, for example, an arrachera with flank steak or a loin of Iberian pork, which are also cooked over low heat, but for more than an hour, you will need up to two kilos of pellets.
It is essential that before you get to work with a new grill, you follow a very rigorous process that increases the life of the grill. This is known as seasoning the smoker and consists of pouring oil on the grill and in the grill chamber. Once you've added the oil, you run the grill without adding pellets or meat.
The oil protects the grill and creates a long-lasting coating. After this process: wait 24 hours before cooking!
Prepare smoked barbecues!
Already have your pellet grill and pellets ready? It's time to grill the meat! To do this, in addition to choosing your favorite pellets, which you can find from different types of trees, it's time to preheat the grill. Plug it into the electrical outlet and choose the temperature you want to preheat.
For barbecued meat, 100º C is sufficient. After 10 minutes, you will hear a sound from the grill, which means it is ready! You can place the meat and other foods you want to grill or smoke.
Keep in mind that there must be a distance between the grill with the food and the pellets; this allows the meat to acquire a woody smell and prevents it from overcooking or drying out.
Remember that there are meats that are fattier than others; the latter can prevent the smoking from being correct, while lean meats dry out faster. How to solve this? By watching the thickness of the meat you place!
Which pellets to use with which type of meat?
As already mentioned, pellets can be made of different woods. The sweetest and lightest are recommended for white meats such as chicken, chicken, turkey, or rabbit; you can use, for example, apple or cherry pellets.
Beef and pork cuts are best with stronger wood pellets such as walnut, which are also perfect for delicious barbecued ribs! And for more subtle smoking? Then we recommend oak pellets.