Zarangollo Murciano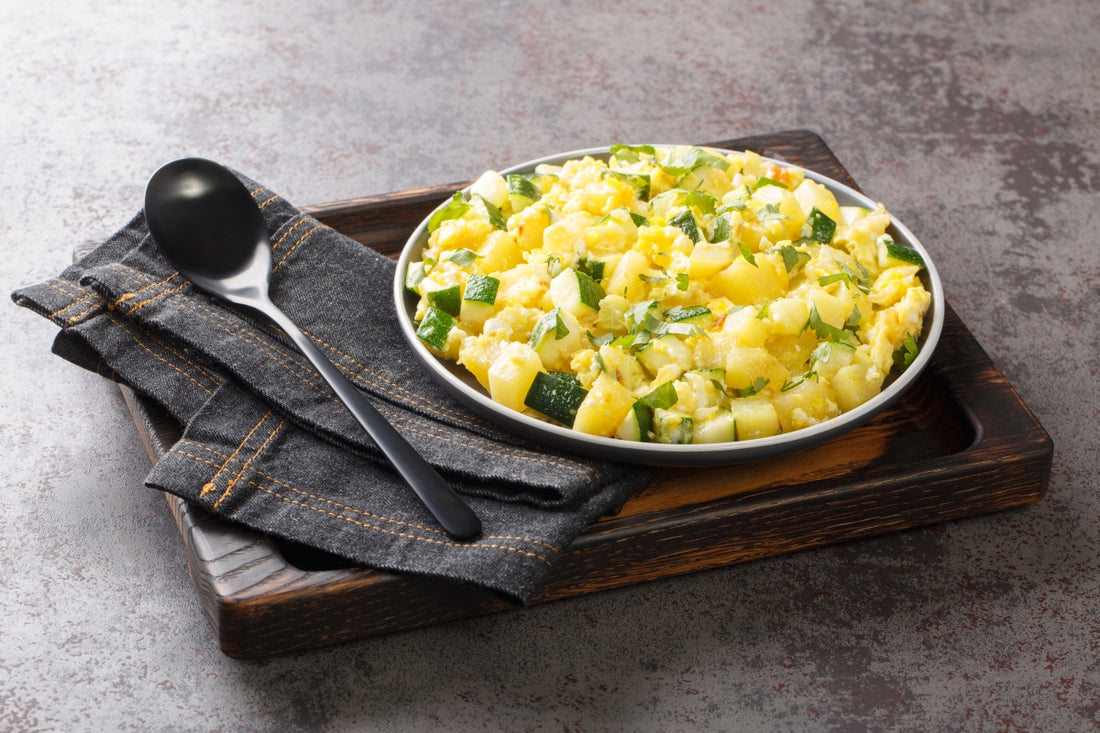 Do you want to learn how to prepare a typical Murcian dish that is delicious, healthy, and easy to make? Keep reading because this article will show you how to make the famous Murcian zarangollo, a traditional recipe based on sautéed zucchini, onion, and egg. In addition, you will appreciate this dish's health benefits and other presentations you can accompany it with, so enjoy!
Murcian zarangollo is a very old dish that dates back to Arab times, when the zucchini was introduced in the Iberian Peninsula, just at the time when the Murcians lived with the Jewish-Sephardic people, from whom they learned this recipe. Some authors point out that zarangollo comes from the union of zaranga, an Aragonese fritada, and frangollo, a vegetable dish from Almería. It is a very simple recipe with a rich flavor and can be adjusted to everyone's taste.
Ingredients
All you need to prepare this delicious preparation are the following ingredients:
4 medium zucchini

2 large onions

4 eggs

Extra virgin olive oil

Salt and pepper for seasoning
Preparation
Its preparation is very simple and consists of the following steps:
The first step is to wash the zucchini and cut it into small pieces. There is no need to peel the skin as the peel will add fiber and color to the dish.

Then, peel and cut the onion into small pieces. Add a little olive oil in a large saucepan and sauté the onions over medium-low heat until clear and tender, about 15 minutes.

Add the zucchini, season to taste, and cook with the onions until soft, about 20 minutes more. Stir it from time to time so that it does not stick.

Meanwhile, beat the eggs in a bowl and add a little salt. When the sofrito is ready, lower the heat and pour the eggs on top, covering the whole surface. Let them set slowly, without stirring, until they are cooked underneath, about 10 minutes. If you want the cake to be golden on top, turn it over with a plate or put the mold in the oven for a few minutes.
That's it; you have your zarangollo murciano ready to serve. You can eat it hot or cold, as a tapa or as a side dish, according to your preference. It is a versatile dish with bread, rice, potatoes, or salad. To add flavor and variety, you can also add other ingredients, such as cheese, ham, chorizo, or peppers.
Zarangollo murciano, in turn, is a simple and healthy dish that combines well with other typical dishes of the region, such as caldero del Mar Menor, a rice dish with fish and aioli; migas ruleras, some breadcrumbs with chunks; or pastel de carne, a preparation of minced meat and hard-boiled egg.
The original recipe does not include potatoes, but it began to be incorporated in the absence of zucchini, so it is common these days to prepare it with both ingredients simultaneously.
Advantages
Zarangollo Murciano is a very nutritious dish that has many health benefits. Among them are the following:
It is rich in fiber, which helps regulate intestinal transit and prevent constipation.

It is low in calories and fat, which makes it ideal for weight loss or weight control diets.

It is a good source of vitamins, minerals, and antioxidants, including groups B, C, E, and K, as well as potassium, magnesium, calcium, and phosphorus, which gives it antioxidant, anti-inflammatory, antibacterial, and antiviral properties that help prevent and combat various diseases, such as flu, colds, bronchitis, hypertension, high cholesterol, diabetes, and cancer.

It benefits the immune system, skin, hair, nails, and eyesight since its nutritional contributions favor the development and repair of body tissues, oxygen transport in the blood, and the formation of hormones and enzymes.

It is rich in protein and creates a feeling of satiety, which helps maintain muscle mass and reduces hunger between meals.
As you have seen, the Murcian zarangollo is a complete and indispensable dish on your table if you want to enjoy the best of Spanish cuisine and if you want to take care of your health at the same time. I hope you enjoy this recipe and encourage you to try it. If you do, don't hesitate to share it with your friends and family to let you know what they think.
We hope you enjoyed learning more about zarangollo murciano, a dish representing the essence of Murcian cuisine: simple, humble, and tasty. Only with us can you learn more about important traditional preparations like this one.