Campo Grande Ibérico Pork Vindaloo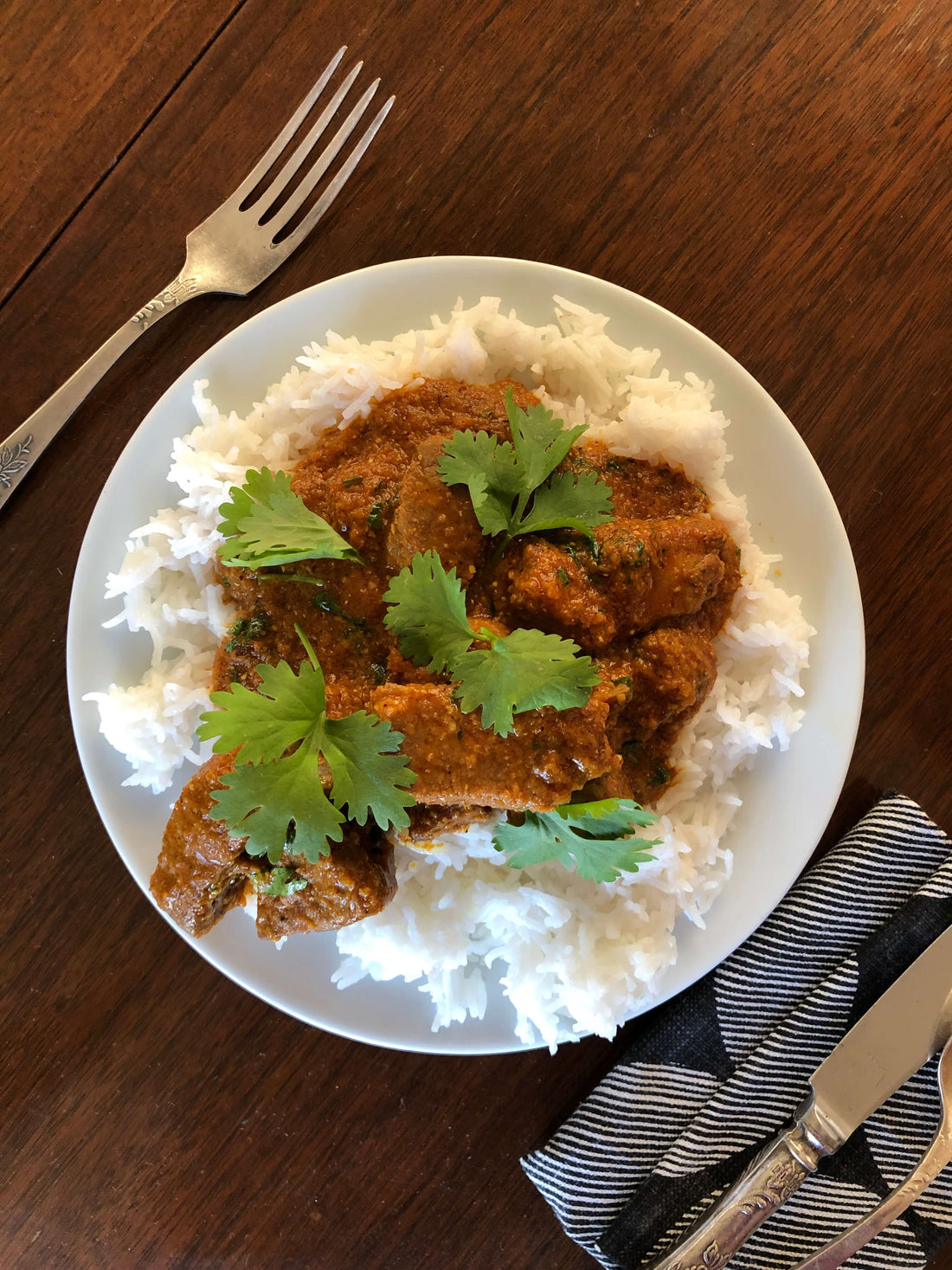 Serves 4
Believe it or not, vindaloo, one of India's most quintessential curries, traces its roots to the Iberian Peninsula. The name derives from the Portuguese carne de vinha d'alhos ("meat marinated in garlic and wine"), and it's believed that traders brought that dish with them to Goa province, where locals riffed on it until it became the fiery, garlicky dish that we know today. This spicy Ibérico pork vindaloo kicks up the meaty intensity with ultra-marbled presa, which cooks up juicier and more flavorful than the standard pork shoulder. Ladle the curry over warm basmati rice so you don't waste any of the rich, tangy sauce. 
Ingredients
1 Campo Grande Ibérico Presa Steak, cut into bite-size chunks
Salt and freshly ground black pepper 
2 Tbsp. vegetable oil
12 garlic cloves, coarsely chopped
1 medium onion, coarsely chopped
One 3-in. piece of ginger, coarsely chopped
2 Tbsp. Kashmiri chile powder (or 1 Tbsp. each hot and mild paprika)
2 tsp. cumin seeds, ground
1 tsp. brown mustard seeds, ground
1 tsp. ground turmeric
½ tsp. ground cinnamon
¼ tsp. ground cloves
1 Tbsp. sugar
½ cup palm or rice vinegar
Chopped cilantro, for serving
Instructions
Pat the pork dry with paper towels and season it generously with salt and pepper. To a large pot or Dutch oven set over medium-high heat, add the oil. When it's shimmering and hot, add the pork (working in batches if necessary to avoid overcrowding) and cook, stirring once or twice, until browned on all sides, about 5 minutes. Use a slotted spoon to transfer to a bowl, and keep the rendered fat in the pot.  
To the work bowl of a food processor, add the garlic, onion, ginger, chile powder, cumin, mustard seeds, turmeric, cinnamon, cloves, sugar, and vinegar and pulse into a paste.
Set the empty pot over medium heat. When the fat is shimmering and hot, add the paste and cook, stirring occasionally, until reduced slightly, about 2 minutes. Add the reserved pork and 1 cup of water, then partially cover, turn the heat to medium-low, and cook until the pork is fork-tender, about 25 minutes. Sprinkle with cilantro and serve.
Searching for the perfect pork for this recipe? Click here to shop Campo Grande heirloom Ibérico now!