Coppa Quesadilla Tacos
This is more than just your average taco. Not only does the Ibérico Coppa make for an absurdly tender filling, but the extra cheesy doubled up tortillas are like a quesadilla gone wild.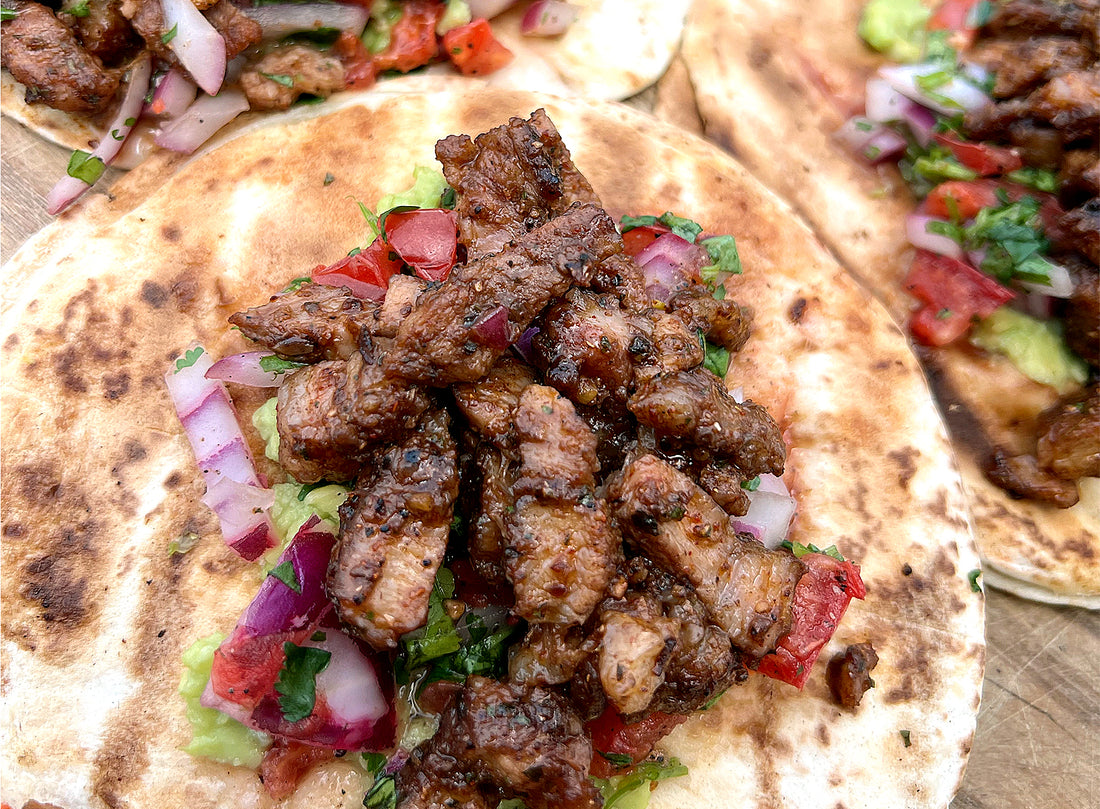 You could make quesadillas. And you could make tacos. Or you could level up and make Coppa quesadilla tacos for double the cheese, double the tortilla, and double the deliciousness. 
Grab a skillet and sizzle on some cheesy, cheddar-filled quesadillas (or your favorite melty cheese of choice), top them with seasoned grilled (or seared) Ibérico Coppa, and whip up a quick pico de gallo to brighten up the whole shebang. Fold in half or roll it up and you've got a taco gone wild. 
Quesadilla tacos work with a number of Ibérico cuts and preparations. Try them with Coppa Carnitas, Jowl Secreto Bites, or Ooni Oven Abanico. 
Serves: 4-6
Ingredientes
1 31-42 oz. Campo Grande Coppa 
3 Tablespoons red rub
2 tomatoes, diced 
1 lime, juiced 
1 red onion, diced 
1 bunch cilantro, chopped
Freshly ground pepper 
1 avocado, mashed 
24 flour tortillas 
7 oz. cheddar cheese, grated  
Salt
Preparation  
Cut coppa into filets about ½-inch thick. Season with red rub on both sides. 
Heat grill or cast iron skillet over high heat and cook coppa filets for a few minutes on each side. 
Meanwhile, prepare the pico de gallo by combining the tomato, onion, cilantro, half of lime juice, and salt and pepper to taste. 
In a separate bowl, mash avocado with a fork and mix with remaining lime juice, salt, and pepper. Once the meat is cooked, remove from heat and let rest 3 minutes. Cut into bite sized pieces. 
In the same pan, heat each tortilla, adding a small handful of cheese to each and topping with another tortilla (use 2 tortillas for each taco like a quesadilla). 
Once cheese is melted and the tortilla is warmed and slightly crispy, remove from the pan and repeat with remaining tortillas and cheese. 
Spread a spoonful of avocado on the tortilla. Top with pico de gallo and the coppa pieces. ¡Buen provecho!