Chorizo & Camembert Tortilla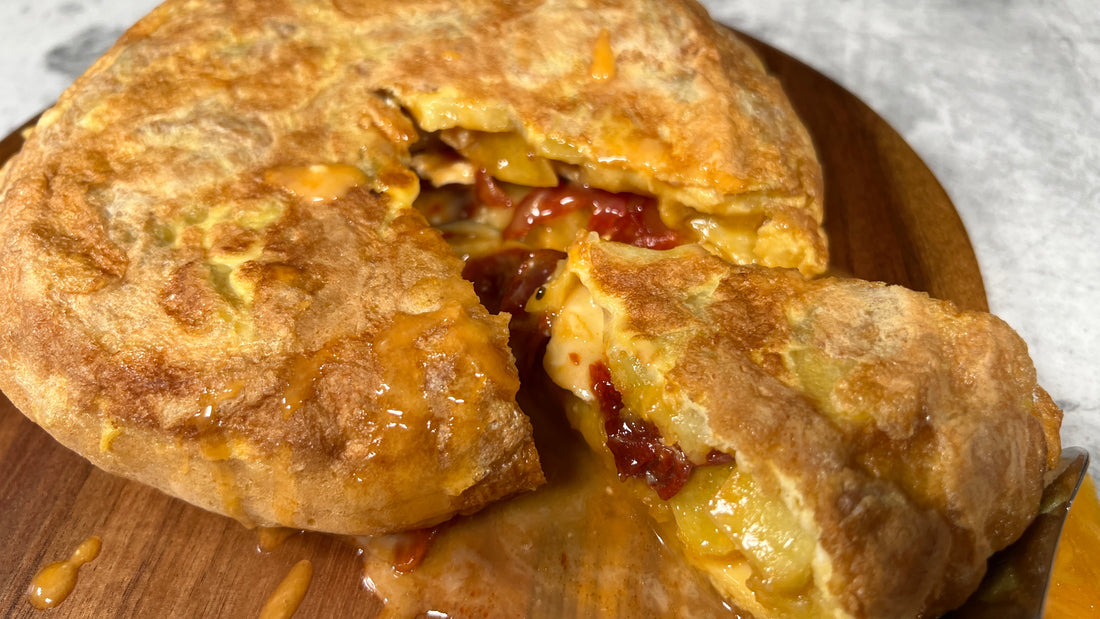 Here, we're cubing our potatoes for Spain's famous potato omelet (beefed up with Ibérico chorizo and gooey camembert), but sliced rounds or half moons will also do the trick. Make it your own by adding sautéed onions and cooking the tortilla to your liking. Everyone in Spain has their strong preference of how cooked or uncooked they like their tortilla, and whether or not it should have onions! 
Serves: 4
Time: 30 min.  
Ingredients:
1 pack Campo Grande Sliced Chorizo. 

8 medium-sized potatoes, peeled and cubed  

10 eggs 

Extra-virgin olive oil for frying 

100g (4 oz.)  camembert cheese, cut into cubes or slices  
Preparation:
Heat a generous amount of olive oil in a large nonstick skillet and fry the potatoes until soft, cooking longer to get a golden brown color if you prefer. You may have to work in batches to fry all of the potatoes. 

While the potatoes are cooking, whisk the eggs in a large bowl until smooth and season with salt. To ensure you're salting correctly, try sprinkling a little salt over each egg before you whisk them all together. 

Drain any excess oil off from the fried potatoes and add them into the eggs, stirring to mix well. 

Heat the pan over medium heat and pour half the egg and potato mixture back into the skillet. Top with chorizo and cheese and pour the remaining egg mixture on top. 

Let cook for a few minutes until the egg begins to cook. Flip the tortilla over by covering it with a large large plate, flipping it onto the plate, sliding it carefully back into the skillet, and tucking in the sides. 

Cook for a few minutes longer on the other side and slide the tortilla onto a serving dish. When you cut into the tortilla, you'll discover a deliciously melty mess of chorizo and cheese in the middle.

¡Buen provecho!