Coppa Carnitas Sandwiches with Apple Slaw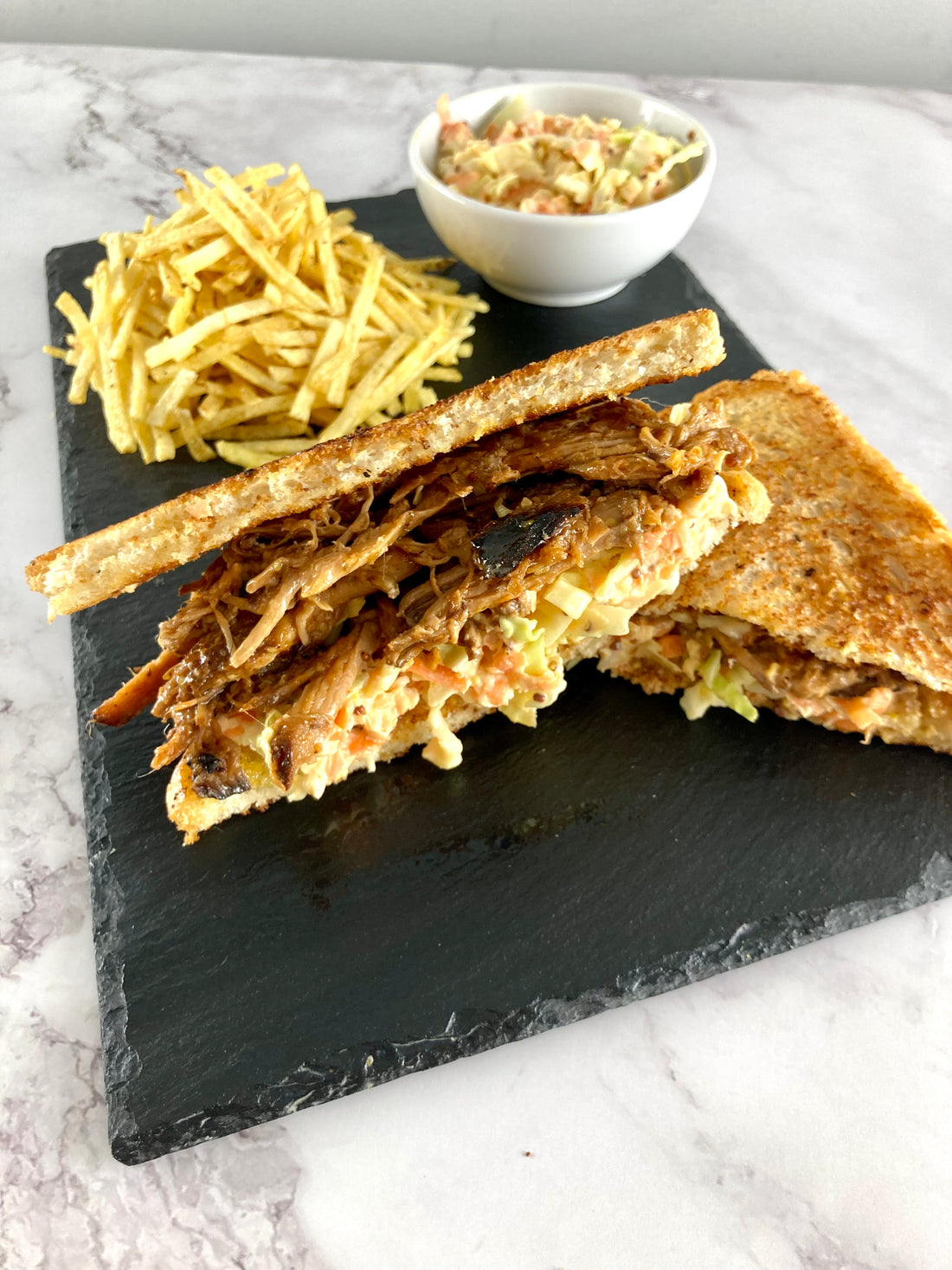 Sink your teeth into a juicy shredded Coppa Ibérico sandwich, accompanied by a refreshing and creamy apple cabbage slaw. The slaw adds a nice chilled crunch and can be made a day ahead - the flavors will only intensify. 
Serves: 8-10 
Ingredients for Coppa Carnitas Sandwiches with Apple Slaw 
1 31-42 oz. Campo Grande Ibérico Coppa 

4 ¼ cups orange juice

3 cloves garlic 

2 Tablespoon red meat rub  

1 white onion

½ cup barbecue sauce 

4 apples, cored and grated

5 carrots, grated

2 lb. red or green cabbage, finely shredded  

½ cup sour cream

1 ¼ cup mayonnaise 

½ cup whole-grain mustard 

Bread for 8-10 sandwiches
Preparation
 

for Coppa Carnitas Sandwiches with Apple Slaw
Heat grill to 250ºF. Cook coppa for 3 hours on grill (covered), basting it with orange juice every hour and flipping to help cook evenly.

After 3 hours, place the coppa in a deep metal baking pan with remaining orange juice, white onion, garlic, and red rub. Cover the pan with foil and cook for another 3 hours (covered), until the meat falls apart and you can easily shred it with your hands. 

To make the slaw, mix sour cream, mustard, and mayonnaise in a large bowl. Add the apple, carrot, and cabbage and stir to combine. 

Sauté the coppa carnitas with the barbecue sauce in a large pan until warm and mixed. 

Spread mayonnaise and mustard on the inside of the toasted bread, add carnitas and slaw, and top with the second piece of bread.

¡Buen provecho!