Cuminy Ibérico Pork Stir-Fry With Chiles and Scallions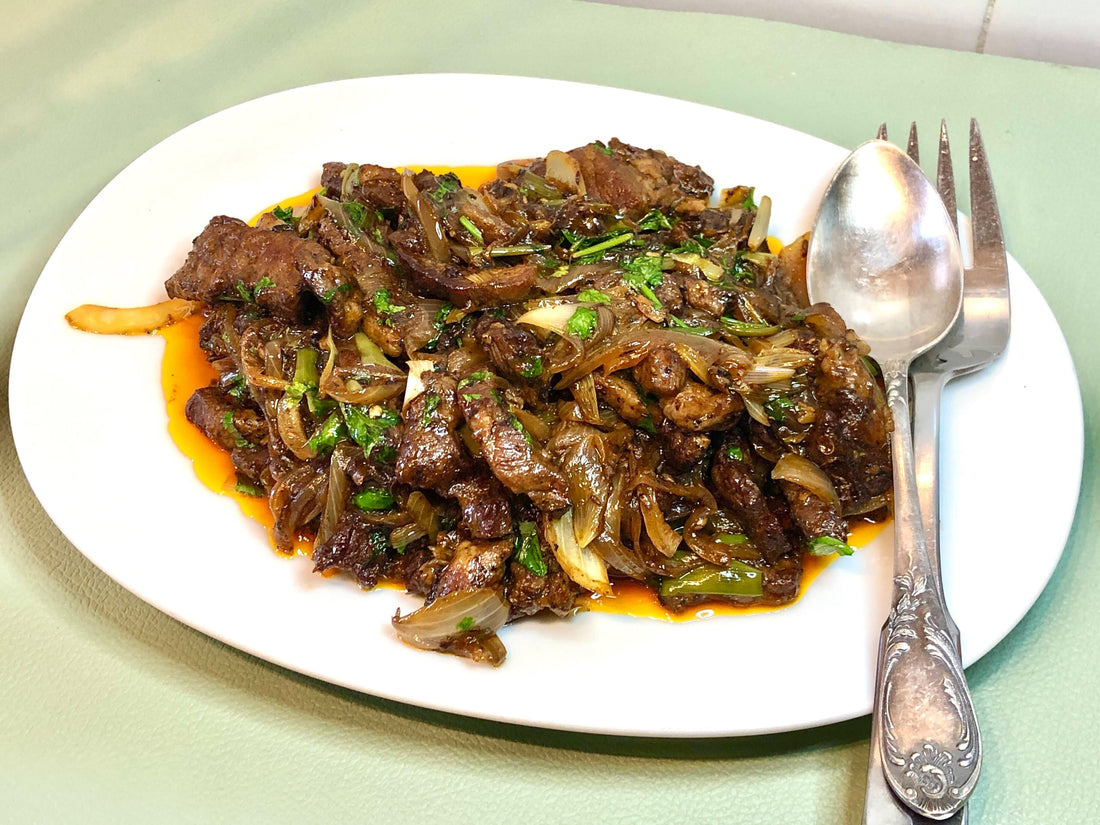 Serves 4
Our cuminy Ibérico pork stir-fry with chiles and scallions is a riff on the classic Xinjiang dish traditionally made with lamb. Because Ibérico pork has such a robust meaty flavor, it holds its own against punchy aromatics like cumin, garlic, and chiles the same way lamb does (and supermarket pork, well, doesn't). If you're pressed for time, substitute pre-ground cumin for the whole seeds, though freshly ground is noticeably more fragrant. Medium-hot Sichuan chile powder is the go-to choice here, but gochugaru (ground Korean chile pepper) or Italian-style crushed red pepper are good stand-ins. Serve this dish over steamed rice for a simple yet flavorful meal, or zhuzh things up with a side of your favorite tangy slaw or cucumber salad.


Ingredients
1 Campo Grande Ibérico Abanico Steak (about 1 lb.), sliced against the grain into bite-size ½-in.-thick strips
3 Tbsp. soy sauce
2 Tbsp. dry sherry or Shaoxing wine
2 tsp. sugar
1 tsp. salt
2 Tbsp. cornstarch
1 Tbsp. plus 2 tsp. cumin seeds, coarsely ground (see note)
1 Tbsp. chile flakes, or more to taste (see note)
¾ tsp. Sichuan peppercorns, coarsely ground 
2 Tbsp. peanut or vegetable oil
1 small onion, thinly sliced
One 1½-in. piece ginger, finely chopped or pounded in a mortar
4 garlic cloves, finely chopped or pounded in a mortar 
1 cup coarsely chopped scallions, white and light-green parts only
1 cup coarsely chopped cilantro
Instructions
To a large bowl, add the pork, soy sauce, sherry, sugar, and salt and turn to coat. Cover and refrigerate for at least 1 hour, or overnight.
In a small bowl, whisk together the cumin, chile flakes, and Sichuan peppercorns and set aside. 
Drain the pork, reserving the marinade, and transfer to a paper-towel-lined plate to dry slightly. Add the cornstarch to the marinade and whisk to combine. 
To a large wok or skillet set over high heat, add the oil. When it's shimmering and beginning to smoke, add the pork and cook, stirring occasionally, until well-browned and no pink remains, about 3 minutes. Use a slotted spoon to transfer to a plate. 
To the empty wok, add the cumin mixture and cook, stirring, until fragrant, about 10 seconds. Add the onion, ginger, garlic, and scallions and cook, stirring constantly, until the onion is deep brown at the edges and softened slightly, about 4 minutes. Add back the pork and the reserved marinade, and cook until the meat is just cooked through and the sauce has thickened, about 2 minutes more. Stir in the cilantro and serve immediately.
Searching for the perfect pork for this recipe? Click here to shop Campo Grande heirloom Ibérico now!