The Ultimate Guide: How to Cook Ibérico Presa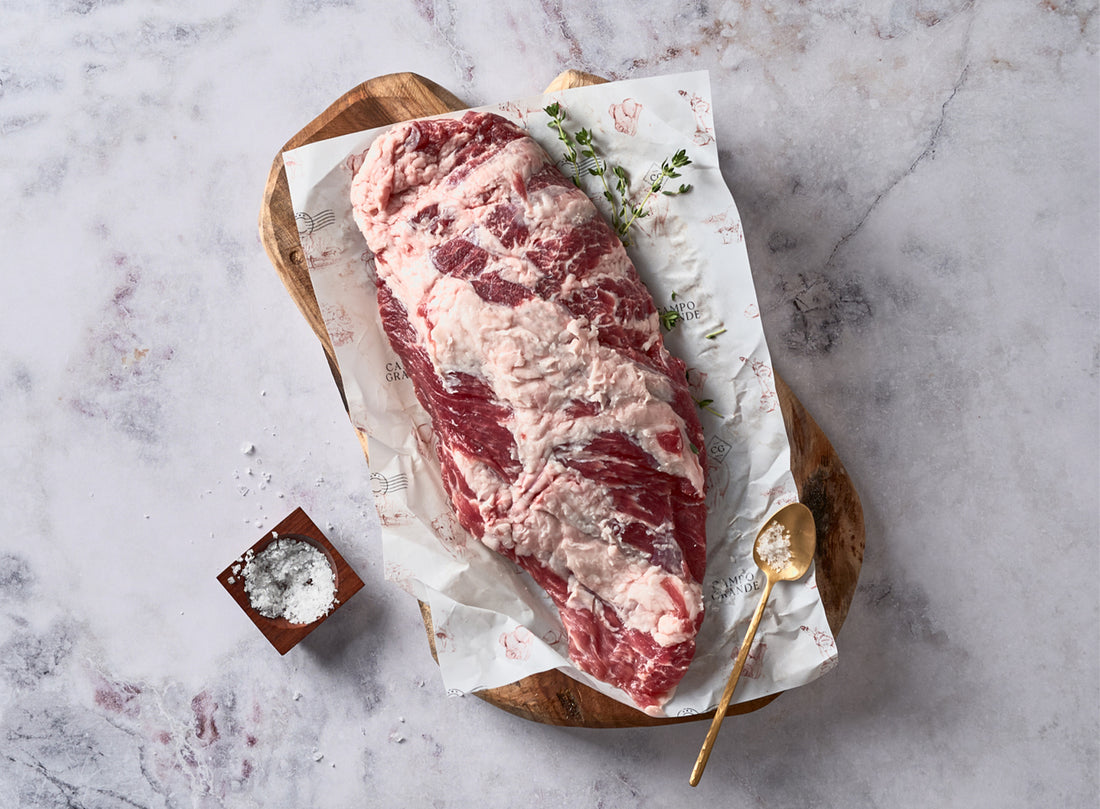 In Campo Grande Ultimate Guides, we take a focused look at Ibérico cuts, offer tips on the best ways to prepare them, and help you master the Ibéricos from head to tail. 
Presa is one of the great noble cuts of the Ibérico pig, a cut that's often underutilized or not used at all in other breeds and styles of butchery. But noble cuts are actually some of the most coveted, as there are only two pieces of presa on each animal. The Ibérico presa comes from the shoulder area of the pig, right above where the tenderloin begins. It is oval in shape— almost like a football— and is one of the largest of the noble cuts, measuring about one to two-inches thick, and weighing around a full pound. 
The presa steak is the equivalent of the Denver steak in beef (also called the chuck tail flap), which is a whole muscle at the bottom of the pork collar piece. In the wagyu beef world, it is the equivalent of the zabuton. So yeah, it's the zabuton of pork! Its makeup is similar to a boneless pork roast, but with far more intramuscular fat; presa is highly marbled, insanely tender, and one of the most sought-after cuts of ibérico. 
In Spain, presa is seam-butchered. Butchers hand-carve along the natural seams between the muscles to keep the whole muscle pieces intact. In the US, most animals are industrially processed, which tends to create slices of multiple muscle groups with irregular textures that really require different forms of cooking. The Ibérico way of artisan seam-butchery is a lost art form, but one that is still highly respected and practiced in Spain. 
The 3 Paths to Presa Ibérica
There are three ideal ways to prepare presa that will yield the juiciest results and bring out the best Ibérico flavors. No matter your path, the best seasoning is always the same: salt, maybe a little freshly ground pepper, and nothing else. 
1. Whole presa 
Keep the whole piece in tact to maintain the thickness, no cuts required.
Cook it: Reverse seared roast (sear on all sides and roast in the oven) or sous vide
2. Butterfly Presa
Butterfly the piece like a chicken breast and create thin steaks.  
Cook it: Sear on high heat for 2-3 minutes on each side for medium-rare. 
3. Zabuton Presa
Go Zabuton style by cutting against the grain into long strips. You can also cut these strips into individual serving portions for easier cooking and serving. 
Cook it: Sear on high heat for 3-4 minutes on each side for medium-rare. 
Pro Tip: Once your presa is cooked, move the meat to a cutting board and let it rest for a few minutes before slicing. This helps lock in the juices and carries the heat over to the desired temperature, especially if you're cooking to medium-rare. 
How to Cook Ibérico Presa: Our 4 Favorite Methods 
Presa on the Stove
Cooking presa on the stove is best done in a cast-iron skillet, or a high-quality stainless-steel satué pan. Butterfly the presa into two thin filets and sear on high heat for 3 minutes on each side to get a nice crispy exterior and a juicy interior. Once cooked, season with salt and pepper. Or, go zabuton style and cook for a 3-4 minutes on each side. 
Presa on the Grill 
Presa loves a grill. Season with salt and pepper and first sear it whole over high, direct heat. Then cook it low and slow at 250ºF (like roast beef), until it reaches an internal temperature of 145ºF. You can even use this method to smoke it. To keep it extra flavorful on the grill, use a pastry brush to baste the presa with your choice of booze and acid (like and lemon) while it's cooking. 
Presa in the Oven 
Similar to a grill and ideal if you want a bit more control over the temperature or simply don't have a grill. Sear the presa whole in a large cast iron skillet, place in a large baking pan, and cook in the oven at 250ºF until it reaches an internal temperature of 145ºF. 
Presa Sous Vide 
Butterfly your presa or go zabuton style and cook for 2 hours at 135ºF. Once cooked, sear in a screaming hot pan for 1-2 minutes to get those crispy edges.
The Best Iberico Presa Steak Recipes 
Once you've tried your hand at the simple salt and sear methods and understand the nuanced flavors and buttery textures of presa, you can venture into other styles of cooking, seasonings, and sauces.
We definitely recommend grilling the presa and potatoes in this recipe, but if grilling isn't your thing, you can always sear the presa on the stove and bake or boil the potatoes and get just as tasty results. 
This spicy Ibérico pork vindaloo kicks up the meaty intensity with ultra-marbled presa, which cooks up juicier and more flavorful than the standard pork shoulder. 
Mix Spanish and Latin American traditions to create the ultimate presa burrito, with caramelized veggies and bright mango that make the presa pop.
A sweet limey sauce with chili and your favorite berries adds a burst of fruity contrast to the rich, nutty fat of the Ibérico Presa. This recipe comes together quickly, giving you more time to crack open a bottle of red wine and enjoy your company.  
A rich pork bone broth and earthy veggies like cauliflower and mushrooms take the flavors of presa to the next level. It's like fall in the Spanish dehesa. 
Top a sofrito and morcilla-laden rice with luxurious slices of seared presa and curry mayo for an elaborate comfort dish with a gourmet twist.   
In Spain, montaditos are small sandwiches traditionally filled with local specialities and served at the best tapas bars in town. This one features the classic combo of goat cheese and honey, made all the better by grilled Ibérico presa.