Easy Baked Pork Belly Tacos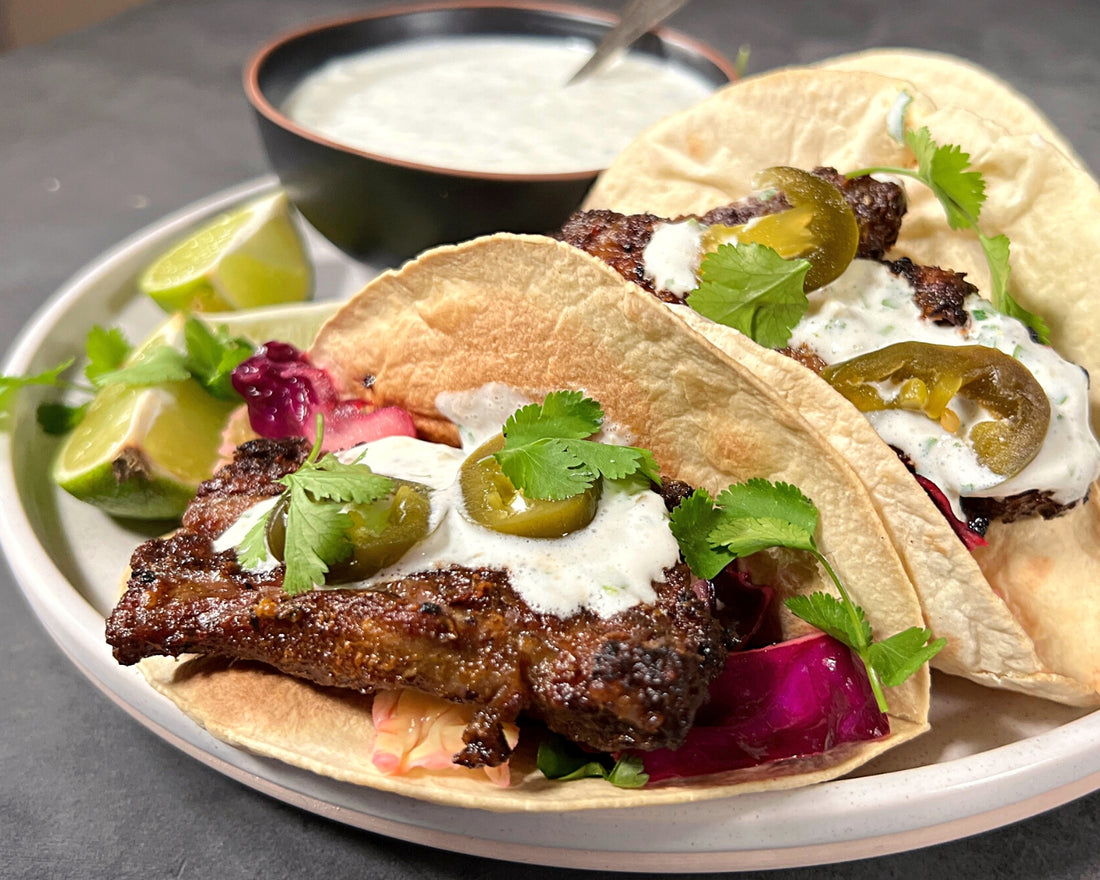 Let's craft the perfect taco, featuring succulent, melt-in-your-mouth pork belly, vibrant cabbage slaw, and a zesty salsa that will tantalize your taste buds.
Prepare to be captivated by the rich and savory flavors that unfold in each bite. Our recipe starts with the star of the show – the Campo Grande Thick Pork Belly. This luscious cut of meat is generously seasoned with a homemade taco seasoning, boasting a harmonious blend of smoked paprika, garlic and onion powder, aromatic oregano, cumin, and a hint of chili flakes for a touch of heat.
Serves: 4
Difficulty: Easy
Course: Main
Time: 45min
Ingredients for Easy Baked Pork Belly Tacos
3-4 pounds Campo Grande Thick Pork Belly
3 tablespoons Taco seasoning:
¼ cup smoked paprika
1 tablespoon garlic powder
1 tablespoon onion powder
2 tablespoons dried oregano
2 tablespoons ground cumin
1 tablespoon chili flakes
1 tablespoon salt
2 teaspoons black pepper
For the tacos:
3 cups shredded cabbage
1 teaspoon olive oil
Juice of 2 limes
Fresh chopped cilantro, to taste
Pickled jalapeños, to taste
Salt and pepper, to taste
8 corn tortillas
Sauce:
1 cup sour cream
2 teaspoons lime juice
Optional: ½ deseeded fresh jalapeño
Salt and pepper
2 tablespoons fresh cilantro
Instructions for Easy Baked Pork Belly Tacos
Preheat the oven to 350°F
1.In a small bowl, mix together all the ingredients for the taco seasoning: smoked paprika, garlic powder, onion powder, dried oregano, ground cumin, chili flakes, salt, and black pepper.
2..Start by cutting the pork belly into 1-inch thick cubes. Add the pork in a large bowl and season the pork with the taco seasoning until fully coated.
3.Prepare a baking sheet and line with parchment paper. Scatter the seasoned pork belly on the baking sheet. Bake in the oven for 30 minutes, flipping once halfway, until caramelized and cooked through.
4.Chop the cabbage and toss in a bowl. Add the olive oil, lime juice, salt and mix. Set aside.
5.In a food processor, add the sour cream, lime juice, jalapeño, cilantro, and salt and pepper to taste. Pulse slowly until your desired consistency. Taste and add more salt if needed.
6.Heat up the corn tortillas on the stovetop according to package instructions, typically 2 minutes per side on medium-high heat.
7.Top each tortilla with the pork, a tablespoon of slaw, and a tablespoon of salsa. Garnish with jalapeño and cilantro to your liking. Serve with lime wedges.