Grilled Rib Rack with Red Wine Sauce and Apples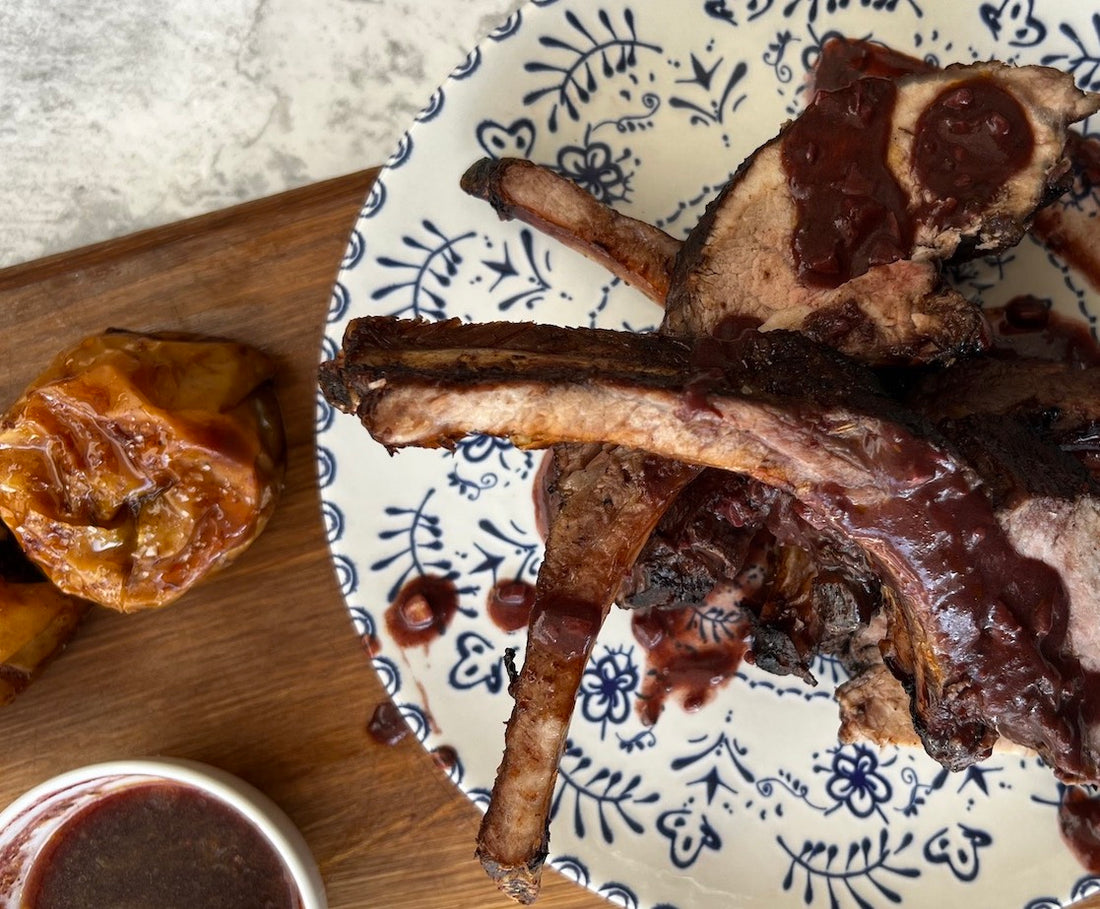 Sweet and savory get their day in the spotlight with this warming dish for grilled Ibérico ribs and spiced apples. This recipe works in any season. Utilize juicy cold-weather fruits or fire up the grill come summertime. 
Serves: 2 
Ingredients for Grilled RIb Rack with Red Wine Sauce & Apples
Campo Grande Ibérico 4-Rib Rack

2 cups red wine 

1 orange

1 sprig thyme

2 cloves garlic, minced  

1 Tablespoon aji chili powder, or other hot chili powder

1 Tablespoon cornstarch 

2 apples 

1 Tablespoon cinnamon

4 Tablespoons Mike's Hot Honey Sauce
Preparation for Grilled RIb Rack with Red Wine Sauce & Apples
In a large sauce pot, mix red wine, a few strips of orange peel, juice from the orange, thyme, garlic, and ají powder. 

Bring to a boil and remove from heat. 

Once cooled, add the rib rack into the mixture and let it sit for 40 minutes, or even overnight for more intense flavor. 

Fire up the grill to around 250ºF and place the rack of ribs on the grill. Baste the ribs with the wine marinade a few times throughout the cooking process. 

Cook until the meat reaches an internal temperature of 145ºF, or medium rare. 

To grill the apples, first coat them with the hot honey and sprinkle with cinnamon, reserving a bit to garnish. 

Bring the grill temperature up to 360-400ºF and cook apples for 20-30 minutes. Drizzle the remaining honey over the cooked apples and sprinkle a dash of cinnamon on top.

To make the red wine sauce, pour the mixture through a fine mesh sieve and discard the solids. Add cornstarch and reduce the sauce, whisking occasionally to remove any lumps. For a thicker sauce, add another tablespoon of cornstarch.

Reduce sauce until it reaches your desired texture .

Drizzle the ribs with the red wine sauce and serve with grilled apples. ¡Buen provecho!