How Ibérico is the Wagyu of Pork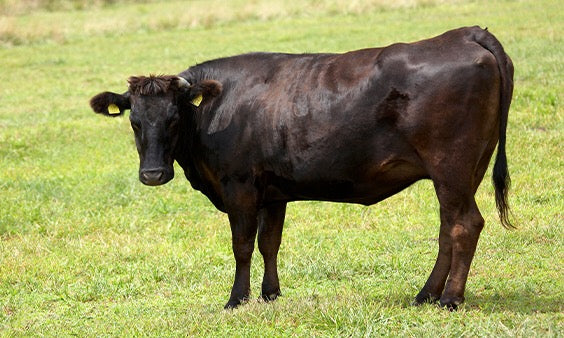 You probably know a thing or two about wagyu beef. The highly-prized Japanese cow (think upwards of $200 a pound), with its unique flavor and perfect marbling, is one of the most sought after breeds of meat in the world. There are so many reasons wagyu is the best beef out there: iits genetics offer up a range of benefits, from incredible flavor, to unsurpassable tenderness, to actual health benefits. And the care ranchers give to the animals takes it to the next level. 
Wagyu is a world-renowned variety of beef. Chefs love it and home cooks can't wait to get their hands on it. Take Guillermo Benjumea, a chef and restauranteur in Madrid who spent time in the kitchens of Gramercy Tavern and Eleven Madison Park: "Ibérico pork and wagyu are comparable because both are breeds that tend to get great marbling scores. They both have that melt in your mouth feeling."
Call us crazy, but it's these superior qualities that bring us to this one definitive conclusion about Ibérico pork: Ibérico pork is the Wagyu of pork. Here's why:
What Makes Wagyu Special 
Let's get into a bit more about what makes wagyu beef so special. Wagyu is a breed of Japanese cattle that was mixed with British and European breeds in the late 1800s. Today, there are actually several breeds of wagyu, each with their own genetic makeup and characteristics.
Wagyu cows store fat in the muscles in a way that provides the animal with an immediate energy source and thus, incredible stamina and strength. That's why the wagyu cows were originally used in agriculture and not so much for eating. Today we know them as the juiciest and most tender cuts of beef on earth— it's that intramuscular, energy-pumping fat that creates such gorgeous marbling and, of course, unmatched umami flavors and buttery textures. 
Unlike traditional beef, wagyu also has numerous health benefits. For example, the ratio of mono-saturated fat to standard fat is significantly higher in wagyu than in any other form of beef. And the saturated fat it does contain has a high level of stearic acid, which doesn't raise cholesterol levels as much as the saturated fat found in most beef. Additionally, wagyu contains conjugated linoleic acid, which is said to have various metabolic health benefits. 
The Genetics of Ibérico Pork
When it comes down to it, wagyu, like Ibérico, is all about genetics. And the Ibérico pork breed has a lot in common with wagyu in that way. Ibérico pigs have been roaming around the Iberian peninsula (Spain and Portugal), for the past 12,000 years. Ibérico pigs are lean, black, a little fuzzy, and have a particularly long snout. But, like wagyu, there are variations in the breed that create different flavors and textures. 
The Ibérico genetic makeup produces cuts of meat unlike any other pig out there. Like a rare slice of wagyu beef, the visuals alone are shocking: Ibérico pork has a ruby red color that looks more like beef than pork, with stark-white marbling evenly woven into every inch. This intramuscular fat, along with the incredible muscle fibers, makes an otherwise tough and lean meat, soft and absurdly tender. .
Feeding Ibérico Pigs
Wagyu cattle are an exceptional breed of beef, but their diet also plays a role in how the quality of the beef develops. Wagyu graze on natural grasses, along with legumes and rices—  no corn around here. Ibérico pigs receive equally healthy diets, if not better. They feed on natural grasses, and a vegetarian feed comprised of whole cereal grains and nuts; they never see a drop of corn. 
Humanely Raising Ibérico Pork 
Wagyu cows are also never given any hormones or antibiotics to speed up growth, unlike most conventional cattle. Instead, they fatten up solely on actual food in order to reach the desired weight. To ensure the quality, Japan's government heavily regulates all wagyu beef to preserve the country's prized culinary product. 
The same goes for Ibérico pigs. Hormones and antibiotics are never permitted during their growth— nothing but a solid vegetarian diet keeps these guys going. And like Japan and its wagyu, the Spanish government has incredibly strict laws about raising Ibérico pigs. These regulations uphold humane farming standards and ultimately protect the quality of the product for the consumer. 
The Unmatched Flavor of Ibérico 
It's this attention to care, and each country's respect for the animal and the quality, that set wagyu and Ibérico apart from other red meats. Bite into a piece of ibérico secreto steak, for example, or slice off a sliver of jamón ibérico, and you'll get it: rich, nutty, umami, with the ideal amount of fat. You simply cannot find these otherworldly flavors and textures in other styles of pork, and once you sink your teeth in, you won't look any further.
Ibérico pork is in a league of its own, but we're convinced it's on par with the world of wagyu beef. Get these unmatched Ibérico cuts (think multilayered flavors from Spain and off-the-charts marbling) sent directly to your doorstep. When it comes to pork, Ibérico is a totally different ballgame. This is Campo Grande's Ibérico pork at your dinner table— welcome to the wagyu of pork.