Hungry Jona's Sticky Asian Ribs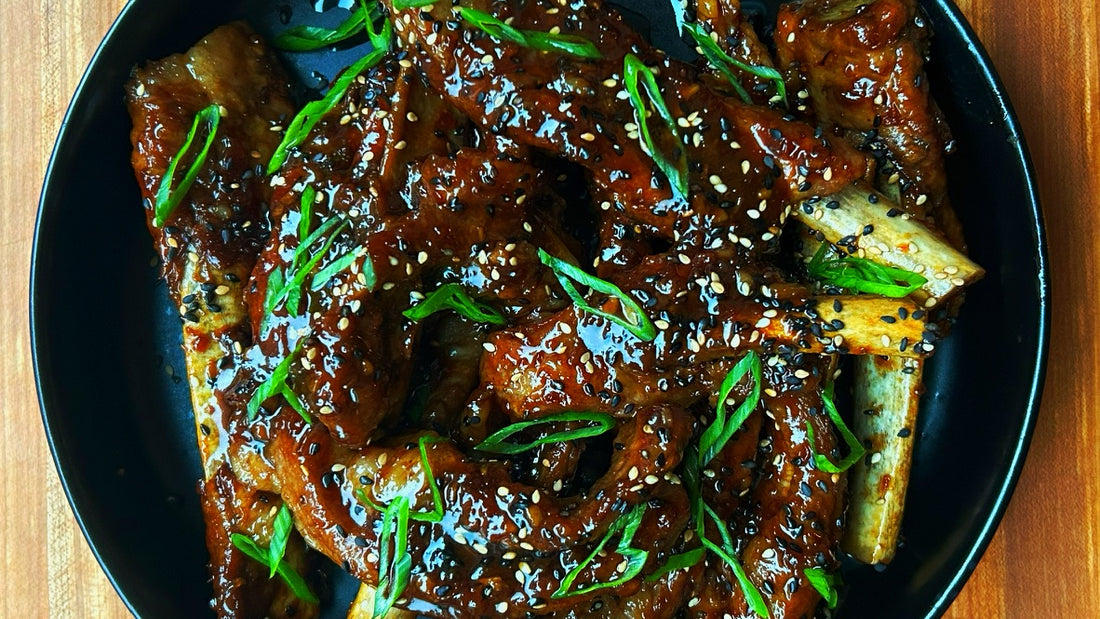 Recipe creator and influencer, Jona Won of
@Hungry Jona
, created a knockout dish for his takeout series, using our St. Louis Ribs. We got the chanceto chat with Jona to learn a bit more about how he got his start, his favorite Campo Grande cuts, and of course get the details for his Sticky Asian Ribs. 
Hungry Jona
Where did you grow up?
I was born in Queens NY, and grew up in Jackson Heights, one of the most diverse neighborhoods in the world.
Where do you live now?
I recently moved from NY down to Washington D.C. and still miss my pizza and bagels to this day. 
What's your favorite Ibérico cut?
Every single cut from CG has been incredible, but if I had to pick one it would be the Coppa cut. Slow-cooked to tender perfection!
How long have you been interested in cooking? 
Cooking has been part of my life ever since I was a kid. Since both of my parents worked full-time during the day, my grandfather and grandmother helped watch us, and that led to many food memories in our small kitchen. 
What did you do as a full-time job before you became such an influential recipe creator? 
I worked in finance, FP+A analysis, and decision support for over a decade before finding my calling setting off the fire alarm in my kitchen :)
When did you start creating recipe content full time?
I went full-time creating content in June of last year, 2022. I am so lucky to have the support of my family and friends and community. It was the best decision I ever made!
Sticky Asian Ribs
Here's what you'll need for Sticky Asian Ribs:
2 lbs. Campo Grande St. Louis Ribs
2 Tablespoons neutral oil 
5 cloves garlic, minced
2 Tablespoons ginger, smashed
1 medium shallot, minced
1 cinnamon stick 
2 bay leaves
4 dried chilies 
2 Tablespoons shaoxing wine
1 Tablespoon light soy sauce, low sodium 
2 Tablespoons tamari
1 Tablespoon oyster sauce 
1 Tablespoon hoisin sauce
2 Tablespoons brown sugar 
2 Tablespoons rice vinegar
Just enough water to cover ribs
Cooked white rice 
Here's what you'll do: ⁠
Remove silverskin from the rack of ribs, then slice the individual ribs along the bone, and soak in cold water while you prepare and chop your other ingredients.⁠
In a heavy-bottomed pot, heat oil over medium high heat. Pat down your ribs after a nice soak, and brown them, flipping constantly, and remove, about 2-3 min total⁠.
In the rendered fat, sauté garlic, ginger, and shallot for 30 seconds until fragrant.
Add the cinnamon stick, bay leaves, and dried red chilis, and fry for another 30 seconds until fragrant.⁠
Deglaze with shaoxing wine and vinegar and use a wooden spoon to scrape up any fond. Then add light soy sauce, dark soy sauce, hoisin sauce, oyster sauce, and brown sugar⁠.
Add back the ribs into the pot and add just enough water to cover the ribs. Partially cover with a lid and bring to a simmer over medium high heat. Reduce the heat to medium and braise for 45 min -1 hr, until the liquid has mostly evaporated and the ribs are tender but not falling off the bone.⁠
Remove ribs, turn up the heat and reduce the sauce down until a glaze has formed. Toss back ribs to coat, and season with sesame seeds and scallion.⁠
Eat with white rice!⁠