Ibérico Pork Belly Secreto Bites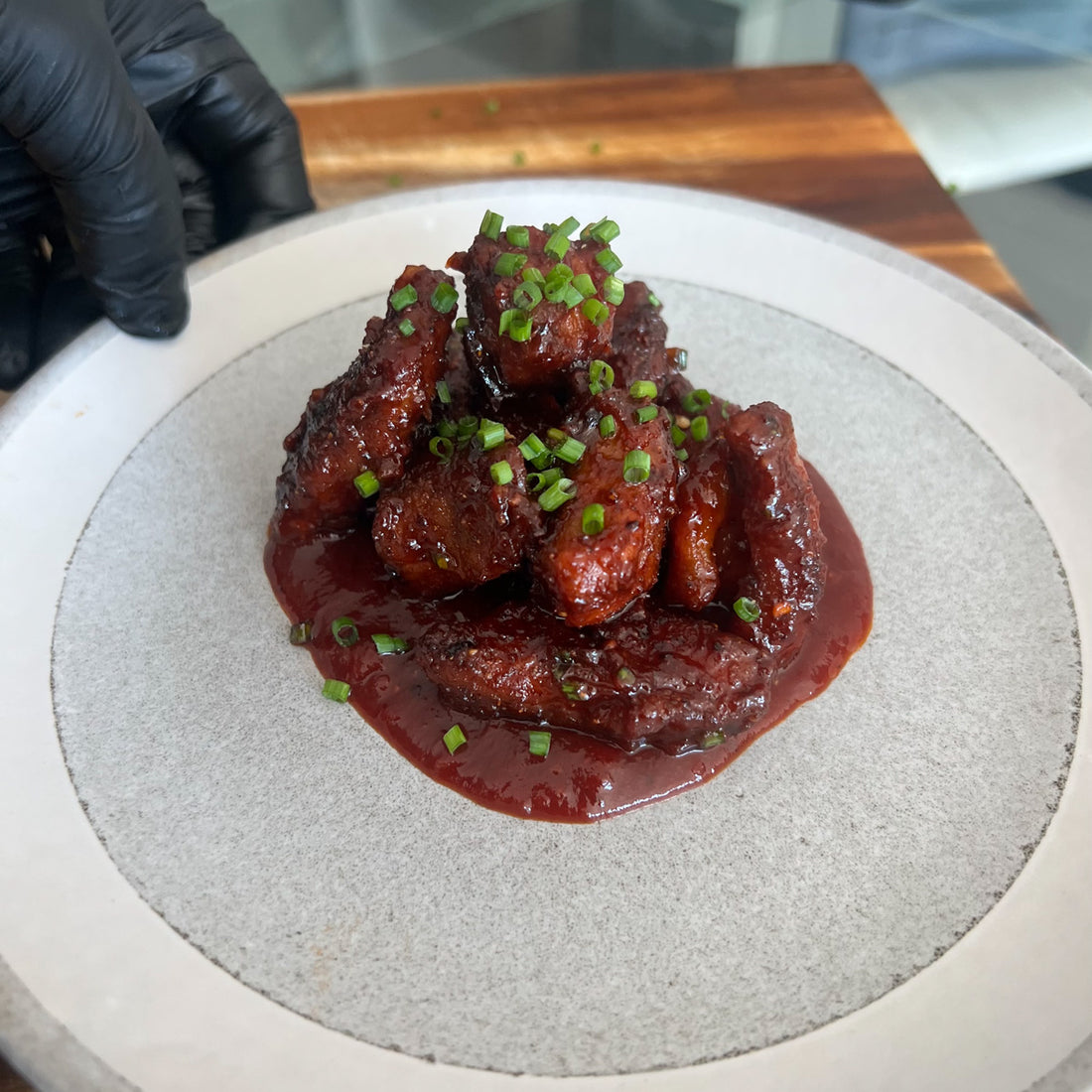 Ibérico Pork Belly Secreto Bites
Our featured dish, Ibérico Pork Belly Secreto Bites with Homemade Korean x Kansas City BBQ Sauce, is a fusion of two distinct yet harmonious culinary traditions. Combining the exquisite Ibérico pork belly secreto with a homemade sauce that marries Korean and Kansas City BBQ influences, this recipe promises an unforgettable gastronomic experience.
Dominic DeAngelis is an actor, entertainer and entrepreneur who enjoys cooking. He is an avid food enthusiast and posts a ton of great recipes on his Instagram account @weeknds. He was born in Phoenix, Arizona and moved to Kansas City at the age of two. 
Ingredients:
For the Pork Belly Bites:
Ibérico pork belly secreto
Salt and pepper
For the Homemade Korean x Kansas City BBQ Sauce:
1 shallot, finely chopped
2 garlic cloves, minced
1 tablespoon tomato paste
1/2 Anjou pear, shaved
2 tablespoons molasses
1 tablespoon apple cider vinegar
1 tablespoon soy sauce
1 teaspoon smoked paprika
1 tablespoon honey
1 tablespoon hot honey (you can adjust the amount to your spice preference)
1 teaspoon sesame oil
2 tablespoons dark brown sugar
Salt and pepper, to taste
2 tablespoons mirin
Water (to achieve desired consistency)
1/2 teaspoon garlic powder
1/2 teaspoon onion powder
A dash of Calabrian chili oil (adjust to taste)
2 tablespoons butter
Instructions:
Start by preparing the Ibérico pork belly secreto. You can cut it into bite-sized pieces and season them with salt and pepper. Set them aside while you make the sauce.

In a bowl, whisk together the finely chopped shallot, minced garlic, tomato paste, shaved Anjou pear, molasses, apple cider vinegar, soy sauce, smoked paprika, honey, hot honey, sesame oil, dark brown sugar, salt, and pepper. This will be the base of your sauce.

In a saucepan over low heat, sauté the shallot and garlic until they become soft and aromatic.

Add the mirin to the saucepan and continue cooking for a couple of minutes, allowing the alcohol to cook off.

Gradually add water to the saucepan, stirring constantly, until you reach your desired sauce consistency. You can add more or less water based on your preference.

Stir in the garlic powder, onion powder, and a dash of Calabrian chili oil for some heat. Adjust the chili oil to your desired level of spiciness.

Finally, add the butter to the sauce and continue stirring until it melts and the sauce becomes smooth.

Grill or pan-fry the seasoned Ibérico pork belly secreto bites until they are cooked to your preferred level of doneness. You can brush them with some of the sauce for extra flavor.

Serve the grilled pork belly bites with your homemade Korean x Kansas City BBQ sauce on the side for dipping or drizzle the sauce over the pork belly bites before serving.
Enjoy your delicious Ibérico pork belly secreto bites with this flavorful homemade BBQ sauce!