Iberico Pork Katsu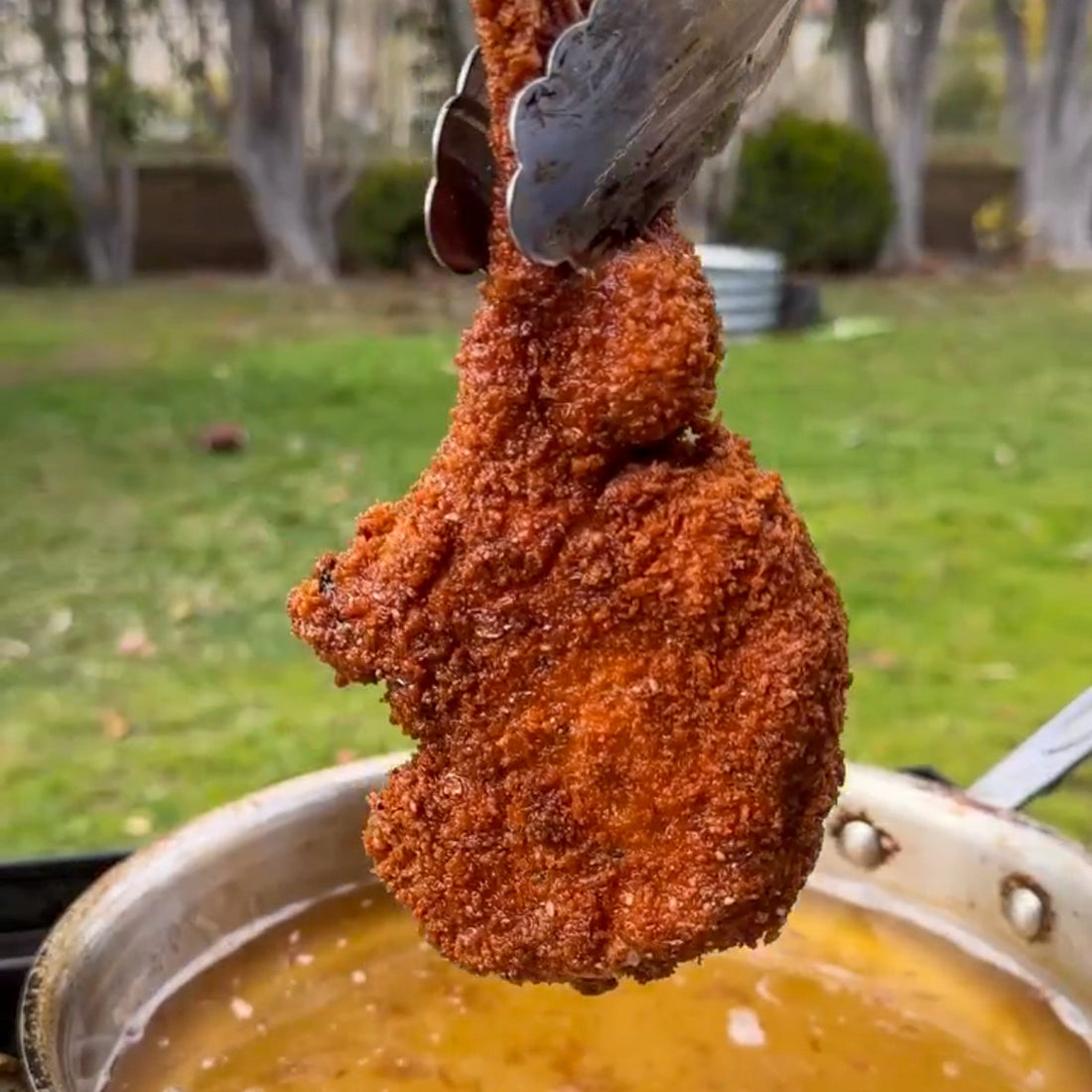 Iberico Pork Katsu
Indulge in the irresistible flavors of Pork Katsu, a culinary masterpiece that showcases the exquisite tenderness of bone-in Iberico pork loin chops. Seasoned to perfection with a touch of salt and pepper, these premium cuts are enveloped in a delectable journey of textures and tastes. The artistry begins with a delicate dredging in all-purpose flour, followed by a sumptuous bath in beaten eggs, and a final embrace with crispy panko breadcrumbs. As the canvas of flavors takes shape, a bath of premium peanut oil awaits, patiently sizzling to golden perfection. It is then topped with Jordan's homemade Tonkatsu sauce!
Jordan Morris has always been a fire fanatic.  Since a young age he has had a propensity for pyrotechnics.  Combine that with a love for all types of food, that boyhood fascination has turned into a full blown obsession with fire cooking.
While cooking primarily for family and friends, the digital age has allowed Jordan to connect with millions of people the over shared passion of BBQ and grilling. He is still amazed at how a simple hobby can transform into a meaningful online presence that resonates with a wide audience.
Iberico Pork Katsu
Ingredients
Pork Katsu:
3 bone-in Iberico pork loin chops, about 1 inch thick

Salt and pepper, to taste

1/2 cup all-purpose flour

2 large eggs

1 cup panko breadcrumbs

Oil, for frying - I prefer peanut oil

Green onion for garnish
For the Tonkatsu Sauce:
1/4 cup ketchup

2 tablespoons Worcestershire sauce

1 tablespoon soy sauce

1 tablespoon rice vinegar

1 teaspoon sugar
Preparation 
Prepare the Pork:
Start by pounding the pork chops gently with a meat mallet until they are evenly thin (about 1/2 inch thick). I like to put them in a zip top bag for the pouding. Season them with salt and pepper on both sides.
 Coating the Pork:
Set up a breading station with three shallow dishes. In the first dish, place the flour. In the second dish, beat the eggs. In the third dish, spread out the panko breadcrumbs.
Dredge each pork chop in the flour, shaking off any excess. Dip it into the beaten eggs, allowing any excess to drip off. Finally, press the pork into the panko breadcrumbs, ensuring an even coating.
Frying the Pork:
Heat about 1 inch of oil in a large skillet over medium-high heat until it reaches 350°F (175°C). You can test the oil by dropping a small piece of breadcrumb into it; if it sizzles and rises to the surface, the oil is ready.
Carefully place the breaded pork chops into the hot oil and fry for about 3-4 minutes per side, or until they are golden brown and crispy. Make sure not to overcrowd the pan; you may need to fry in batches. Once cooked, remove the pork chops and place them on a paper towel-lined plate to drain any excess oil.
Make the Tonkatsu Sauce:
In a small bowl, whisk together all the ingredients until well combined. Adjust the flavors to your preference by adding more sugar, vinegar or soy sauce if needed.
Slice the fried pork katsu into strips and serve alongside a side of steamed rice. Drizzle the tonkatsu sauce over the pork or serve it on the side for dipping. Garnish with thinly sliced green onions.
Enjoy your delicious homemade pork katsu meal!