Irish Guinness Stew with Coppa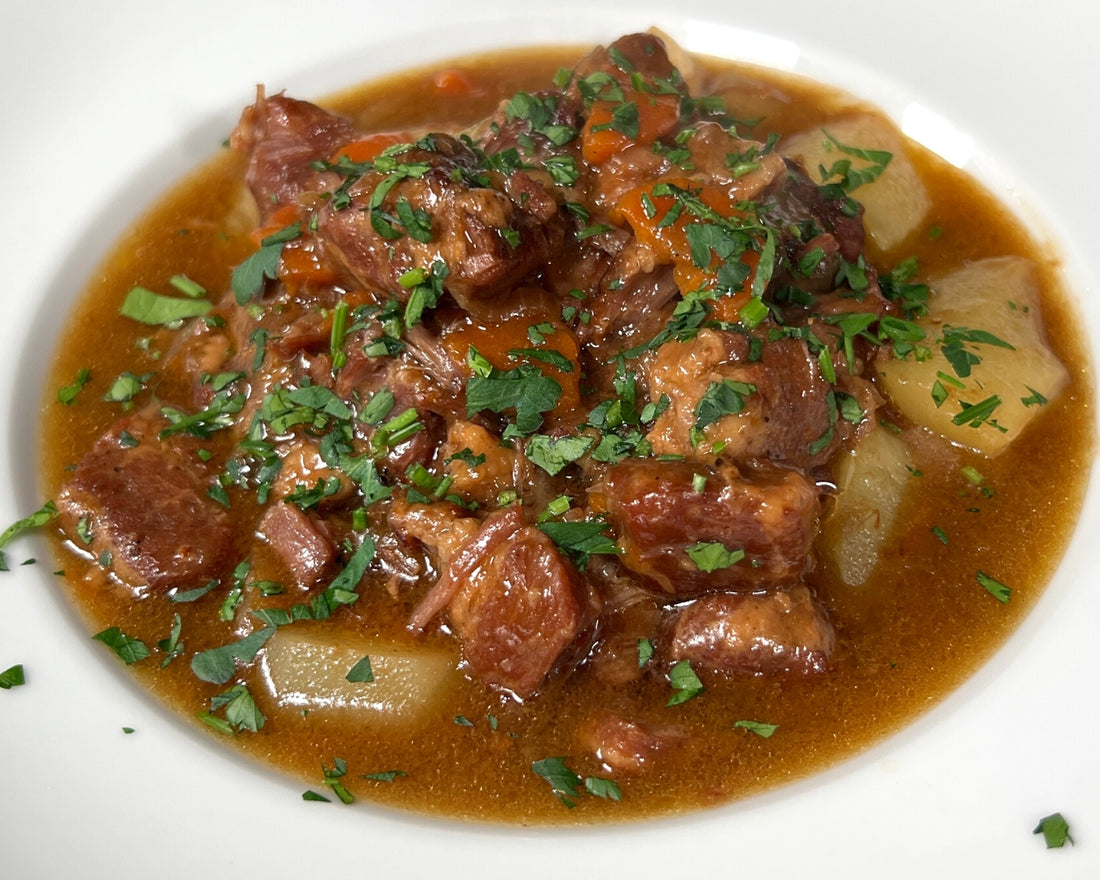 The longer you cook this comforting winter Irish stew (ideal for St. Patty's day!), the better it gets. For the biggest, boldest flavors cook it a day ahead and reheat on the stove before serving. 
Serves: 4
Time: 3 hrs. 
Ingredients:
1 31-42 oz. Campo Grande Coppa

1 cup flour 

1 onion, chopped

3 garlic cloves, chopped

2 carrots, cut into thin strips 

3 medium potatoes, peeled and cut into chunks 

4 Tablespoons extra-virgin olive oil 

2 cups Guinness beer 

1 cup beef broth 

2 bay leaves

Salt

Black pepper 

¼ cup fresh parsley, chopped 
Preparation: 
Trim the Coppa, removing any excess fat. Cut into bite-sized pieces (about the size of a walnut) and season with salt and pepper. 

Place flour in a large bowl and coat the Coppa pieces in flour. Remove the pieces from the flour and set aside. 

Heat olive oil in a large pot and sear the Coppa on all sides, working in batches. Remove from heat and set aside. 

In the same oil, cook the onions for 10-15 minutes and then add the carrots, sautéing for another 5 minutes. 

Add the Coppa back into the pot, along with the Guinness and bay leaf. Season with salt and pepper. 

Let the stew cook and reduce for about 20 minutes to cook off the alcohol and intensify the sweetness of the Guinness. 

Add in enough beef broth to cover the meat. Simmer on the stove for 2 hours, covered, stirring occasionally. 

After 2 hours, add in the potatoes and cook until potatoes are soft, 20-25 minutes. 

Ladle out stew into bowls and garnish with a sprinkle of parsley.

¡Buen provecho!