Mini Coppa Appetizers with Ranch and Chimichurri Sauce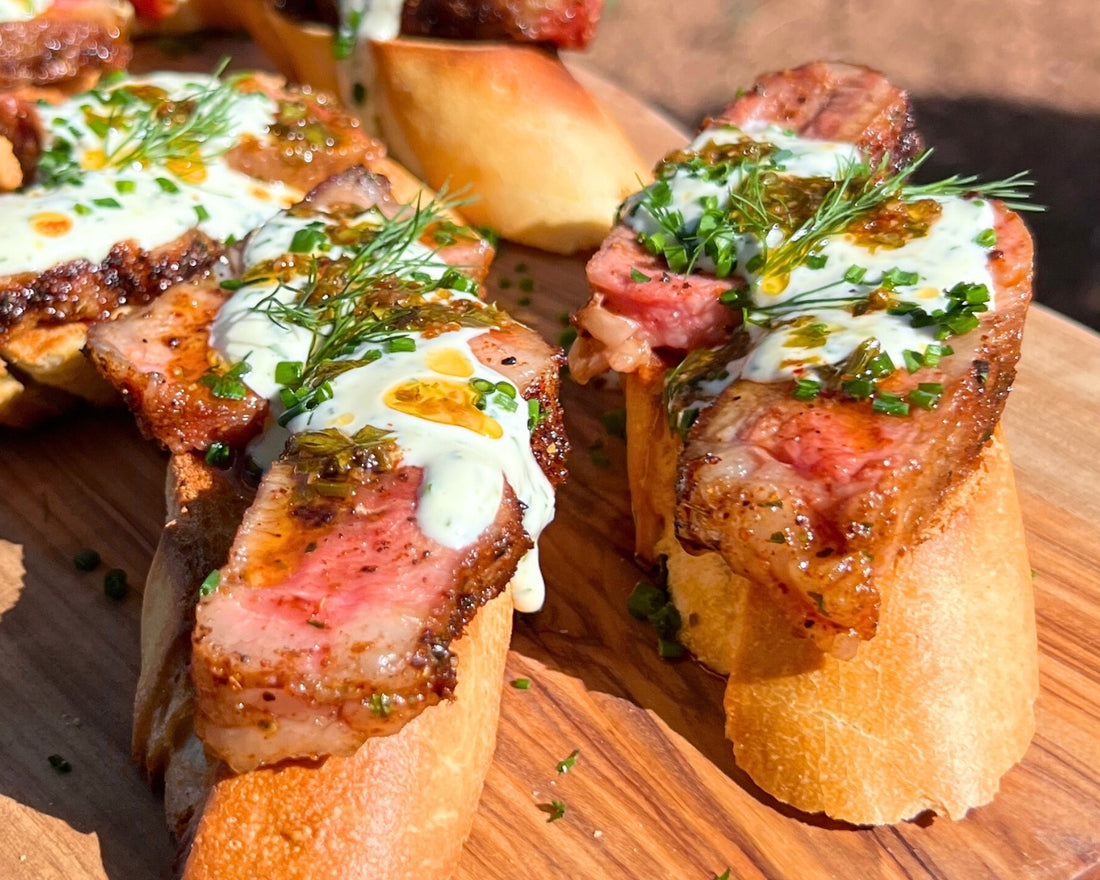 These Mini Coppa Appetizers with Ranch and Chimichurri Sauce are a symphony of flavors and textures, featuring succulent slices of Campo Grande coppa, toasted baguette slices, and two tantalizing sauces: a creamy and herbaceous ranch sauce and a zesty chimichurri sauce that packs a punch. The combination of these elements creates a culinary masterpiece that's perfect for any occasion, from casual gatherings to elegant soirées. 
Recipe for 
Mini Coppa Appetizers with Ranch and Chimichurri Sauce
Ingredients
1 pack of Campo Grande coppa
2 baguettes, sliced for canapés
1 cup of ranch sauce
4 tablespoons chives, finely chopped
Salt and freshly ground black pepper
Your choice of rub (optional)
Chimichurri:
½ cup extra-virgin olive oil, plus more for cooking
2 tablespoons white wine vinegar
2 cloves garlic, mashed
1 teaspoon sea salt, plus more to taste
½ teaspoon crushed red pepper flakes
1 teaspoon dried oregano
1 teaspoon smoked paprika
¾ cup parsley, finely chopped
1 tablespoon butter
1 sprig fresh rosemary
1 sprig fresh thyme
Ranch Sauce:
5 tablespoons each of chives, dill, and parsley
5 tablespoons dill
5 tablespoons parsley
1 tablespoon garlic powder
½ tablespoon onion powder
1 tablespoon lemon juice
1 cup mayo
Salt and pepper to taste
½ cup buttermilk
Instructions
Clean and slice the coppa into approximately half inch thick fillets. Season them with salt, pepper, and your choice of rub (optional). Set aside.
Ranch Sauce Recipe:
Finely chop 1.5 tablespoons each of chives, dill, and parsley.
In a separate bowl, whisk together a cup of homemade mayo, the chopped herbs, 1 tablespoon of garlic powder, half a tablespoon of onion powder, 2 teaspoons of lemon juice, and salt and pepper to taste.
Whisk in half a cup of buttermilk.
Taste and adjust the seasoning as needed.
Chimichurri:
In a medium bowl or jar, mix together olive oil, vinegar, mashed garlic, salt, pepper flakes, oregano, paprika, and chopped parsley. Set aside, ideally for 24 hours.
Grill the coppa over high heat at around 400°F for approximately 3 minutes on each side, aiming for an internal temperature of around 145°F, which is ideal for this type of Iberian cut. Remove from the grill and let the meat rest for about 5 minutes - it's essential to let the meat rest after cooking to allow the juices to redistribute.
While the meat is cooking, toast the bread slices either on the grill or in a toaster, whichever works best for you. Grilling will always impart a richer flavor.
Assemble the appetizers: On a slice of bread, place some sliced coppa that you've previously cut into smaller pieces. Add a teaspoon of ranch sauce and half a teaspoon of chimichurri. Garnish with chives. Enjoy!