Monkfish "Lobster" Rolls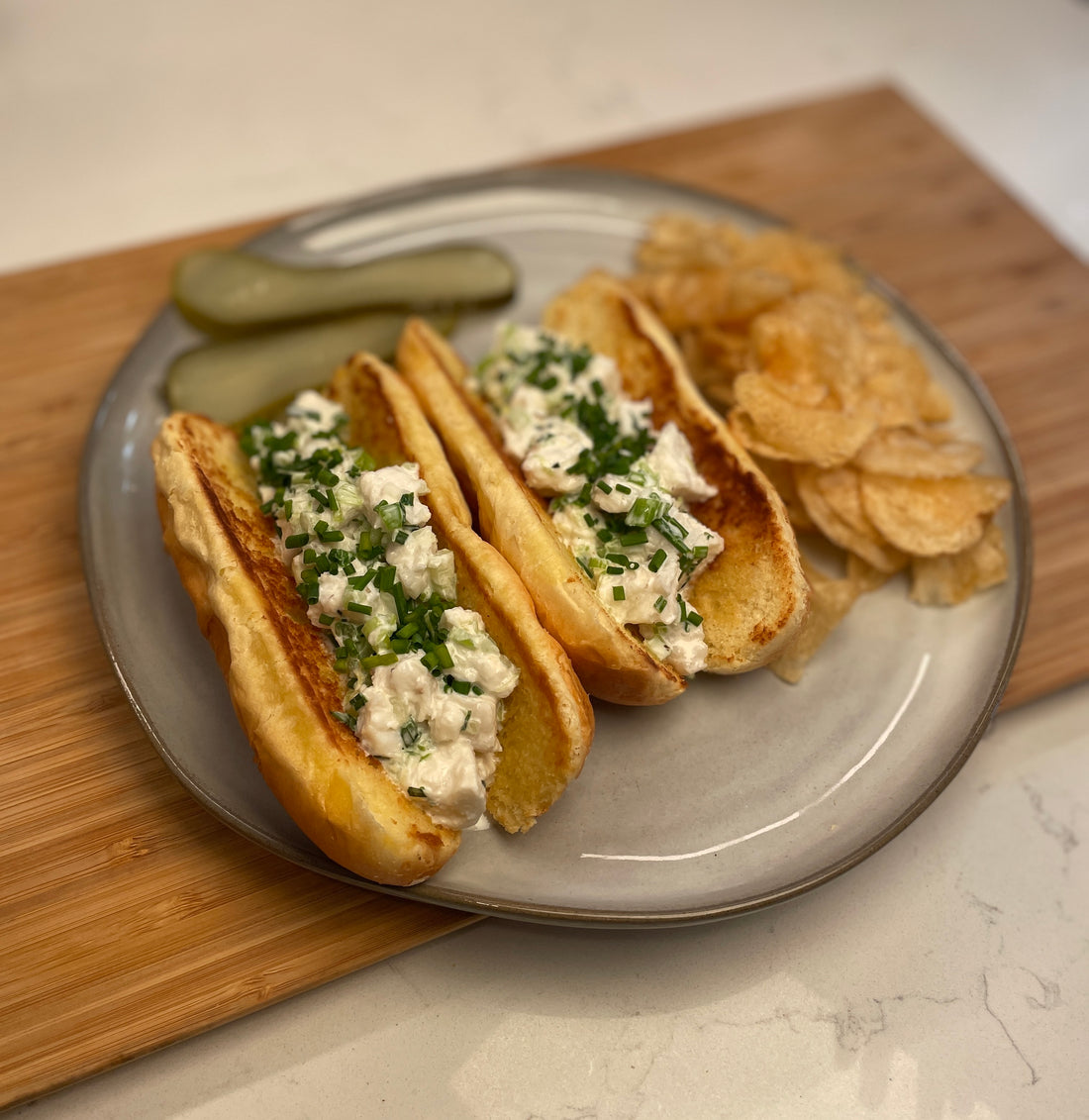 Change up the American northeast classic with a sweet, meaty monkfish twist. Whether you are team butter or team mayo when it comes to the traditional lobster roll, monkfish has a similar taste and texture to lobster tails and is known for its versatility and nutritional properties. 
To get the right temperatures and save time, place the cooked cooked and cooled monkfish in the refrigerator while you're chopping the other ingredients. This gives you that delicious contrast: warm and buttery toasted buns with the cool and refreshing monkfish salad.
Monkfish "Lobster" Rolls Recipe 
Serves 4
Ingredients
2 Tablespoons salt, plus more to taste
Zest of 1 lemon
1 Tablespoon green onions, finely chopped
1 Tablespoon lemon juice
1 tarragon sprig
1/2 cup chopped celery
1/3 cup mayonnaise
2 Tablespoons softened butter
4 brioche hot-dog buns
Fresh ground black pepper
Dill pickles
Potato chips 
Instructions
In a large pot, bring salt and water to a boil. Place the monkfish and lower the temperature to a simmer. Poach monkfish for 10 minutes or until fully cooked.
Remove monkfish from the pot and let it cool before removing the dark veins and membranes.
Chop the monkfish into bite-size pieces, place them in a large bowl, and season with salt and pepper.
In the same bowl, add green onions, chives, celery, mayonnaise, lemon zest, and juice until the monkfish is evenly coated.
Spread the softened butter inside the hot-dog buns and place in a griddle or pan over medium heat, until toasted.
Fill each hot-dog bun with monkfish salad and garnish with chives. 
Serve with dill pickles and your favorite homemade (or bagged) potato chips. ¡Buen provecho!