Monkfish With 40 Cloves of Garlic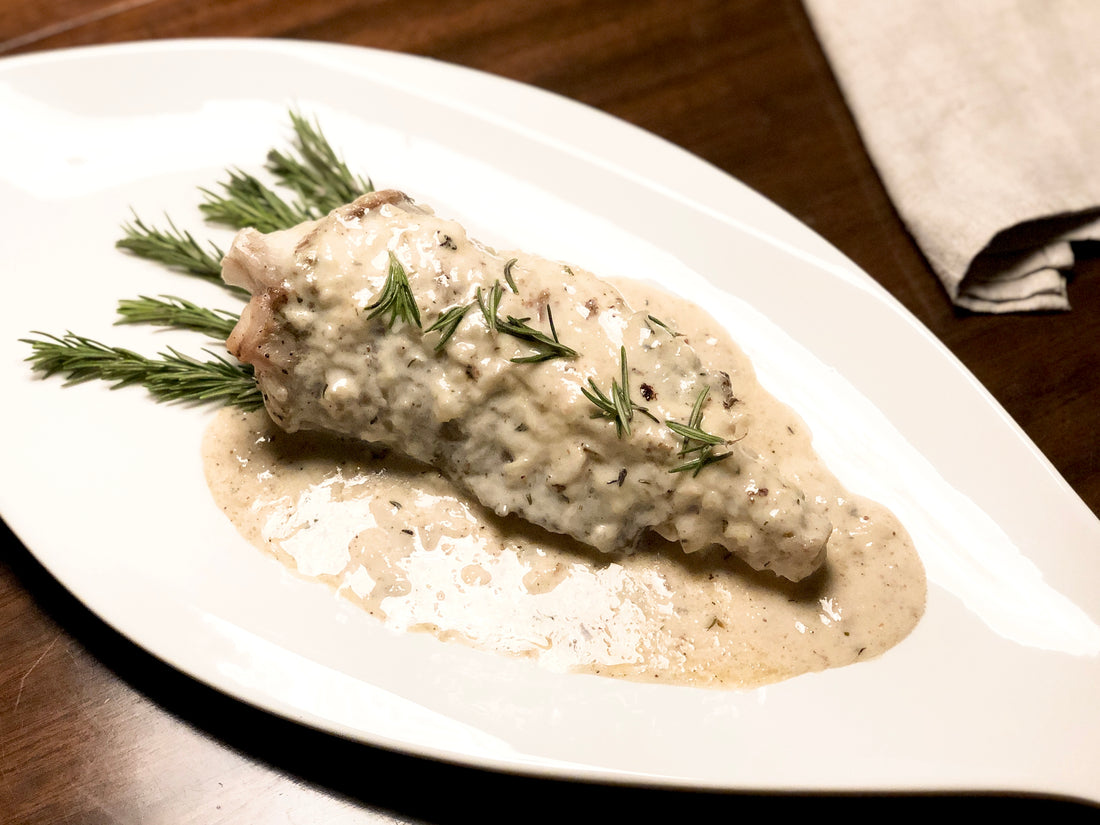 Serves 4
This show-stopping dish is a riff on chicken with 40 cloves of garlic, the throwback classic popularized by Julia Child and James Beard that went "viral" decades before the internet existed. We love substituting Campo Grande monkfish for the poultry as it's a meaty, juicy fish that makes for a terrific dinner party centerpiece. Don't worry about things getting too garlicky: Simmering the cloves makes them far less pungent than you'd expect. Serve the fish with polenta or mashed potatoes to soak up the creamy juices.
Ingredients 
40 garlic cloves, peeled (from about 4 heads)
2 monkfish tails (10–16 ounces each) 
Salt
Freshly ground black pepper
3 Tbsp. extra-virgin olive oil
Leaves from 1 rosemary sprig, finely chopped, plus more for garnish (or substitute fresh sage, thyme, or a combination)
Pinch nutmeg 

¾

cup light cream
Instructions 
Bring a small pot of water to a boil, then simmer the cloves in until very soft, about 30 minutes. Drain, then use a potato masher to purée into a paste in the pot; set aside. 
Position a rack in the center of the oven and preheat to 400°F. Using paper towels, pat the monkfish dry and season generously with salt and pepper. To a large skillet or Dutch oven set over medium-high heat, add the olive oil. When it's hot and shimmering, lightly brown the monkfish on all sides, 5–7 minutes. Transfer to the oven and bake until the monkfish bounces back when touched and a thermometer inserted into the thickest part of the fillet reads 130ºF, about 15 minutes. 
Meanwhile, to the pot with the garlic, add the chopped rosemary, cream, nutmeg, and salt and pepper to taste. Turn the heat to medium and cook, whisking occasionally, until the mixture simmers, about 4 minutes, then pour over the fish in the oven
When the fish is done, let it rest for 5 minutes before transferring to a platter and spooning over the sauce. Garnish with rosemary leaves.  
To serve, slice along each side of the central bone to separate the fillets (budget 1 fillet per person), then slice these into thick medallions. Spoon more sauce over each serving.   
Looking for the tastiest monkfish possible for this dish? Snap up our Wild Fish box now! 
Note: This recipe was inspired by and adapted from a similar dish in James Peterson's Fish & Shellfish (Morrow, 1996).