Pork Abanico with Chimichurri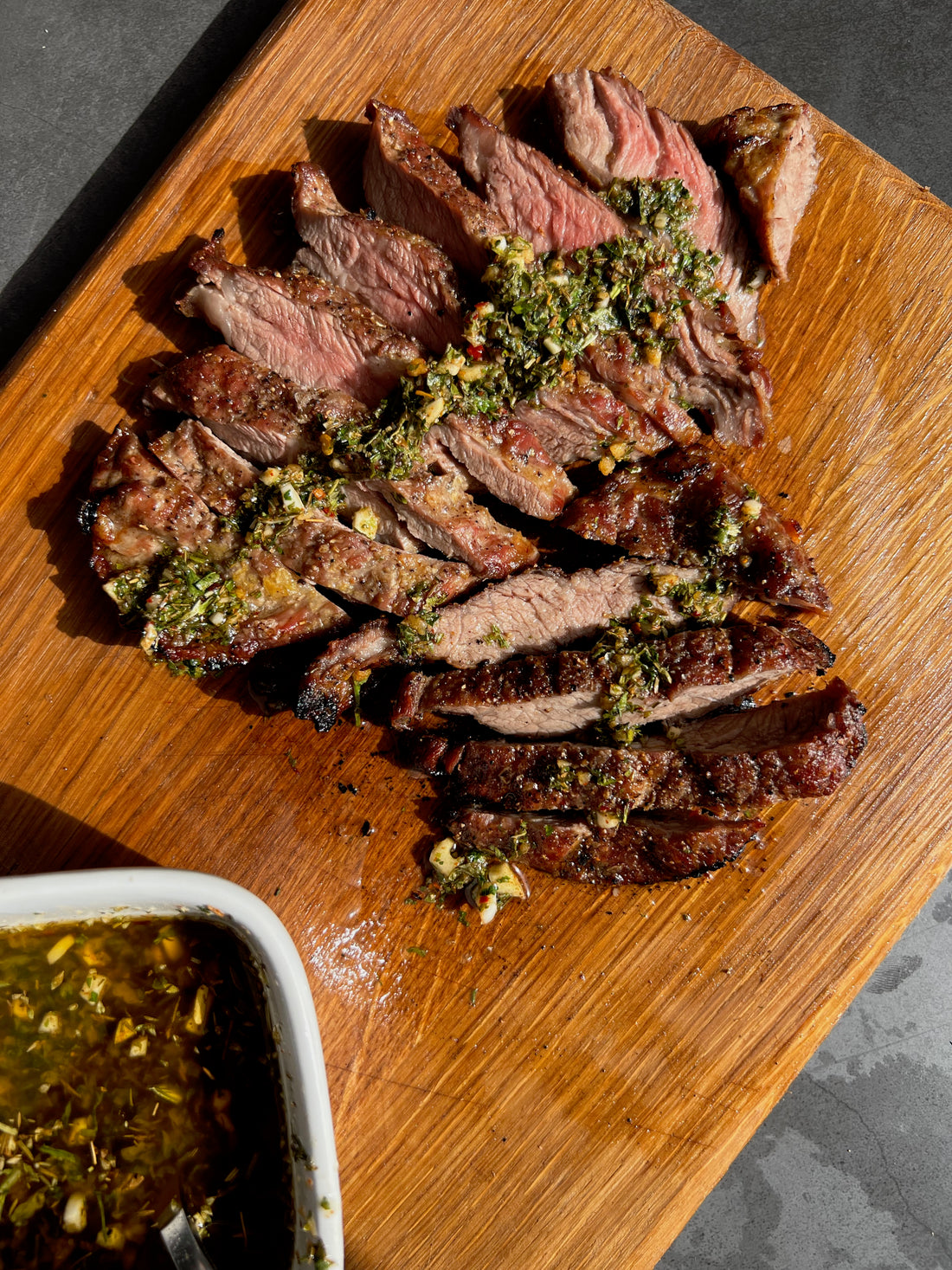 Chimichurri is one of those sauces you can adapt based on whatever herbs you have in the fridge, or the flavors you're craving. Here, we use a combination of parsley, oregano, and chives, and kick up the heat with fresh red chili. To really maximize the intensity of the sauce, make your chimichurri 24-48 hours before serving.
We're also utilizing a high temperature pizza oven, like the Ooni oven, to cook juicy Ibérico Abanico. Abanico is thin enough that a few minutes on each side in the oven produce a crispy exterior and a juicy interior. If you don't own an Ooni oven, heat your oven to the highest temperature or set it to broil with the backing sheet set on the middle rack. 
Recipe: Ooni Oven Pork Abanico with Chimichurri
Serves: 2 
Abanico with Chimichurri Ingredients
1 18-25 oz. Campo Grande Abanico 
½ cup parsley, chopped 
2 Tablespoons fresh oregano, chopped 
2-4 cloves garlic, finely chopped 
½  cup chives, chopped 
½ cup extra-virgin olive oil 
2 Tablespoons red wine vinegar
1 Tablespoon lemon juice 
1 hot red fresh chili, seeded and de-ribbed 
Salt
Freshly ground pepper
Abanico with Chimichurri Preparation 
In a large bowl, mix parsley, oregano, garlic, and chives together. Season with salt and pepper and cover with olive oil, vinegar, and lemon juice. Set aside to let ingredients meld and mingle.  
Heat Ooni oven to its maximum temperature and season the Abancio with salt and pepper. 
Place Abanico on a baking sheet in the oven and lower the oven temperature to medium. 
Cook until the meat reaches medium rare (145ºF), flipping halfway through to ensure even cooking. The Ooni oven will give the Abanico a nice crunchy exterior. 
Once cooked, let the Abanico rest for 3 minutes on a cutting board and slice into strips. 
Serve with spoonfuls of chimichurri on top. ¡Buen provecho! !